You can schedule your sync to run through a variety of methods:
Manual: Run your sync manually or via our Airflow operator.
Interval: Run your sync on a set interval.
Custom Recurrence: Use a visual interface to set what days and time your sync will run.
Cron Expression: Use a cron expression to decide when your sync will run.
dbt Cloud: Schedule your sync to run after a dbt job.
A sync with a schedule set to 'Manual' only runs when you tell it to run. Look for the 'Run' button in the top right corner of your sync's configuration page.
A sync with a schedule set to 'Interval' can be configured to run every n minutes, hours, days, or weeks: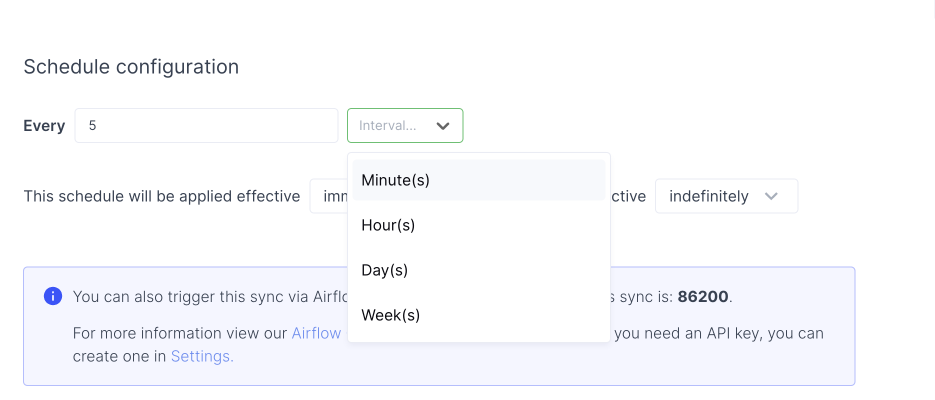 Use the 'Custom Recurrence' option to schedule your sync on specific days and at specific times. The time you select in the UI is your local timezone and your sync will run at that time in your local timezone.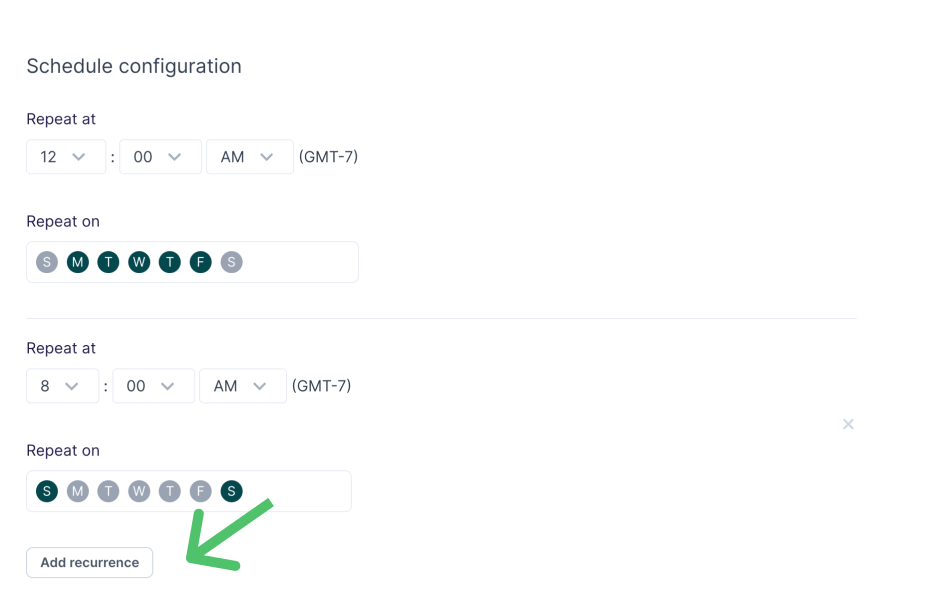 For even greater specificity, you can schedule your sync with a Cron Expression. Here's a table of some useful cron expressions:
| Cron Expression | Description |
| --- | --- |
| 0 0 12 1 * ? | Every month on the first at noon |
| 0 0 12 LW * ? | Every month on the last weekday at noon |
| 0 0 12 ? * 5#3 | Every month on the third Thursday at noon |
| 0 0 12 ? DEC * | Every day at noon in December only |
Consult a cron expression generator to get help building an expression that meets your needs.
See our documentation on scheduling a sync with dbt
To schedule a sync via dbt Cloud, dbt requires you to have a paid plan.