Fight customer churn with fresh customer data in ChurnZero
To find the setup key, navigate to Admin > Application Keys > New App Key and create a new key with the name of your choice.

Use the application key as your "App Key" in Hightouch.
You can also provide the "App URL (optional)," which you will find right below the Application Keys in ChurnZero.
Note that you do not want to include the /i in the URL.

Hightouch supports syncing to the following ChurnZero types:
Events
Objects
Custom Tables
To ensure syncs send each event, use a hash function for the event model's
primary key
. The hash should combine all columns, including member ID, timestamp, etc. See the
event sync documentation
for more information.
Hightouch supports syncing to the following ChurnZero objects:
Contacts must be associated with an account, and therefore an account external ID must be present in your data.
Upsert - Upsert mode is supported for Contacts and Accounts. In upsert mode, Hightouchs adds new rows and keeps existing rows up to date.
Insert - Insert mode is supported for Events. In Insert mode, you can send events to ChurnZero through Hightouch.
Records can be matched from your source to your ChurnZero workspace by your ChurnZero Contact / Account ID. Note: this can be found in the top left of your contact or account page (not the ID in the URL).

When syncing contacts, there should be an additional field referencing the external account ID in your query results. Please make sure that the account exists in ChurnZero already.
We don't receive detailed errors from ChurnZero, such as checking whether an account ID referenced or a custom field exists or not. Therefore, we aren't able to provide detailed logging.
You can sync columns from your source to ChurnZero's default and custom fields.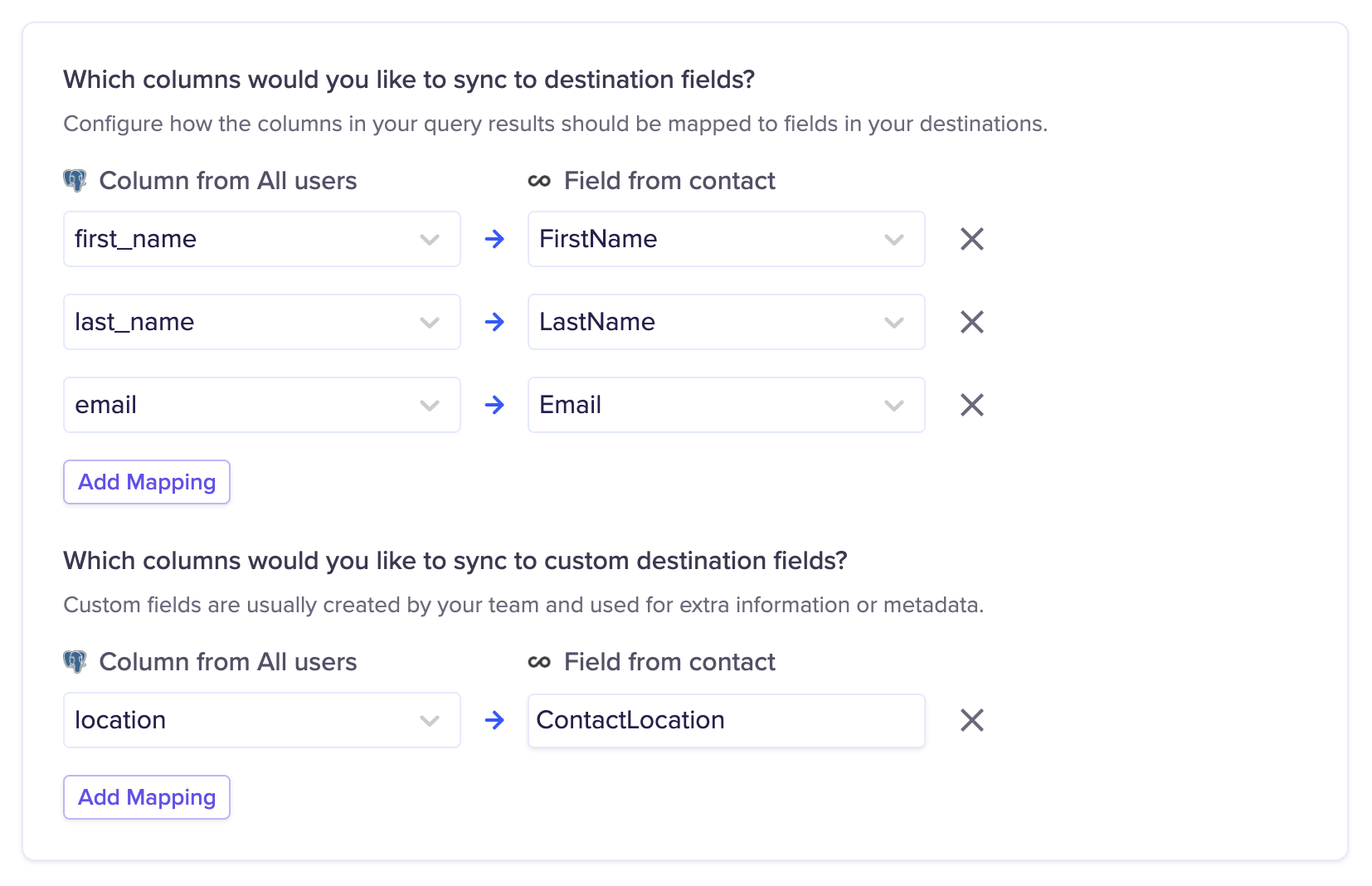 You can find the custom fields created for your ChurnZero workspace in Admin > Custom Fields then navigating to either the contact or account table. For custom fields, please use the CZ API Name as the name of the destination field in Hightouch.
ChurnZero requires that you map at least one default (standard) field in order to sync properly. If you use primarily custom fields, make sure to also map at least one default (standard) field. Visit the Schemas section of ChurnZero's API documentation to see what standard fields are available.
You can sync custom tables using Hightouch through ChurnZero's batch import API.
To use the custom table API, you must first create the custom table within ChurnZero.
Custom tables may be created by going to the admin tab in ChurnZero and selecting "Custom Fields"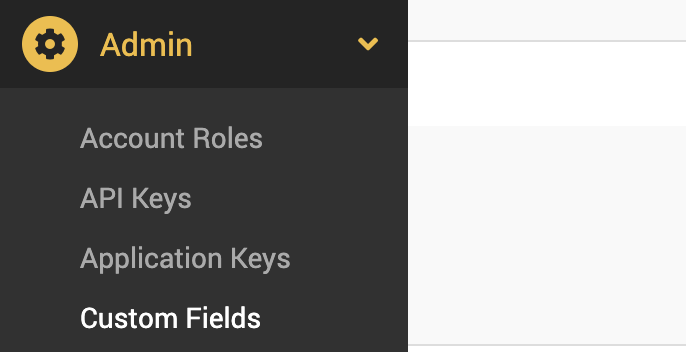 Once your custom table is created, the table ID is found by going into Admin/Imports, and then selecting the custom table name from the dropdown there.

The account ID is the user account the custom table is associated with: This can be found by clicking on your name at the top and selecting "My Account"; your ID is at the end of the URL.
For fields to properly be inserted into a custom table from Hightouch, they must first be created within ChurnZero on the "Custom Fields" page.