A productivity team app for storing all essentials such as tasks, documents, goals, chat, and more.
Activate your data with Clickup
Connect Clickup via OAuth2 by granting permission to Hightouch.
Pick the workspace or workspaces you want to connect to.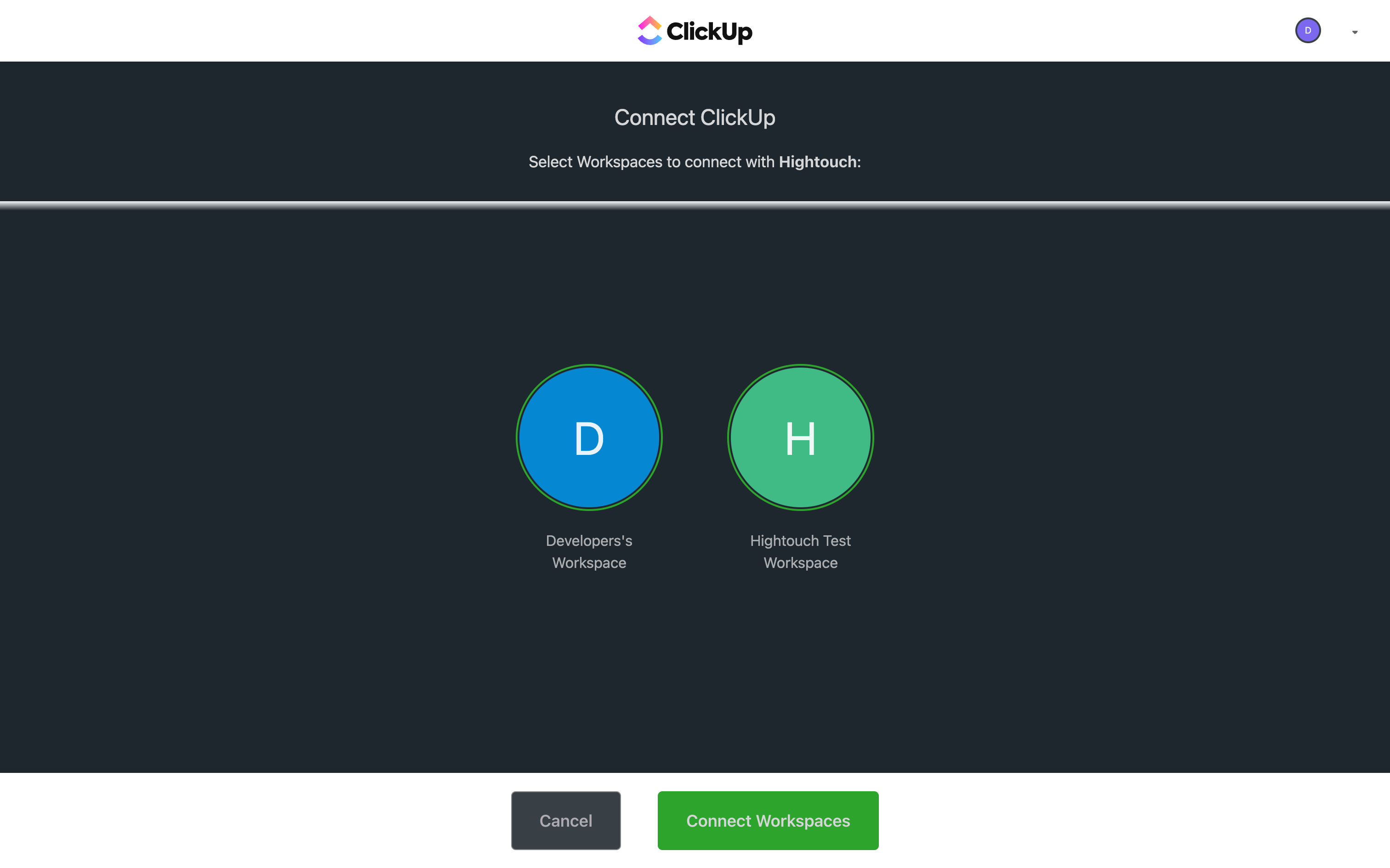 Insert mode will create new tasks for added rows in your warehouse.
Update mode will update existing tasks by id mappings you provide.
Id Mappings:
We strongly suggest the use of a field with unique value when choosing a custom field for id mappings to avoid unexpected writes.
Upsert mode will update existing tasks or create new tasks if not exists.
Id Mappings:
We strongly suggest the use of a field with a unique value for id mappings to avoid unexpected writes.
status must be a valid status (see below). Status is case insensitive; for example, in progress is the same as IN PROGRESS.
See custom status for customizations.
priority is a number that corresponds to the Priorities available in the ClickUp UI.
1 is Urgent
2 is High
3 is Normal
4 is Low
time_estimate must be in milliseconds.
parent must be an existing task. If provided, it will make the new task a subtask of that parent. Parent must not be a subtask itself, and must be part of the list you selected.
Array properties can be passed to Clickup by returning the data as either a comma delimited string or an array in your SQL query. ie. tags
Hightouch will override array. For example, if you have ['tag 1, tag 2'] tags set in a task and we run a sync with values ['tag 1', 'tag 3']. After the sync, the tags value will be ['tag 1', 'tag 3'].
Reference properties are fields that would require an internal id as value(s). However, Hightouch also will you to match rows by meaningful properties ie. email for users.

Reference fields ie. assignees that allow multiple values will behave like arrays.
All date fields accepts unix time in milliseconds.

A convenient way to convert common date format is by using our built-in to_unix function

Date - See Dates above
Users - See Reference above
Tasks - See Reference above
Checkbox - Boolean value true or false
Text Area - Muti-line text "This is a long text..."
Text - Single line text "This is a single line text"
Phone - Valid phone number ie. "+1 123 456 7890".
Email - Valid email address ie. "lana@clickup.com".
Url/Website - Valid url ie. "https://clickup.com".
Currency/Money - Number value ie. 9.99.
Emoji/Rating - Rating value ie. 5.
Drop Down - Option value or zero-based index of the options.
Labels - Array or comma delimited string of labels to be displayed. Invalid labels(not in options) will ommited.