Empower your marketing team to run highly granular campaigns on Snapchat
After selecting Snapchat from our Destinations catalog, you will be prompted to initiate an OAuth flow.
Click this button to start the flow:
Authorize Hightouch to access your Snap account: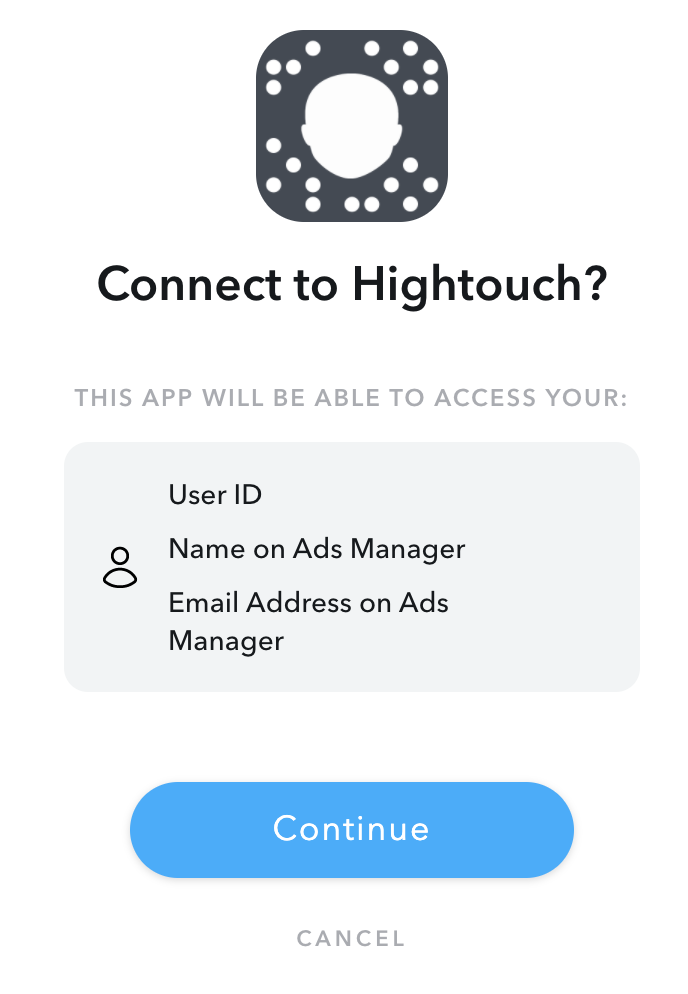 You should be directed back to Hightouch and see this success message:
After connecting your Snap account, select the Snap business organization you would like to use with Hightouch:
You will be able to select an ad account when you configure a sync.
Hightouch supports syncing to the following:
segments
conversion events
Hightouch supports automatically creating a new segment for your sync. You can specify a custom name for this segment, or Hightouch will use the name of the model.
Here, the model name Audience 1 will be used as the segment name:
You can also specify a custom retention period for the segment. Snapchat's default is 9,999 days. A custom value can only be set when the segment is first created. If you want to set a new retention period, you will have to create a new sync.
Hightouch supports the sending of conversion events to Snapchat. Conversion events require an event name, event conversion type, and a timestamp.
To ensure syncs send each event, use a hash function for the event model's
primary key
. The hash should combine all columns, including member ID, timestamp, etc. See the
event sync documentation
for more information.
The event name can be selected from a dropdown, or taken from one of the columns of your model
The event conversion type can be selected the same way.
Note: Use an event_type value for the Event Name in the Hightouch UI.
| Name | Options |
| --- | --- |
| event_type aka 'Event Name' | PURCHASE, SAVE, START_CHECKOUT, ADD_CART, VIEW_CONTENT, ADD_BILLING, SIGN_UP, SEARCH, PAGE_VIEW, SUBSCRIBE, AD_CLICK, AD_VIEW, COMPLETE_TUTORIAL, INVITE, LOGIN, SHARE, RESERVE, ACHIEVEMENT_UNLOCKED, ADD_TO_WISHLIST, SPENT_CREDITS, RATE, START_TRIAL, LIST_VIEW, APP_INSTALL, APP_OPEN, CUSTOM_EVENT_1, CUSTOM_EVENT_2, CUSTOM_EVENT_3, CUSTOM_EVENT_4, CUSTOM_EVENT_5 |
| event_conversion_type | OFFLINE, WEB, MOBILE_APP |
| event_tag | Custom event set label - ex (in-store, weekend sales, back-to-school campaign, etc). Required for all web, app, and offline events. |
See the Snapchat Marketing API documentation for more information about event parameters.
In segment mode, new users will be inserted into the Snap audience segment. Users that are removed from the model will be removed from the segment.
In conversion event mode, events will be created and sent to your Snapchat event manager.
Snap requires identity information to be normalized and hashed using a SHA256 hash. Enable PII hashing if you wish for Hightouch to normalize and hash these values for you. Disabling PII hashing will require you to do this yourself.