Power internal tools, in-app experiences, and more
The MongoDB destination combines the analytical power of your data warehouse with the low-latency performance of a transactional database. It's been battle-tested with syncs up to hundreds of millions of rows.
| Object Type | Description | Supported Sync Modes |
| --- | --- | --- |
| Documents | Sync data to documents in a MongoDB collection | Upsert |
You need to allowlist Hightouch's IP addresses to let our systems contact your MongoDB instance. Reference our networking docs to determine which IPs you need to allowlist.
When creating a MongoDB destination, you can either enter the Host, Port, Database, User, and Password, or you can provide the full URI connection string. For more information, go to the official connection guide.
The connection string is available in multiple locations. Follow these instructions for one way to find it.
From the MongoDB UI click the Connect button next to the name of your cluster:

From the options displayed, select Connect your application:
Follow the instructions for changing the password and database name in the string. Copy the string by clicking the copy icon: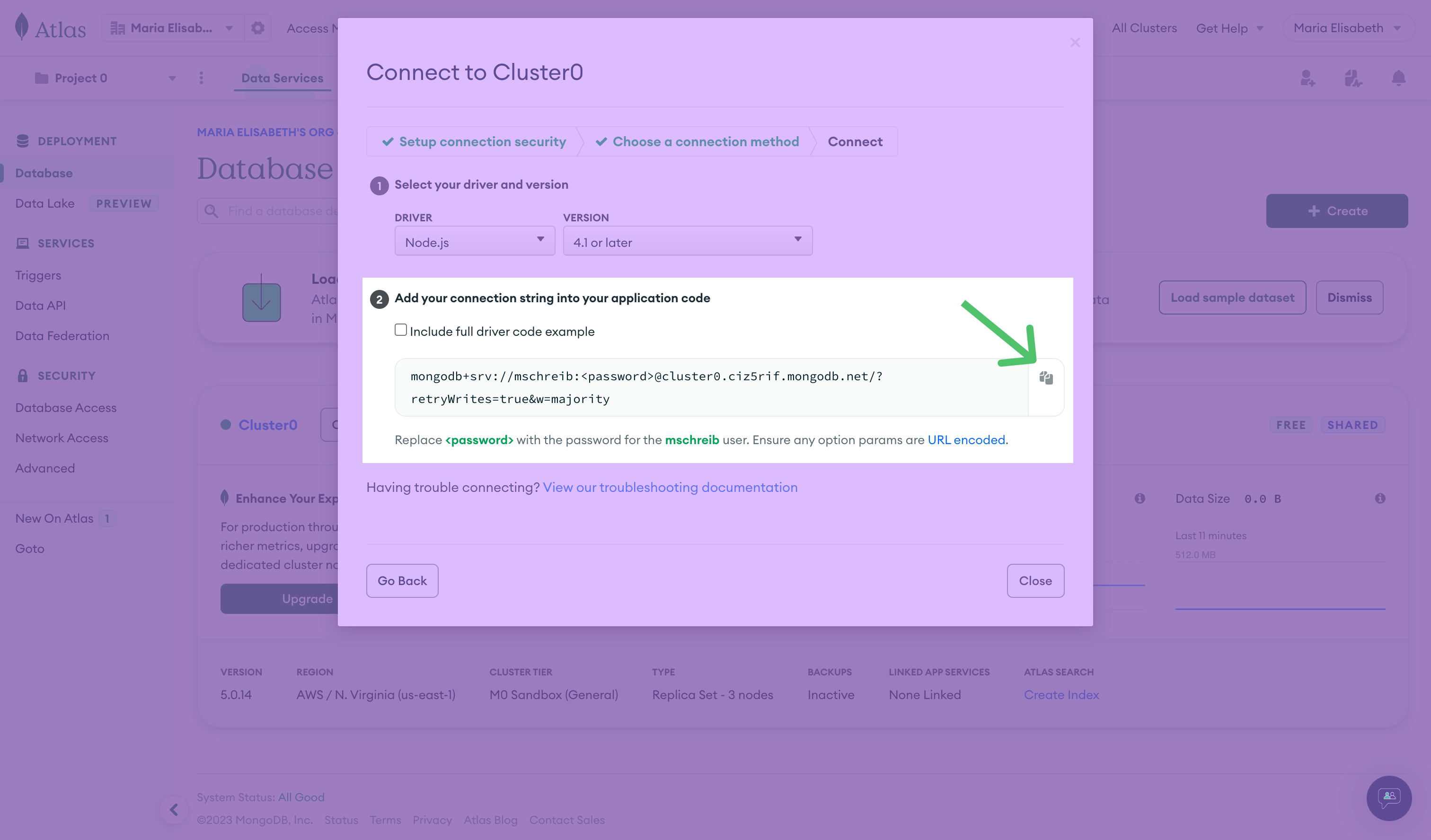 In Hightouch, in the MongoDB setup configuration, paste your saved connection string into the provided field.
Hightouch requires choosing one column to define how data in your source should be matched in documents in MongoDB. It's usually best to use the _id field in MongoDB. This field is automatically generated by MongoDB if not provided, but you can choose any other field. Be aware that you might need an index on that field to speed up the sync.
You send every column as a field in your documents or choose only the columns you need for your documents.
You can choose how to handle documents in MongoDB when the corresponding rows are deleted in your source.
| Behavior | Description |
| --- | --- |
| Do nothing | Keep the document in MongoDB |
| Clear Fields | Clear the mapped fields but keep the document |
| Delete Destination Record | Delete the MongoDB document completely |
Create a user in MongoDB specifically for Hightouch and only allow that user to access the tables you want the Hightouch integration to access. Don't use the 'root' user.
The minimum supported MongoDB version is 4.0. Earlier versions aren't officially supported but may work regardless.
Hightouch provides complete visibility into the API calls made during each of your sync runs. We recommend reading our article on debugging tips and tricks to learn more.
Hightouch can alert you of sync issues via Slack, PagerDuty, SMS, or email. For details, please visit our article on alerting.