Sync your database or data warehouse to your Airtable bases for DataOps, CRM, and much more
As an Airtable user, you're probably already familiar with the power of automation. With the Airtable integration, your teams don't have to worry about data being stale or inaccurate. Your Airtable bases automatically receive updated data from your warehouse on a predefined schedule. This way, you can build powerful custom applications using the most accurate data at your disposal.
| Object Type | Description | Supported Sync Modes |
| --- | --- | --- |
| Objects | Insert new objects without updating others or push new objects and update fields that change | Insert, Upsert |
| Object fields | Update particular fields on existing objects without adding new objects | Update |
Navigate to your Airtable account page and generate a new API key.
Use the API key generated to create a new Airtable destination in the Destinations catalog.
Hightouch doesn't support Personal access tokens.
Choose the Airtable base and table you want to sync to using the two drop-down lists.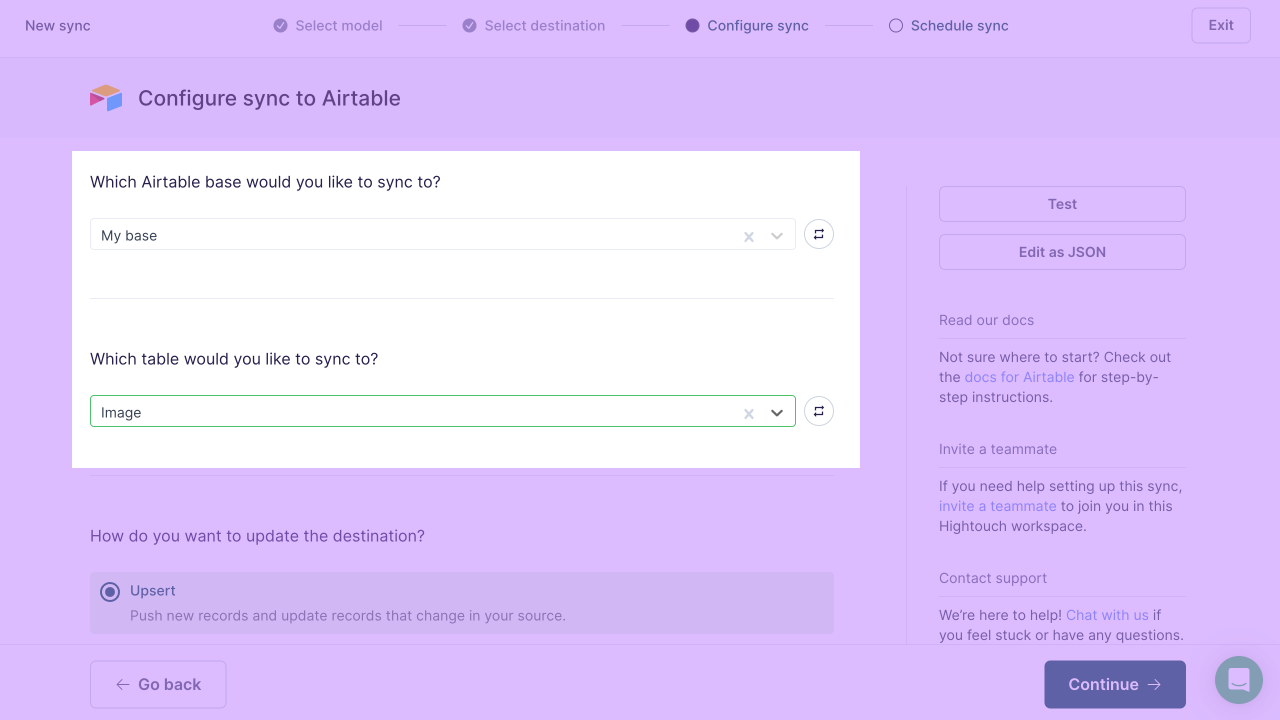 Then select the mode for how to alter Airtable objects:
Insert: pushes new objects to Airtable. It doesn't update any objects.
Upsert: pushes new objects to Airtable and updates fields that change in your warehouse.
Update: updates particular fields on existing objects in Airtable. It doesn't add new objects.
If you are using Upsert or Update mode, you must select a record matching field. You can match records from your source to your Airtable workspace by the table's primary key or any other unique fields in the table. You can choose the fields you would like to use from the drop-down lists.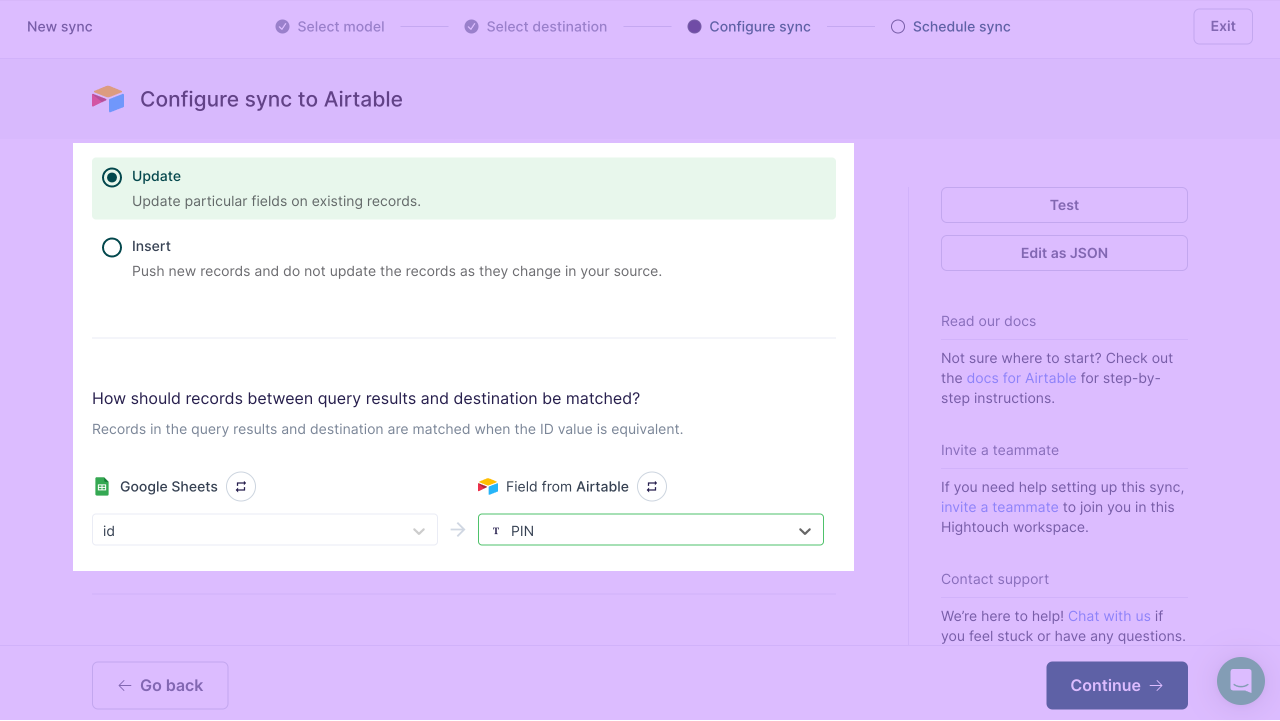 You should match the record using a unique identifier, otherwise the sync may not update the intended records properly.
You can sync columns from your source to any of your Airtable properties. The Airtable API performs best-effort automatic data conversion from string values. You can choose the field names from the drop-down lists.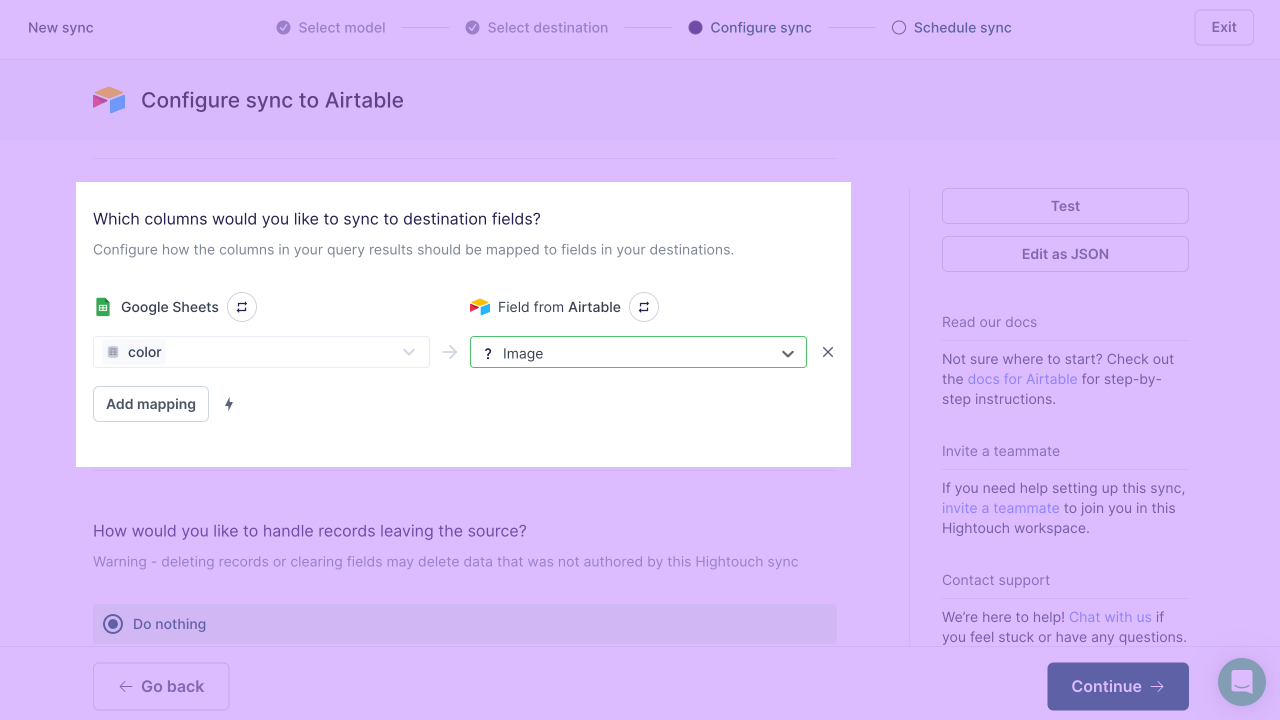 To date, our customers haven't experienced any errors while using this destination. If you run into any issues, . We're here to help.
Hightouch provides complete visibility into the API calls made during each of your sync runs. We recommend reading our article on debugging tips and tricks to learn more.
Hightouch can alert you of sync issues via Slack, PagerDuty, SMS, or email. For details, please visit our article on alerting.