Deliver exceptional engagement campaigns using the freshest customer data from your warehouse
Navigate to Settings > Account Settings > API Credentials > Tracking API Keys to get the Tracking Site ID and Tracking API Key.

Navigate to the App API Key tab to create an App API Key for Hightouch, and use that as App API Key.

If in the EU, submit eu as a Region when creating the destination, otherwise submit us.
Hightouch supports the following sync modes:
Upsert - pushes new customers to Customer.io and all customer attributes will be kept up-to-date within Customer.io.
Update - updates customer attributes on existings customers in Customer.io. It does not create new customers.
Records can be matched from your source to your Customer.io workspace by your Customer User ID or by email.

You can sync columns from your source to Customer.io's fields. Customer.io does not provide info about existing fields, so you will have to type the names of the fields inside.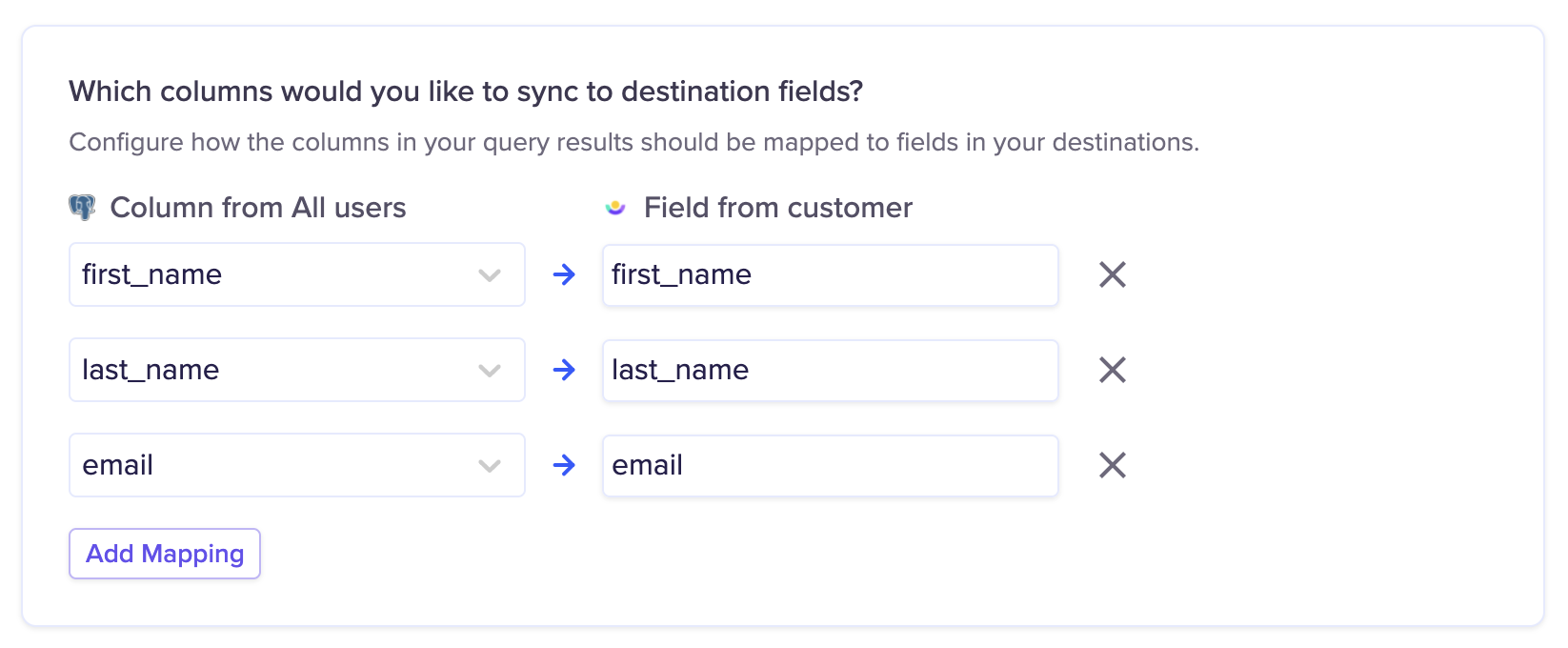 You can choose what Hightouch's behavior is when records leave the query result set. The default is doing nothing, but you can also set Hightouch to delete the Customer.io customer on record exit.

There are two types of events that can be sent to the Customer.io destination
Track Event: Sends events of a particular name when a record is added
Track Page View: Track when a customer views a particular page URL
Hightouch allows you to choose the event name, user ID and event timestamp for a track event.
Note: Hightouch accepts a normal date time format for the timestamp, and automatically converts it to the format required by Customer.io.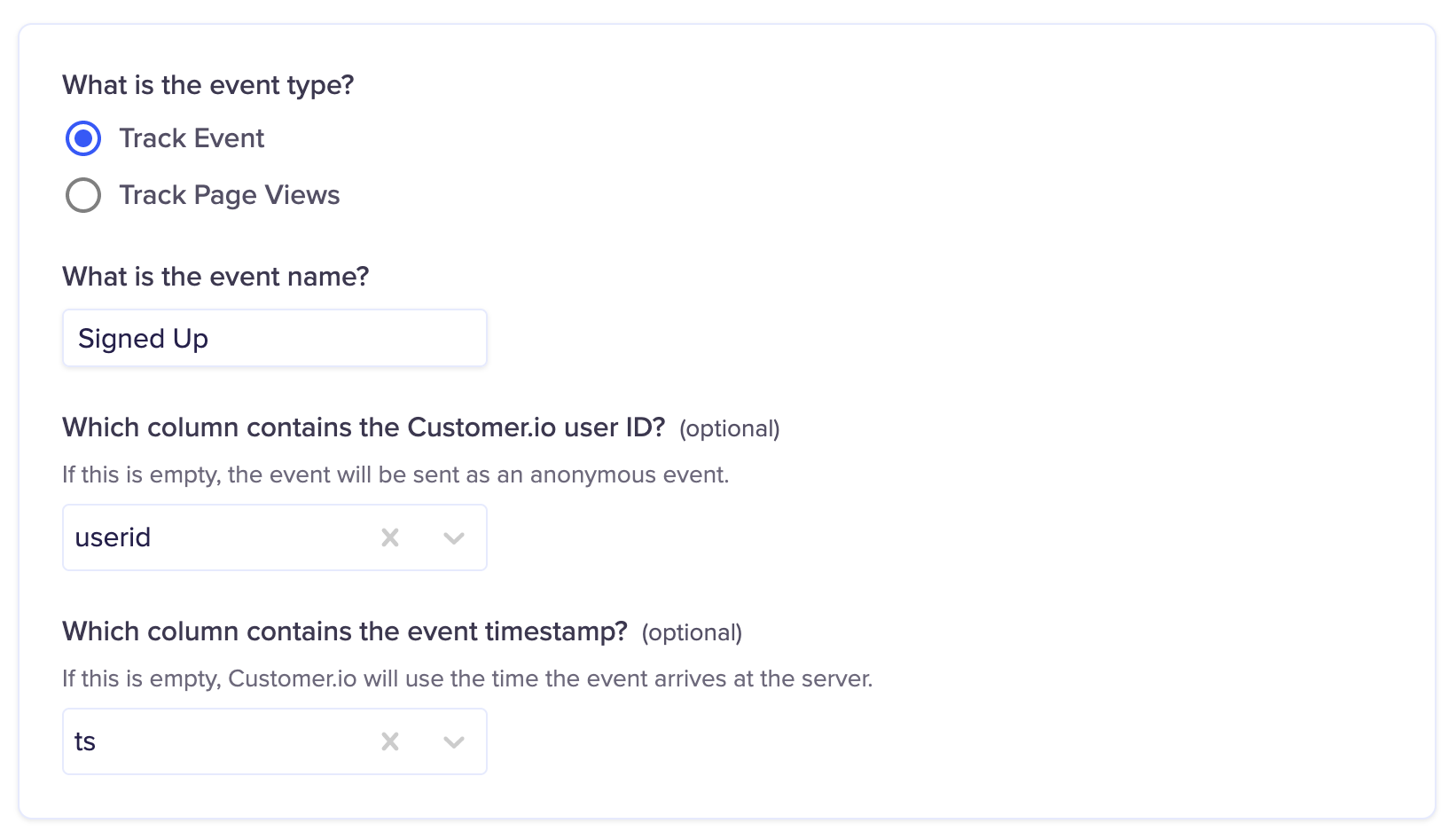 Hightouch requires the columns containing both the user ID and the page view URL to be set.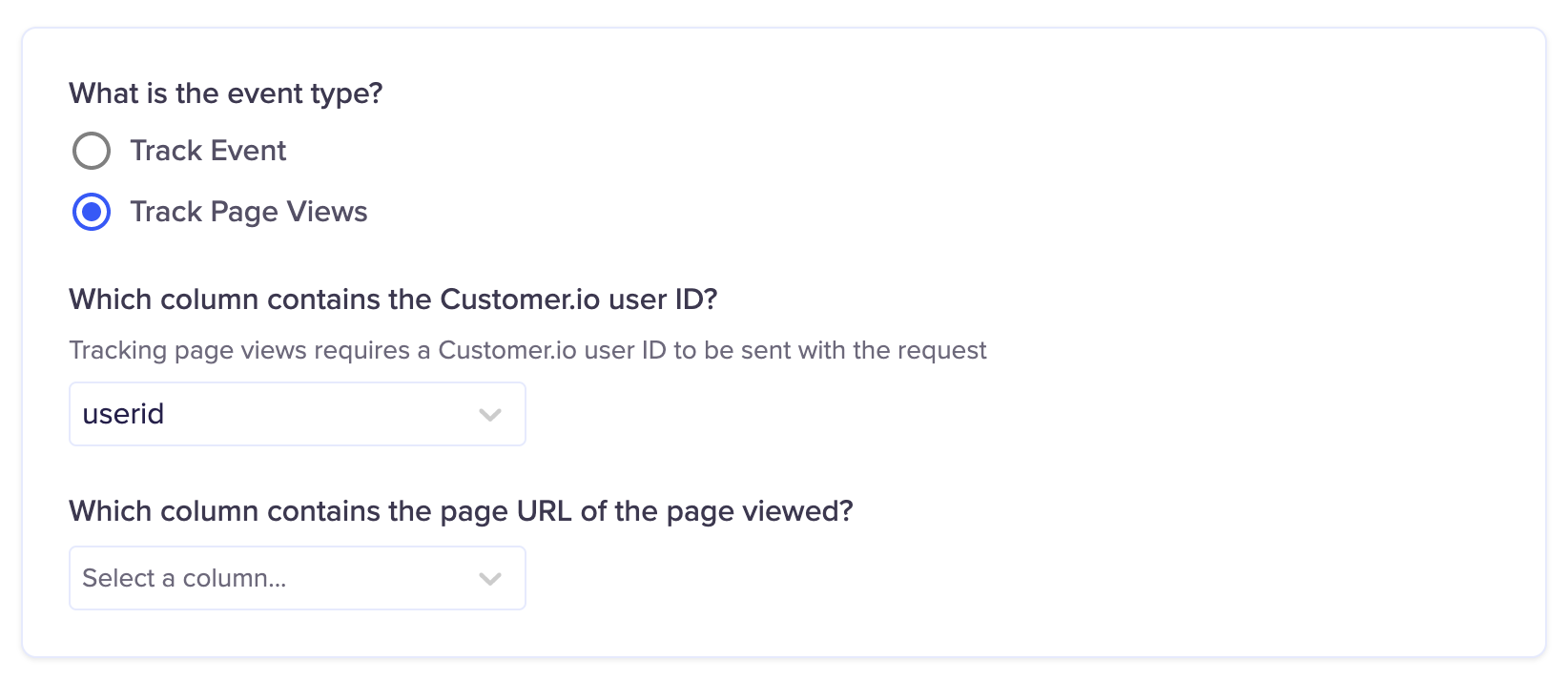 Hightouch allows you to pass data to the event properties of a Customer.io event. If a field doesn't exist, Hightouch will automatically create the field within Customer.io.

Segment mode syncs a query result to a Customer.io segment. Segments are automatically created in Customer.io based on the name of the query, and each query can sync to only one segment.
Hightouch adds and removes users to a segment as records are added and removed in the query results.
Records can be matched from your source to your Customer.io workspace by your Customer.io User ID.