With Hightouch's HubDB integration, you no longer need to rely on others to build and maintain databases. Push and store data to tables that you can embed within websites and landing pages. Integrated into HubSpot, data is easily accessible, editable and shareable across multiple tables. You can even publish table updates in one sync.
| Object Type | Description | Supported Sync Modes |
| --- | --- | --- |
| Tables | Sync data to create or update tables in a HubDB. | Upsert, Update |
You must have one of the following HubSpot account types to use the Hightouch integration:
CMS Hub Professional
Enterprise
Marketing Hub Professional
Enterprise with Website Add-on
Go to the Destinations overview page and click the Add destination button. Select HubDB. You can then authenticate Hightouch to HubDB either via OAuth or with an App Token.
Click Log in to HubDB and log into your HubSpot account.
Once successful, you will be redirected back to Hightouch to enter a descriptive name for your destination and complete setup.
You can choose to create a private app for Hightouch, which generates a unique and long-living token specific to Hightouch. You can either copy an existing key or create a new one.
Click the gear icon in the main navigation bar in your HubSpot account.
In the left sidebar menu, navigate to Account Setup, click Integrations then click Private Apps.
Click Create a private app and create your private app token. To do so follow HubSpot's documentation.
Copy your newly created private app token and paste it into Hightouch.
Once you've set up your HubDB destination and have a model to pull data from, you can set up your sync configuration to begin syncing data. Go to the Syncs overview page and click the Add sync button to begin. Then, select the relevant model and the HubDB destination you want to sync to.
In the HubDB sync configuration form, select the HubDB table you want to sync to.
Hightouch requires choosing one column to define how rows in your source should be matched to records in HubDB. The field to match should be unique and the data type of the field should match the data type of the corresponding column in your model.
You can choose which specific fields you want to sync to your HubDB table. Only the fields that you map will be exported. All other columns from your results are ignored. If you don't have a HubDB field to sync data to, you can add a new field to the table directly within HubDB. Then, refresh the HubDB fields and the new field should be available to map.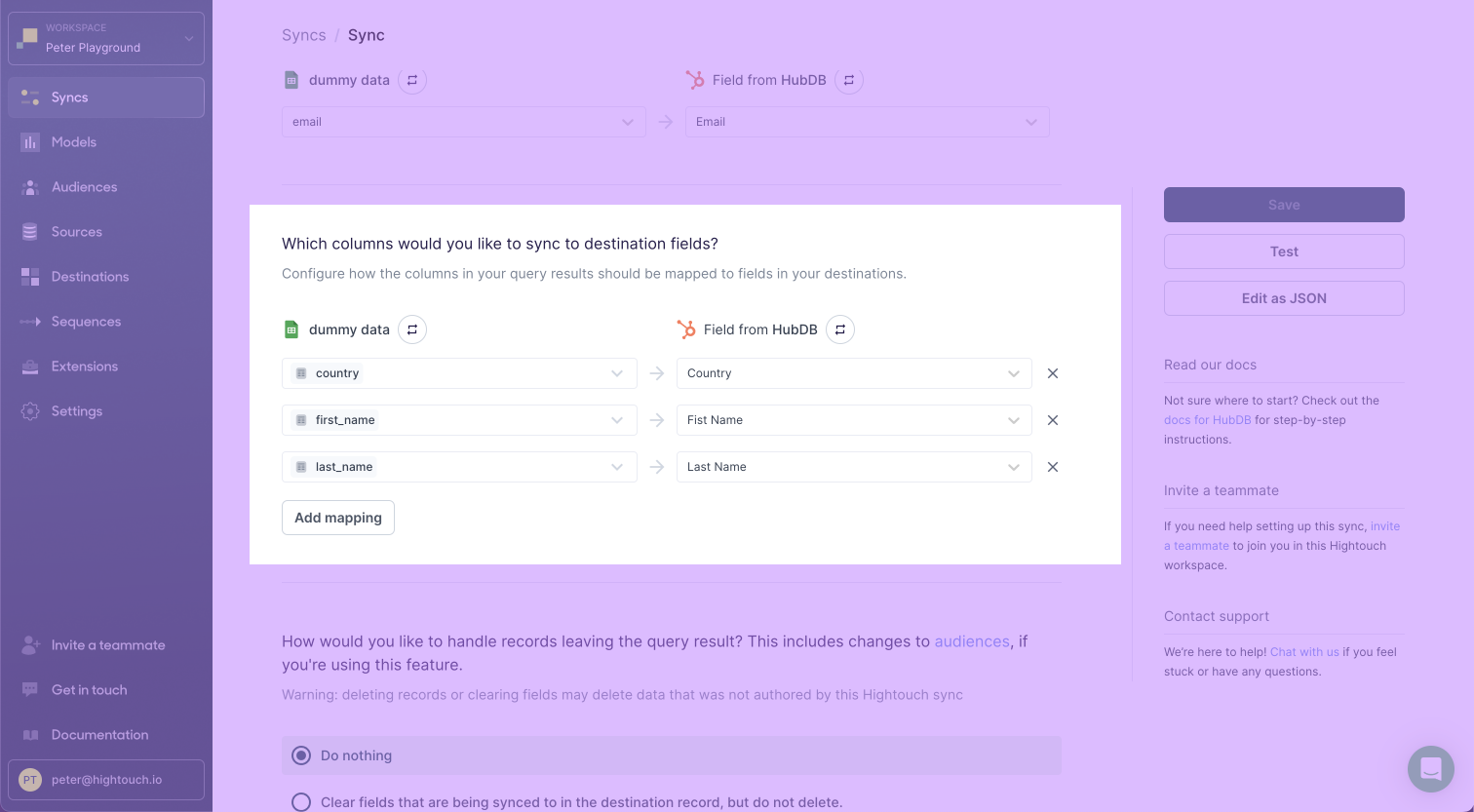 You can choose how to handle data points in HubDB when the corresponding rows are deleted in your source.
| Behavior | Description |
| --- | --- |
| Do nothing | Keep the data in HubDB |
| Clear Fields | Clear the mapped fields but keep the record in the HubDB table |
| Delete Destination Record | Delete the record from the HubDB table completely |
To date, our customers haven't experienced any errors while using this destination. If you run into any issues, . We're here to help.
Hightouch provides complete visibility into the API calls made during each of your sync runs. We recommend reading our article on debugging tips and tricks to learn more.
Hightouch can alert you of sync issues via Slack, PagerDuty, SMS, or email. For details, please visit our article on alerting.