Match Booster is only available on
Business tier plans
. It can be used with or without Customer Studio.
Hightouch Match Booster enables advertisers to enhance the reach of their advertising campaigns while optimizing targeting accuracy.
Specifically, Match Booster improves match rates on various paid advertising platforms by providing additional user identifiers. A match rate is the percentage of users in an audience segment that the ad platform is able to recognize.
The additional user data helps paid media platforms better match customers to individual user profiles, resulting in more effective ad campaigns and increased ROI.
Match Booster increases match rates by enriching first-party data with two types of additional identifiers:
Offline data such as email addresses and phone numbers
Online data such as device IDs
Hightouch's data partners provide these additional identifiers.
Hightouch uses the additional identifiers to build a custom identity graph for each model that you've enabled Match Booster on. You can then configure your syncs to the supported destinations to include your desired identifiers.
Hightouch works with multiple of the highest quality third-party data providers to clean and validate offline data. Only a limited number of valid email addresses and phones per dataset are allowed.
Hightouch only uses high-confidence online device IDs. High-confidence online devices are devices rated as most likely tied to individual devices. Any matched online device refers to devices that could be shared within a household.
All data is both encrypted and anonymized. More importantly, Hightouch doesn't store any PII. Instead, it relies on a hash of the customer's primary key for identification.
You can use Match Booster on syncs to the following destinations:
The catalog of supported destinations is continually growing. Please if there are additional ad platforms you're interested in using Match Booster on.
Some supported destinations allow you to sync multiple types of data, for example, various conversion and web events, and custom audiences or match lists.
Match Booster provides additional identifiers to customer data. Therefore, it's only compatible with sync types that send customer data as part of a customer match list or segment.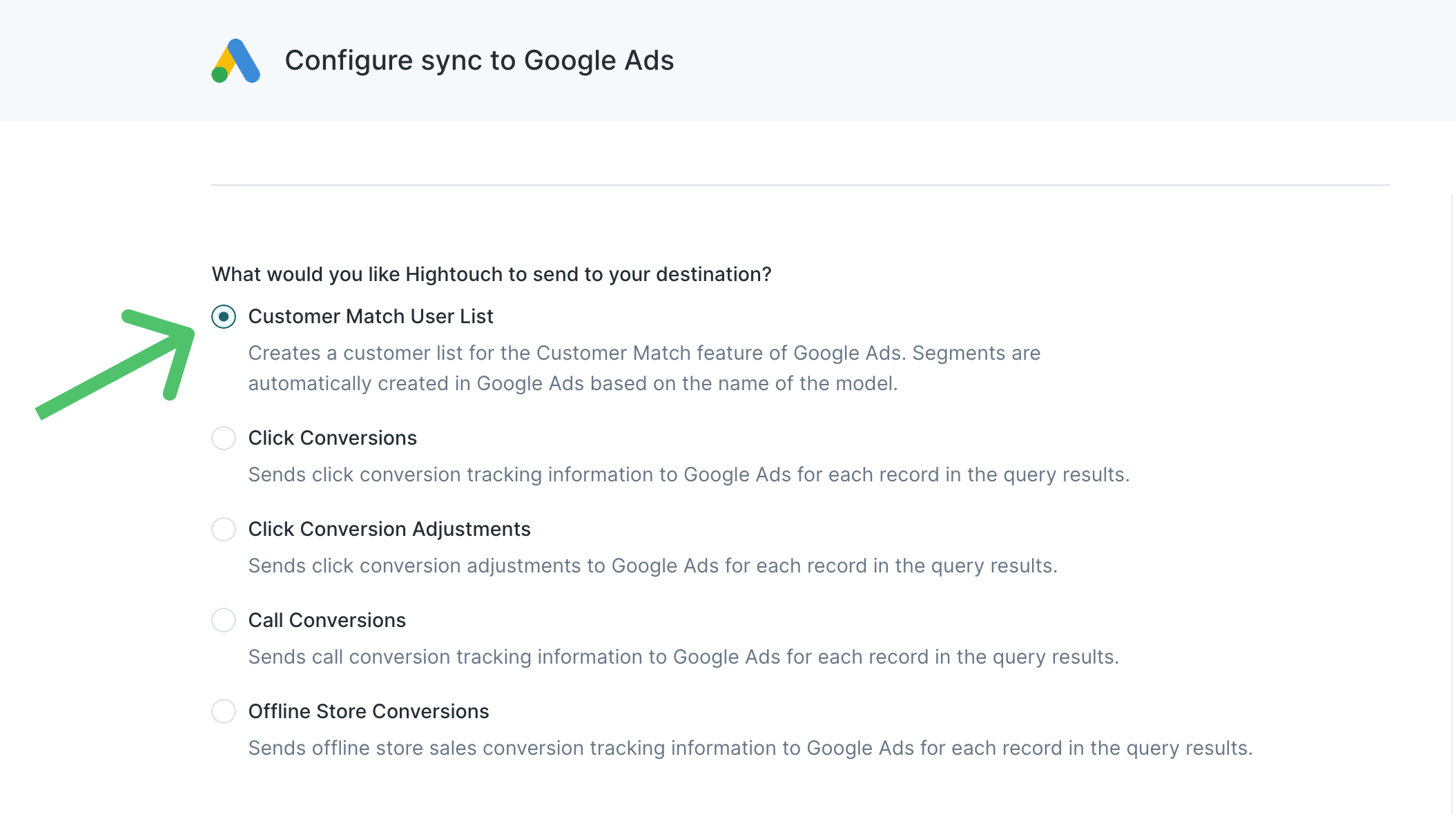 If you try to use Match Booster on a supported destination with a different sync type—for example, a conversion event sync—you won't be able to select boosted attributes to sync.
Using Match Booster is a two-step process:
Enable and configure match boosting on relevant models.
Configure match boosting in sync configurations to supported destinations.
Match boosting begins with your model. By enabling and configuring Match Booster on particular models, you can enrich them with additional identifiers from Hightouch's data partners.
To get started, go to your Models overview page. If you want to enable matching boosting on a Customer Studio audience, go to its parent model on the Schema page.
Select the model on which you want to enable Match Booster and open the Match boosting tab.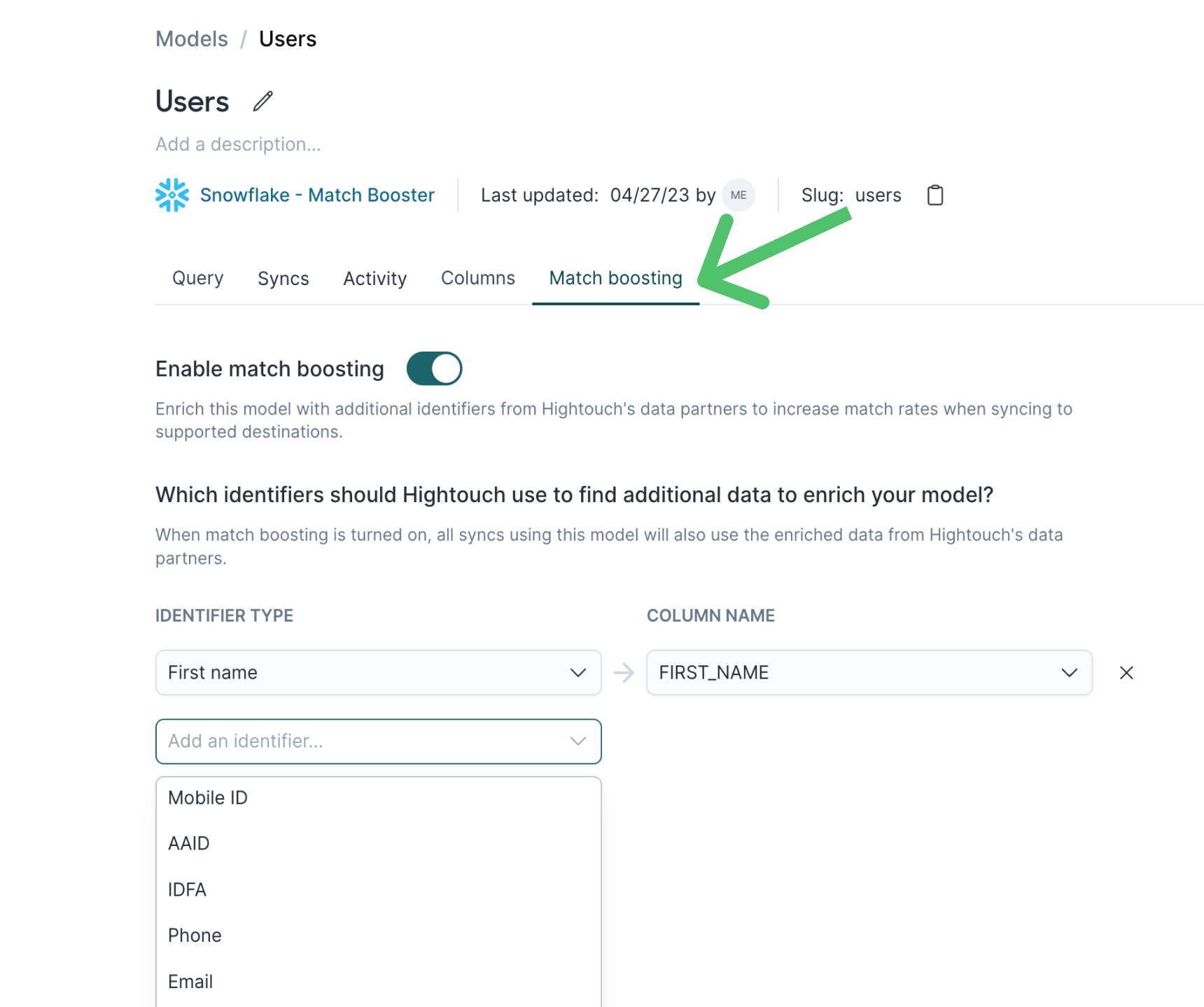 Toggle Enable match boosting on.
Select the identifiers you want Hightouch to use to find additional data. This includes selecting an identifier type and mapping it to a column name in your model. The data in the columns you select should have unhashed data.
Click Save.
Model enrichment—the process of adding additional identifiers to your model results—can take up to a few hours to process.
Once you've enabled match boosting on a model, you can configure match boosting on syncs based on the model. These include audience syncs in Customer Studio.
The following instructions show you how to implement match boosting on existing syncs, but they also apply when configuring syncs for the first time.
Go to your Syncs overview page and select the sync on which you want to configure Match Booster. Alternatively, create a new sync.
In the Configuration tab, ensure your sync type is set to custom audience, customer match list, or segment. Match Booster only applies to customer segment sync types—not events or other objects.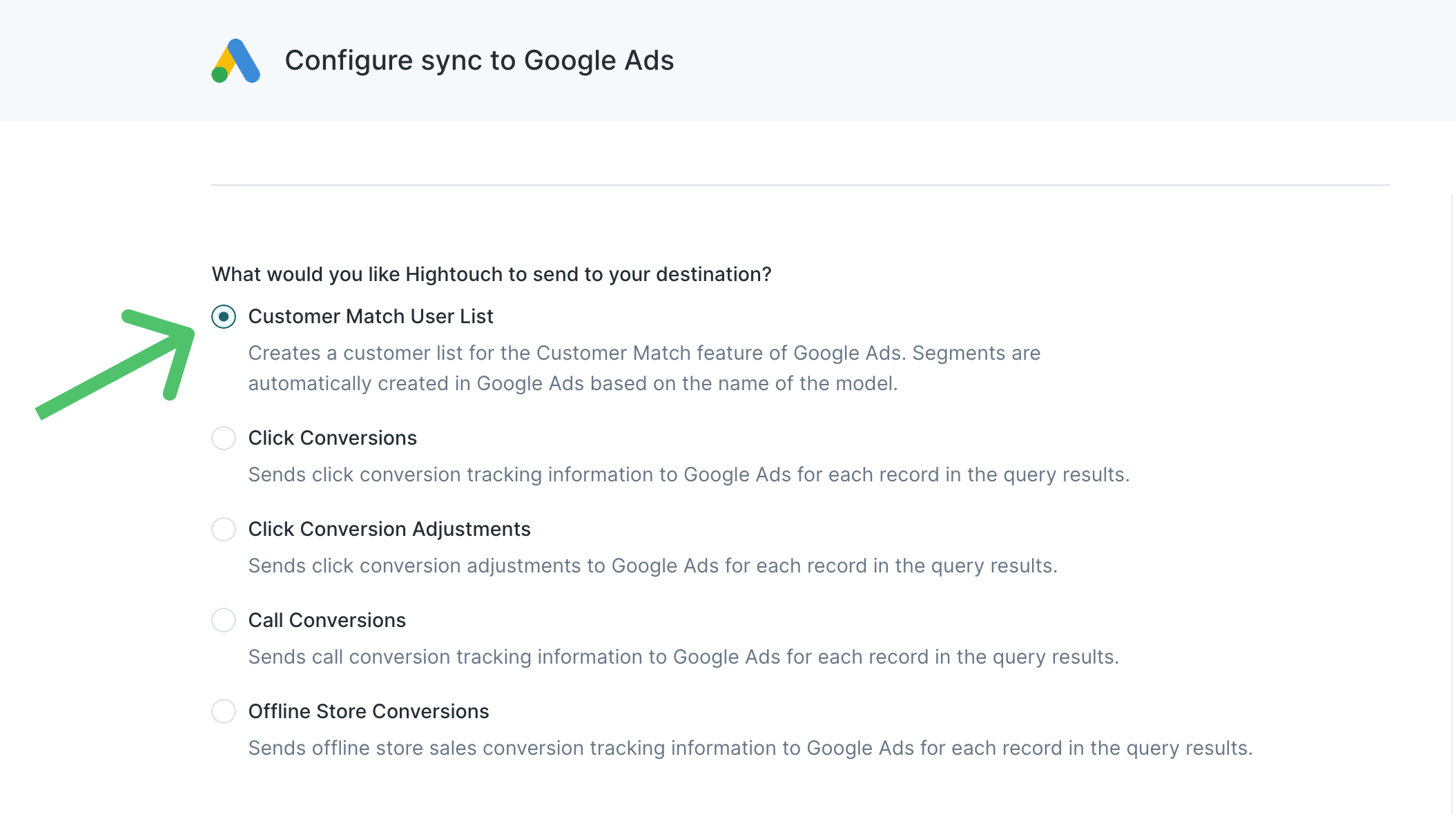 Locate the field mapping section with the text Match boosting enabled.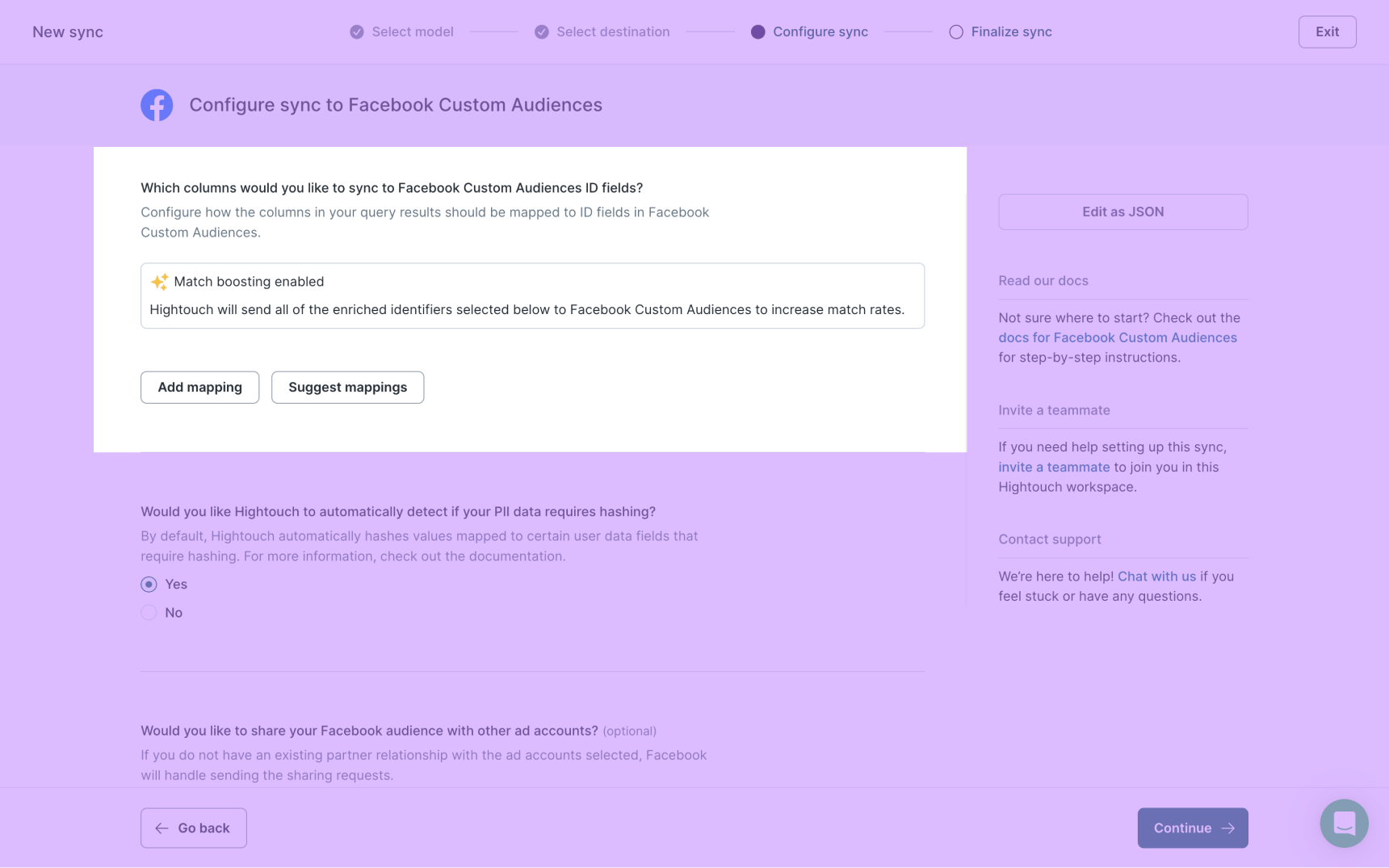 Select the boosted column names you want to map to fields in your destination.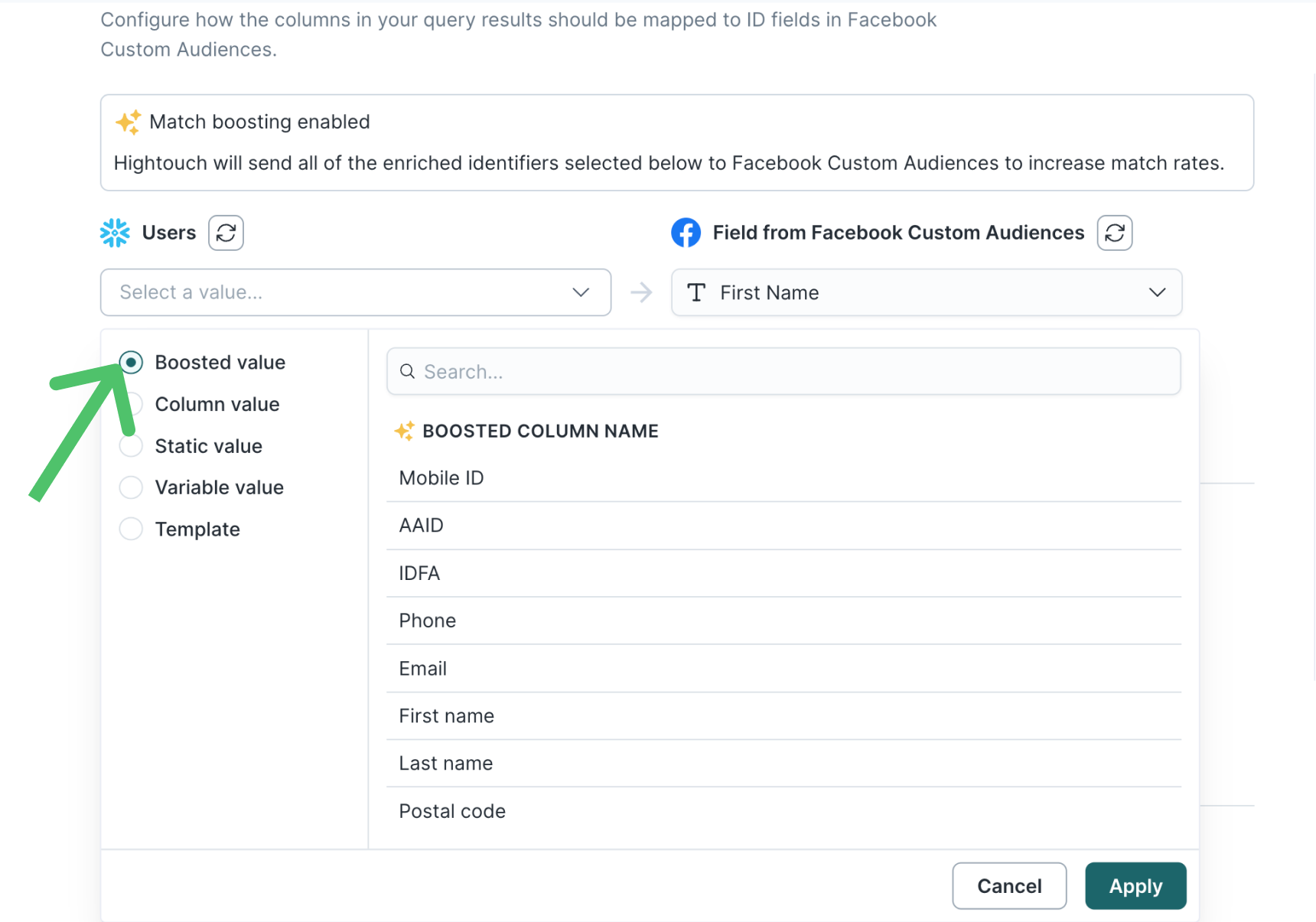 Save your sync configuration.
From now on, Hightouch will sync any available additional identifiers to your destination. Model enrichment can take up to few hours to process. Therefore, if you enabled match boosting in your model configuration shortly before updating or creating your sync configuration, it may take a few hours for you to see increased match rates.
Additionally, ad platforms have different practices on how frequently they calculate and update match rates, so you may continue see variation for a day or two after updating your configuration.
Hightouch surfaces match rates for syncs to paid advertisting destinations, whether or not you've enabled Match Booster on them. You can view a sync's match rate from its overview page.

Clicking the match rate opens a details view that shows:
external status of the sync
matched users
match percentage
links to your audiences in the ad platform

Match Booster requires email and other PII to be in a raw, unhashed format. Hightouch then normalizes it—for example, by lowercasing, removing spaces, etc.—to ensure it matches data in our identity graph.
The best way to model multiple identifiers of the same type is to consolidate all values in a single row, and to capture multiple entries as an array. If you have just one value per identifier, a string is appropriate.
For example:
| First Name | Email | Phone | uuid |
| --- | --- | --- | --- |
| Tyler | "tyler@work.com" | ["555-123-4567" , "999-555-1234"] | 1 |
| Amina | ["amina@work.com", "amina@gmail.com"] | "555-567-8309" | 2 |
Hightouch formats the data to match the requirements of ad platform APIs.
After you configure match boosting for a model, Hightouch runs a comparison of your selected identifiers against our identity graph and looks for exact matches. Hightouch uses a hashed version of your model's primary key to keep track of and access matched rows. Hightouch never stores any of your proprietary data.
Once you've configured your boosted model and selected which identifiers to use for enrichment, you can expect enrichment to take a couple of hours and up to one day. This is true for both the first and subsequent enrichments.
After the first enrichment cycle, Hightouch automatically refreshes actively syncing boosted models every 14 days.
You can find the following information in the Match boosting tab of any boosted model's configuration:
Enrichment Schedule
Last enrichment
Next enrichment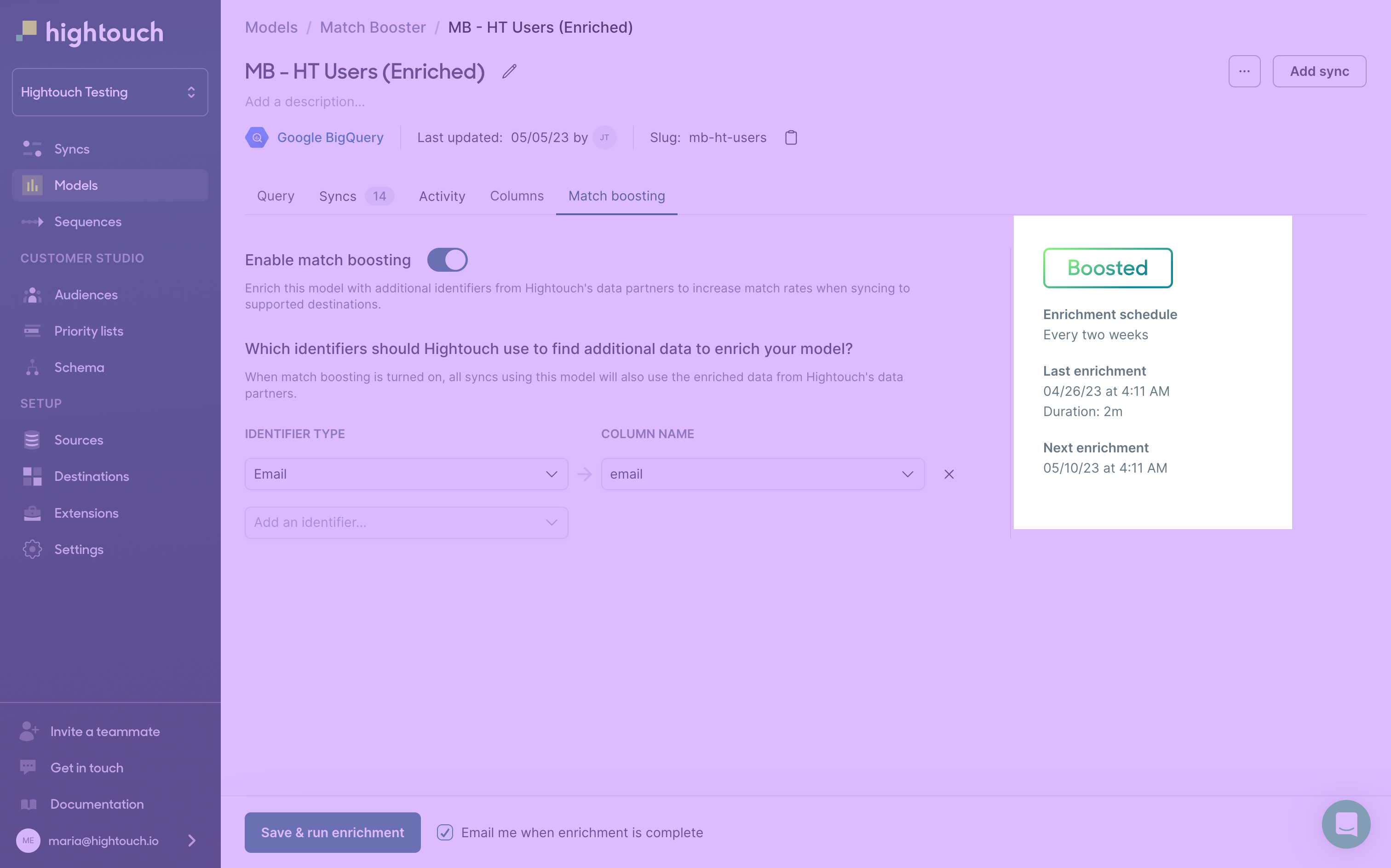 Yes. Click Save and run enrichment from the Match boosting tab in model configuration.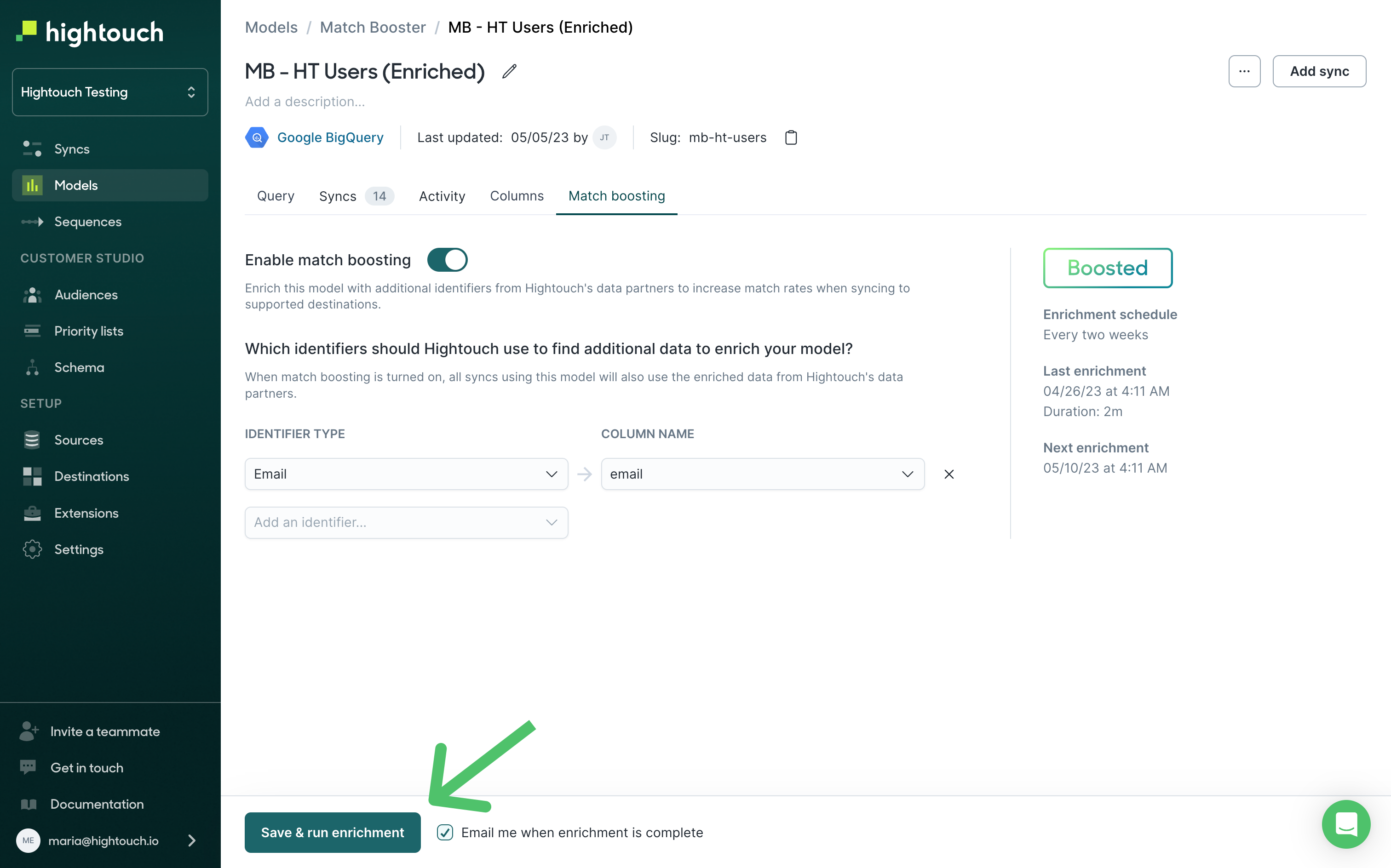 Yes. For example, if you selected email and phone as identifiers for model enrichment, you should also include them in sync configuration. Hightouch enriches identifier columns you select with additional boosted values.
Upon the initial sync to an advertising platform, match rates can take up to 48 hours to stabilize depending on the platform. Allow enough time for results to calculate.
Snapchat is unconventional in the way it reports match rate. If you send multiple identifiers for the same user, Snapchat initially reports separate matches, which can lead to a greater than 100% match rate. Later, Snapchat deduplicates and resolves multiple matches down to a single user. Check back in a day or two to see the stabilized match rate.