Hightouch exposure sync allows you to see which Hightouch syncs are using your dbt models from your dbt docs and lineage graph.


Exposure sync works by defining and updating exposures in your chosen dbt repository anytime a Hightouch sync is added or modified that uses a dbt model.
You can enable exposure sync by navigating to 'dbt Models' under the Extensions menu and selecting your connected dbt Source. From there, you can activate the dbt exposures toggle and click 'Save'. You should see exposures starting to sync within a few minutes.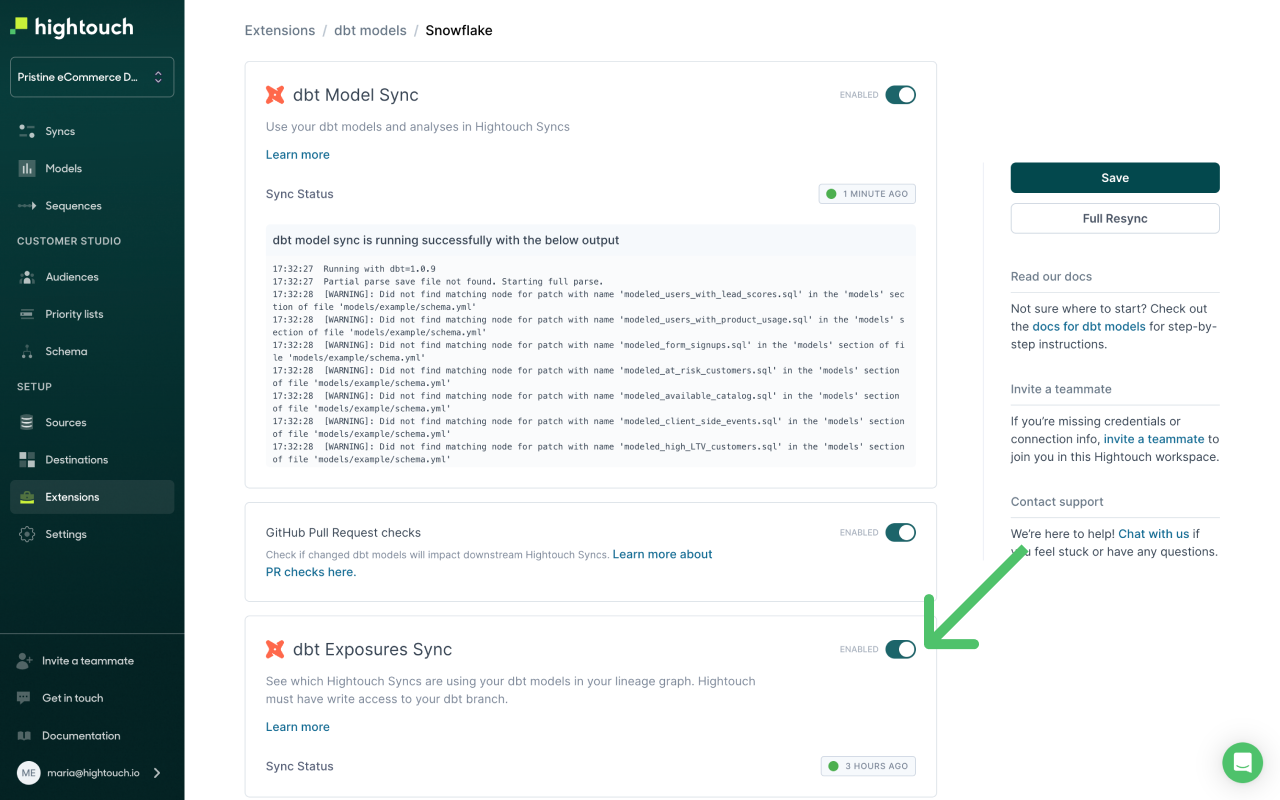 In your dbt respository, you should see a new file called
hightouch_sync_exposures.yml
. This file will be updated every time a Hightouch sync that uses a dbt model is added, modified or disabled.

The Hightouch Github app must have commit access to your chosen dbt branch in order to create exposures. If Hightouch is unable to push to your branch you may have to update your branch protection rules in your dbt github repository.
The Hightouch exposures file is intended to stop you from accidentally breaking Hightouch syncs as a result of deleted dbt models. If you need to delete a model defined in the Hightouch exposures file, you can remove the Hightouch exposures file at any point - it will be automatically recreated by Hightouch.
Our team is relentlessly focused on your success. We're ready to jump on a call to help unblock you.

Connection issues with your data warehouse?
Confusing API responses from destination systems?
Unsupported destination objects or modes?
Help with complex SQL queries?

If you see something that's missing from our app, let us know and we'll work with you to build it!

We want to hear your suggestions for new sources, destinations, and other features that would help you activate your data.