Build robust marketing campaigns on Marketo using rich customer data from your data warehouse
Create Marketo authorization details by navigating to Admin > Launchpoint and selecting a service.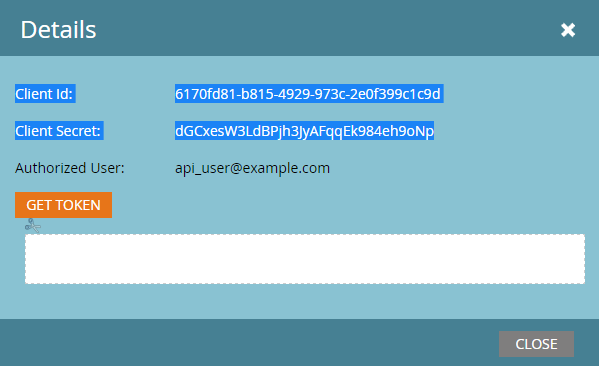 You can find the Base URL in Admin > Integration > Web Services. Only use the part after https:// and before /rest as your base url, e.g. 284-RPR-133.mktorest.com.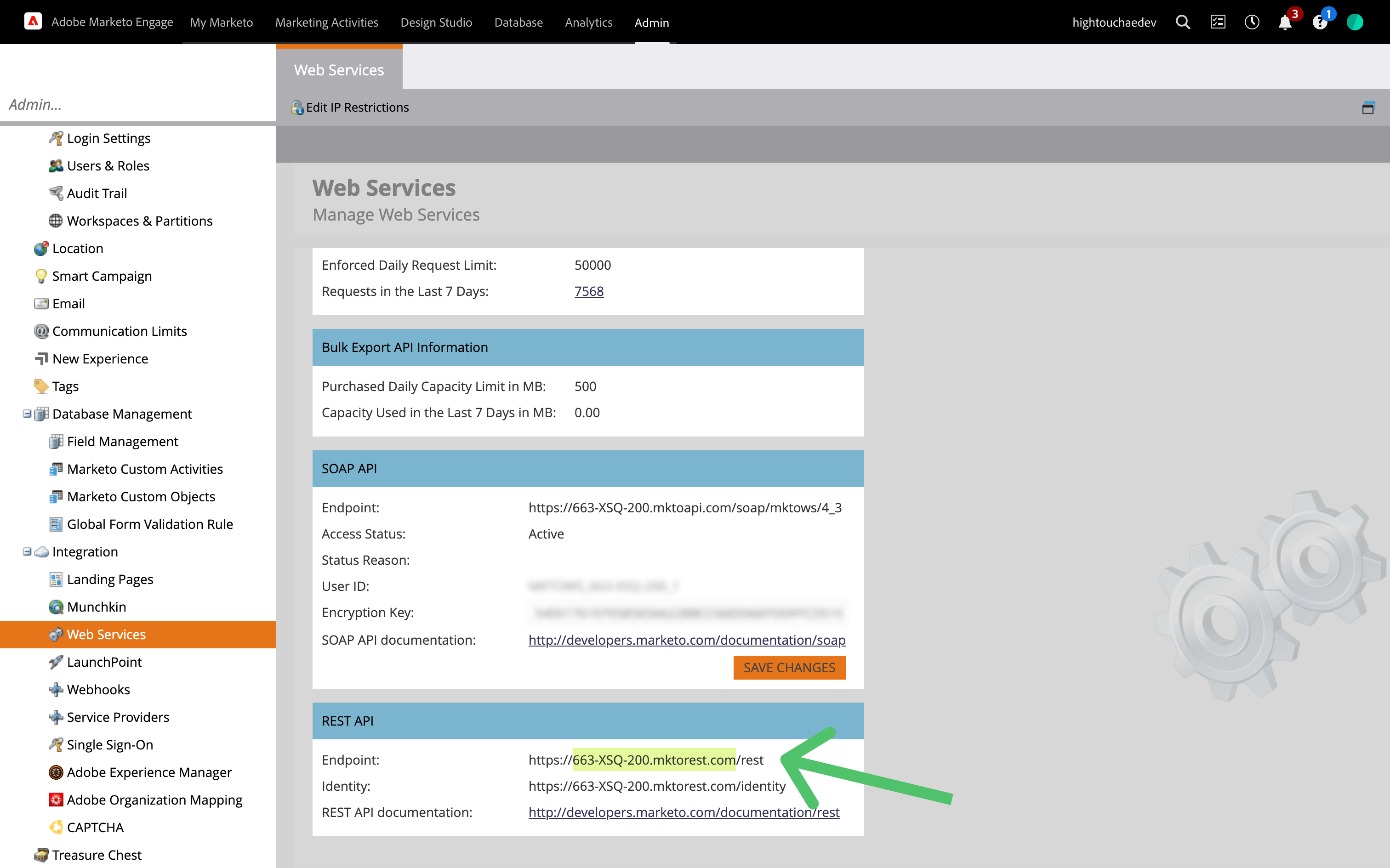 Click "Add New"
Click "Marketo"
Add any destination name (e.g. "Marketo")
Copy Client ID, Client Secret, and Base URL into form
Click Add Marketo Destination
Hightouch supports the following Marketo sync types:
Objects
Activities
Static Lists
Hightouch supports syncing to both standard and custom Marketo objects. The standard objects that Hightouch supports are:
Leads
Companies
Opportunities
Hightouch supports the following sync modes for objects:
Upsert — Upsert mode pushes new objects to Marketo and updates fields that change in your warehouse.
Update — Update mode updates particular fields on existing objects in Marketo.
Records can be matched from your source to your Marketo object. The fields available to match depend on the object.

You can sync columns from your source to Marketo's fields.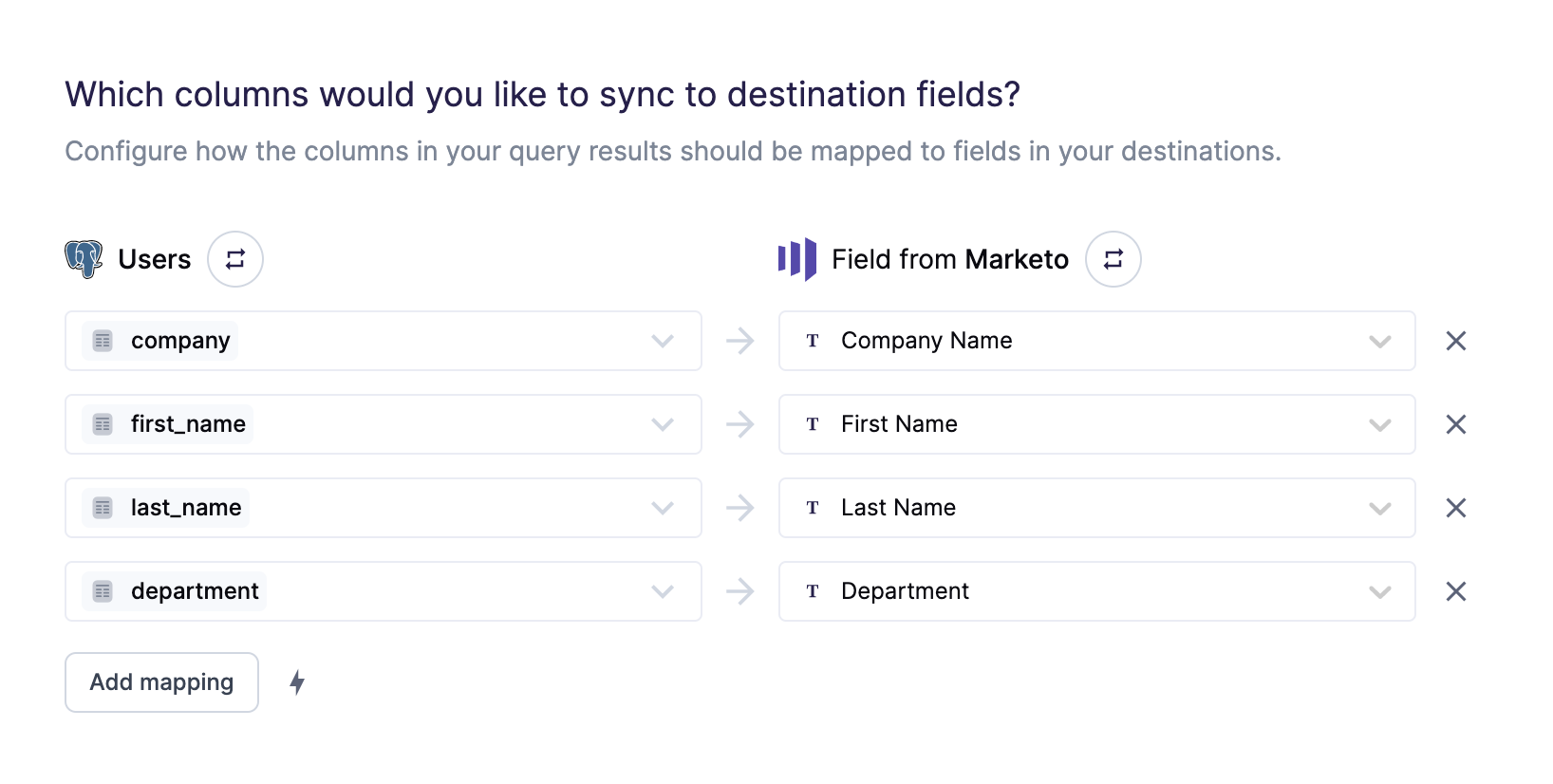 Hightouch supports syncing to custom activities. To sync custom activities they must first be created and approved in Marketo.
You can learn more about creating custom activities in Marketo's docs
here
.
Hightouch allows you to choose the activity, timestamp, and the lead ID that your Marketo activity is linked to.
Records can be matched from your source to your Marketo activity's primary attribute.

Hightouch allows you to sync data from your source to your Marketo activity's attributes.
Hightouch supports creating and updating Marketo static lists.
Hightouch supports automatically creating a new list for your sync. You can specify a custom name for this list, or Hightouch will use the name of the model.
Here, the name List 1 will be used as the list name:

When creating a new static list in Marketo, you need to select the folder the list will be created in.

Hightouch supports adding an optional description to your Marketo static list.

Our team is relentlessly focused on your success. We're ready to jump on a call to help unblock you.

Connection issues with your data warehouse?
Confusing API responses from destination systems?
Unsupported destination objects or modes?
Help with complex SQL queries?

If you see something that's missing from our app, let us know and we'll work with you to build it!

We want to hear your suggestions for new sources, destinations, and other features that would help you activate your data.