Sync your most recently captured event data to Heap to both measure and dramatically improve your digital experience
Upon selecting Heap as your destination you will be prompted to input your Heap Environment ID, which correspond to the specific project environment you wish to sync your data to.
You can locate the appropriate Environment ID within your Heap account by navigating to Account > Manage > Projects and clicking on your desired project: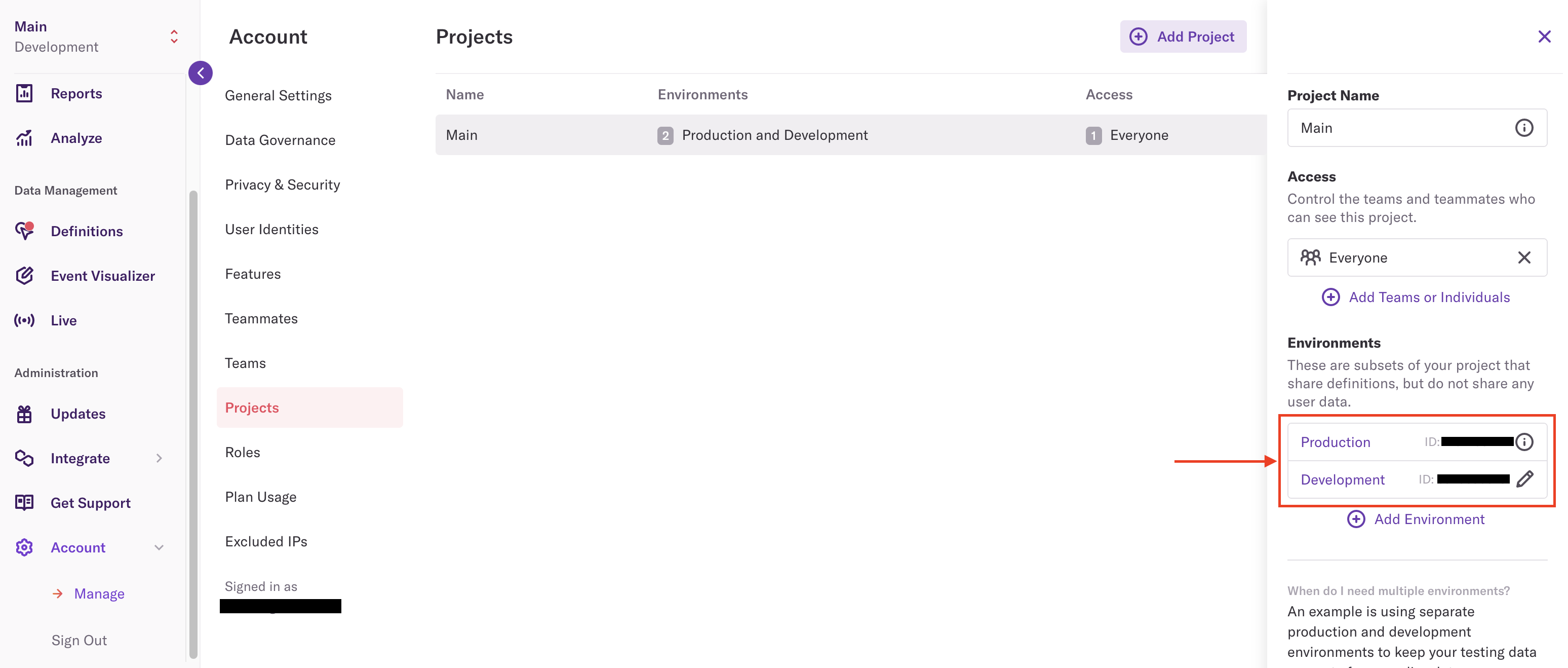 Hightouch currently supports syncing the following Heap sync types:
Events
Objects:

User Properties
Account Properties
There is one possible sync mode for Heap objects:
Upsert - pushes new objects to Heap and updates fields that change in your warehouse.
Records can be matched from your source to your Userflow workspace by the identity (typically a unique user property) or account_id, depending on the object you are syncing.

In order to sync account properties you must first have users synced into your Heap workspace. The reason for this is that in order to sync account properties you must first configure Account IDs. This may be done by navigating to Account > Manage > Features and reading the following:
"To analyze accounts in Heap, you need to specify a user property that can be used to group users into accounts (e.g. Account ID)."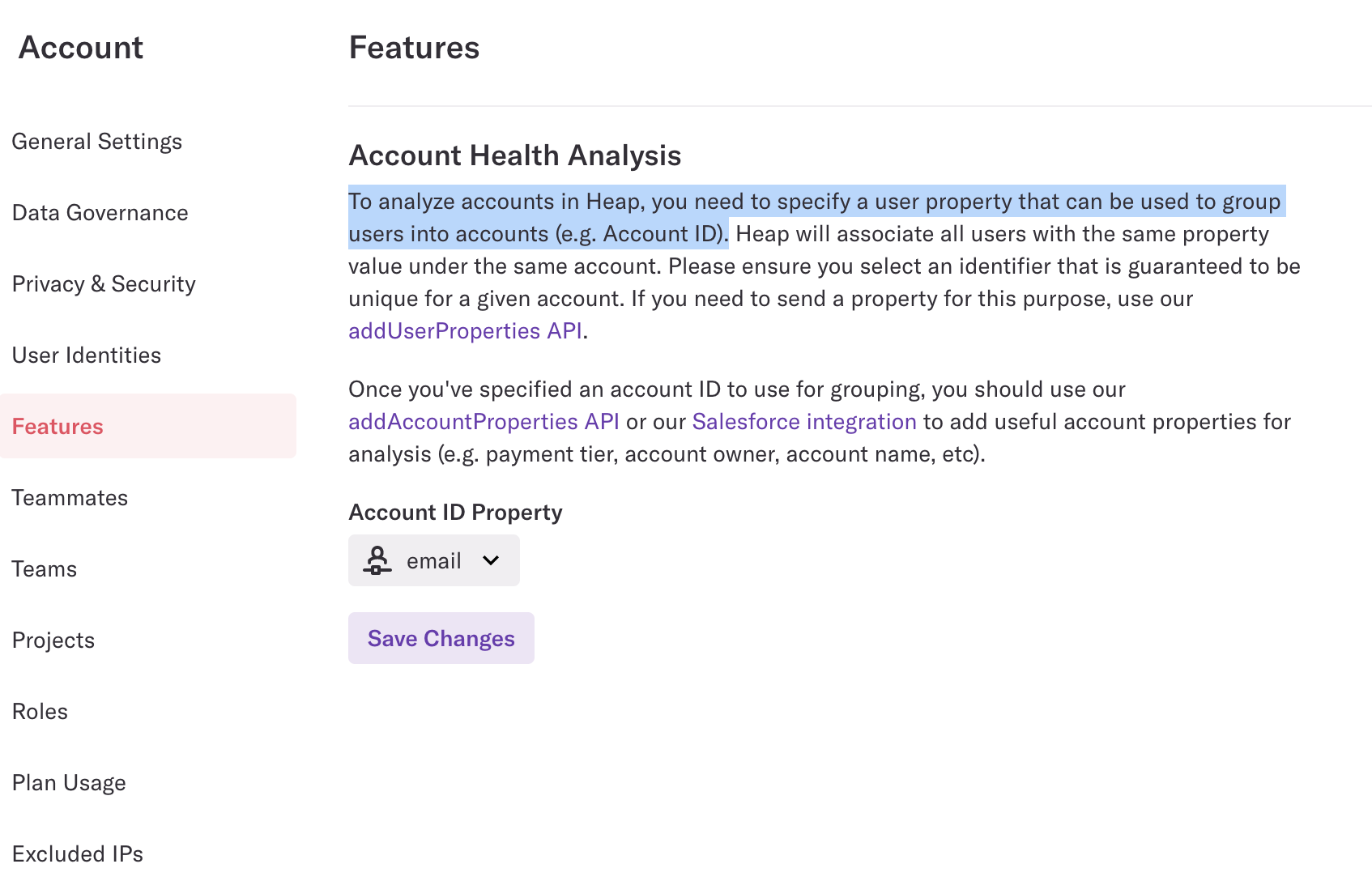 There is one possible sync mode for Heap events:
Insert - only pushes new events to Heap.
In order to specify the name of the event you wish to sync to Heap you have the option of either inputting the name of a particular event or using a column from your model.

You may also specify the timestamp of the event in your source. However, be aware that this value may be overridden by its respective mapping and is completely optional. If you choose not to explicitly specify a timestamp then Heap will use the time the event arrives to the server.
The identity of an event is a required field and is typically a unique user property. If the specified identity does not exists, a new user will be created with that identity in Heap.
You may also sync columns from your source to Heap as event, user, or account properties. Any property previously created will be updated and any new properties will be created.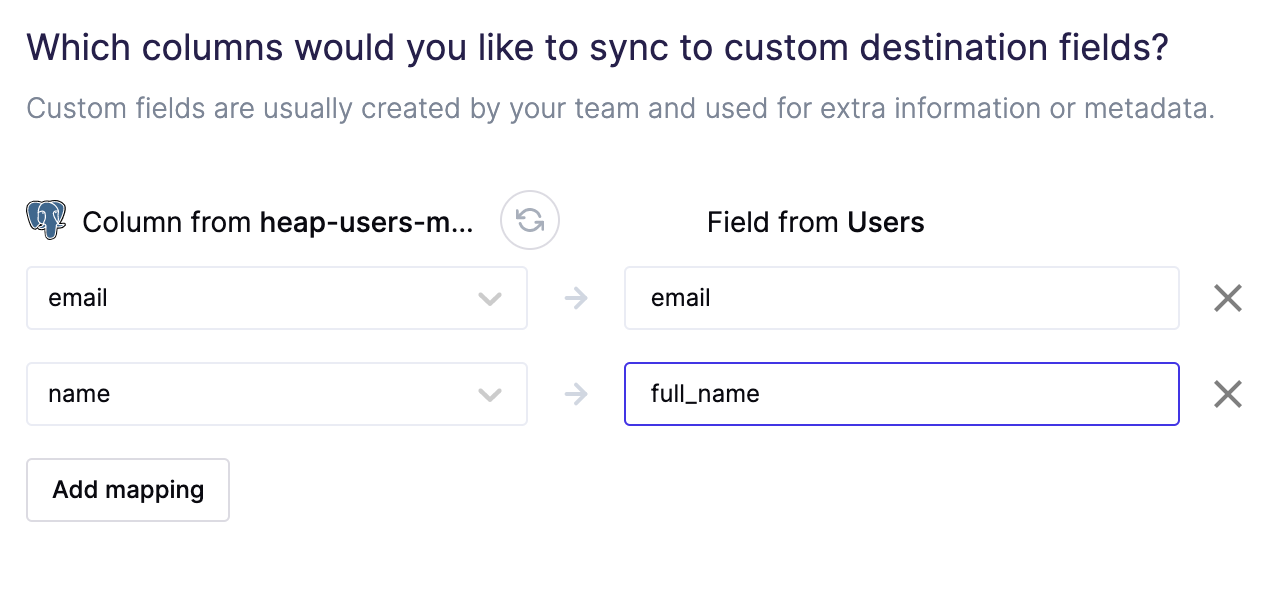 Our team is relentlessly focused on your success. We're ready to jump on a call to help unblock you.

Connection issues with your data warehouse?
Confusing API responses from destination systems?
Unsupported destination objects or modes?
Help with complex SQL queries?

If you see something that's missing from our app, let us know and we'll work with you to build it!

We want to hear your suggestions for new sources, destinations, and other features that would help you activate your data.