Improve product adoption and reduce churn by enriching Gainsight with rich, up-to-date customer data from your data warehouse
Generate an access key by provisioning a Gainsight API in Administration > Integrations > Connectors > Create Connection. For more information, check out the
Gainsight documentation here
.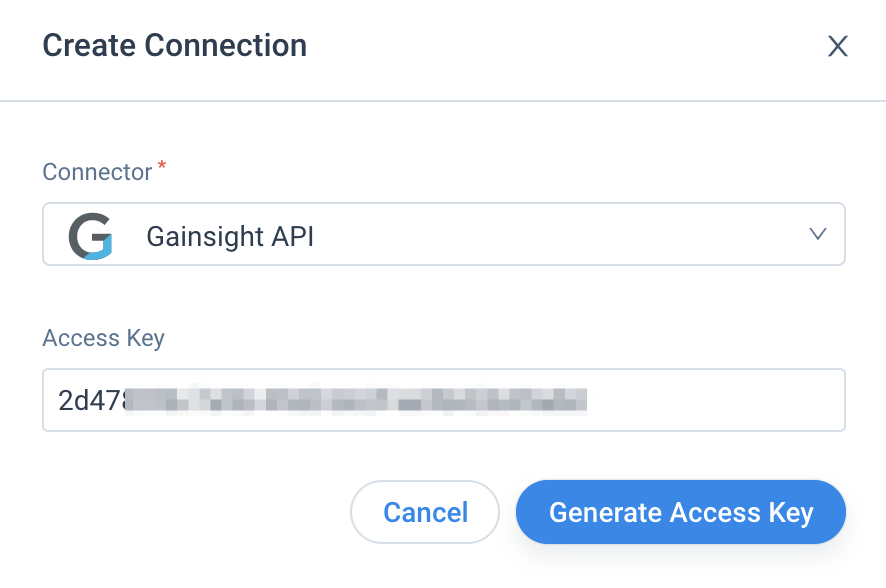 Hightouch supports syncing to the following Gainsight objects:
Hightouch supports the following sync modes:
Update — Update mode updates particular fields on existing objects in Gainsight.
Upsert — Upsert mode pushes new objects to Gainsight and updates fields that change in your warehouse.
Companies can be matched from your warehouse to your Gainsight destination using any filterable field as long as the value is unique. If the selected field is not unique, the incorrect row may be updated.
For company objects, Hightouch can update the rows based on some external ID data in Gainsight. For example, a custom field in Gainsight called HTExternalId, which contains the ID of the company stored in your product database or data warehouse.
We can use this field as a merge rule to lookup the record in Hightouch and update it with mapped values.
Person objects must be matched from your warehouse to your Gainsight destination using Emails.
You can sync any non read-only fields from your source to any of the fields in the selected object.
Our team is relentlessly focused on your success. We're ready to jump on a call to help unblock you.

Connection issues with your data warehouse?
Confusing API responses from destination systems?
Unsupported destination objects or modes?
Help with complex SQL queries?

If you see something that's missing from our app, let us know and we'll work with you to build it!

We want to hear your suggestions for new sources, destinations, and other features that would help you activate your data.