Empower your marketing team to run highly granular retargeting and lookalike campaigns on Facebook
After selecting Facebook Custom Audiences from our Destinations catalog, you will be prompted to initiate an OAuth flow.
Click the button to initiate the OAuth flow with Facebook. After you have authenticated, you will be prompted by a screen to "Authorize a new Facebook Custom Audiences account." This should complete the OAuth flow with Facebook and finish your setup.
After being redirected back to Hightouch, select an Ad Account using the Dropdown and then click "Save"
All that you have to do to connect a query to Facebook Custom Audiences is setup mappings between the columns returned by your SQL query and Facebook.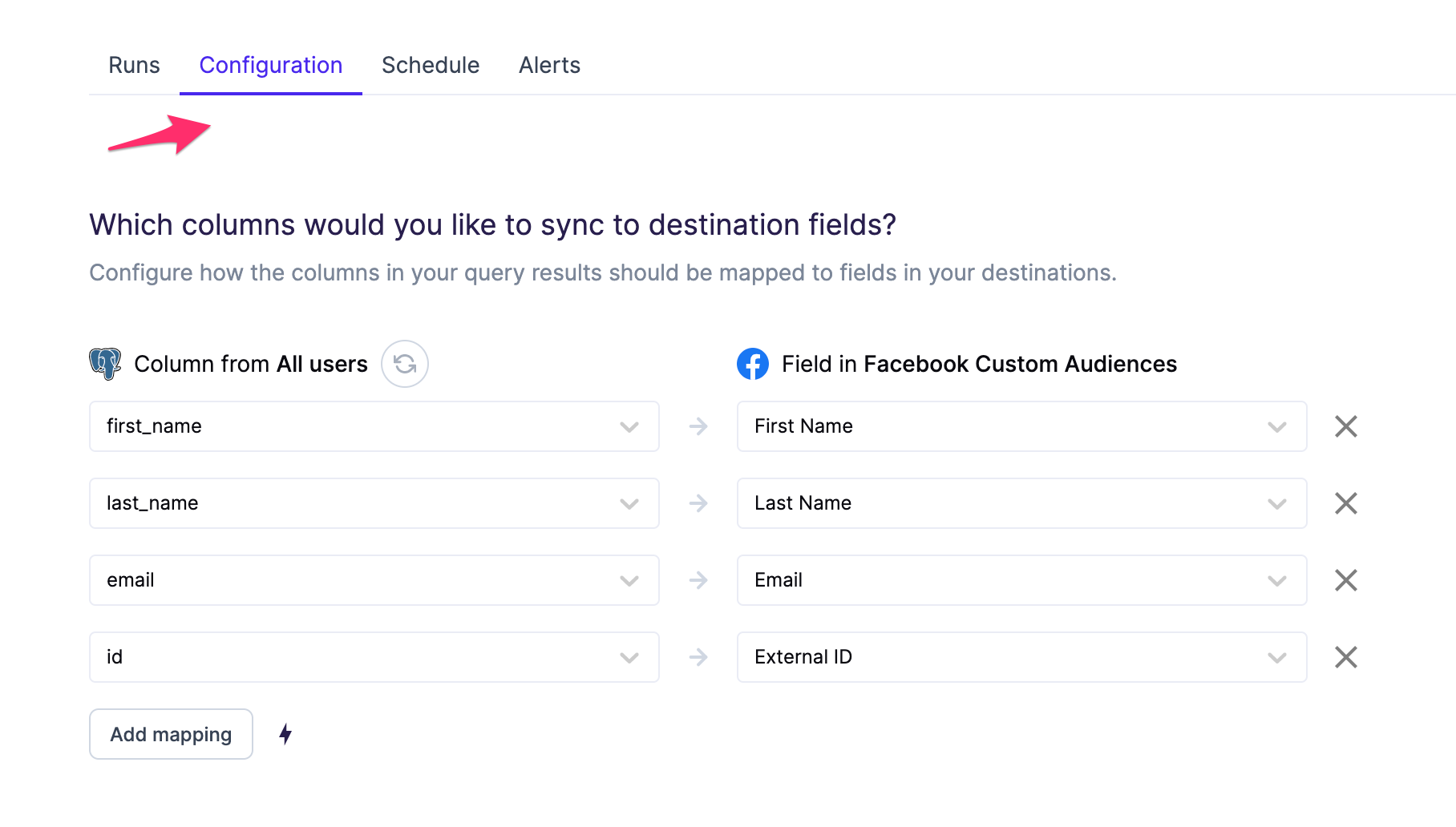 The columns on the left hand side are from the SQL query and the columns on the right hand side are from the Facebook Ads
You can create a name for your custom audience or Hightouch will default to the name of the model as the audience's name.
The mappings supported by Facebook are pretty standard with a few exceptions, e.g.
By default, Hightouch automatically hashes the following fields before sending requests to Facebook:
Email
Phone
Gender
First Name
Last Name
First Initial
State
City
Zip Code
Country
This behavior can be disabled by in the sync config. If it is disabled, the data from the model should be appropriately normalized and hashed.
Our team is relentlessly focused on your success. We're ready to jump on a call to help unblock you.

Connection issues with your data warehouse?
Confusing API responses from destination systems?
Unsupported destination objects or modes?
Help with complex SQL queries?

If you see something that's missing from our app, let us know and we'll work with you to build it!

We want to hear your suggestions for new sources, destinations, and other features that would help you activate your data.