Sync data from Google BigQuery to HubSpot
Connect your data from Google BigQuery to HubSpot with Hightouch. No APIs, no months-long implementations, and no CSV files. Just your data synced forever.
Your favorite companies use Hightouch to sync data securely at scale.Our customers
Activate your data in 3 easy steps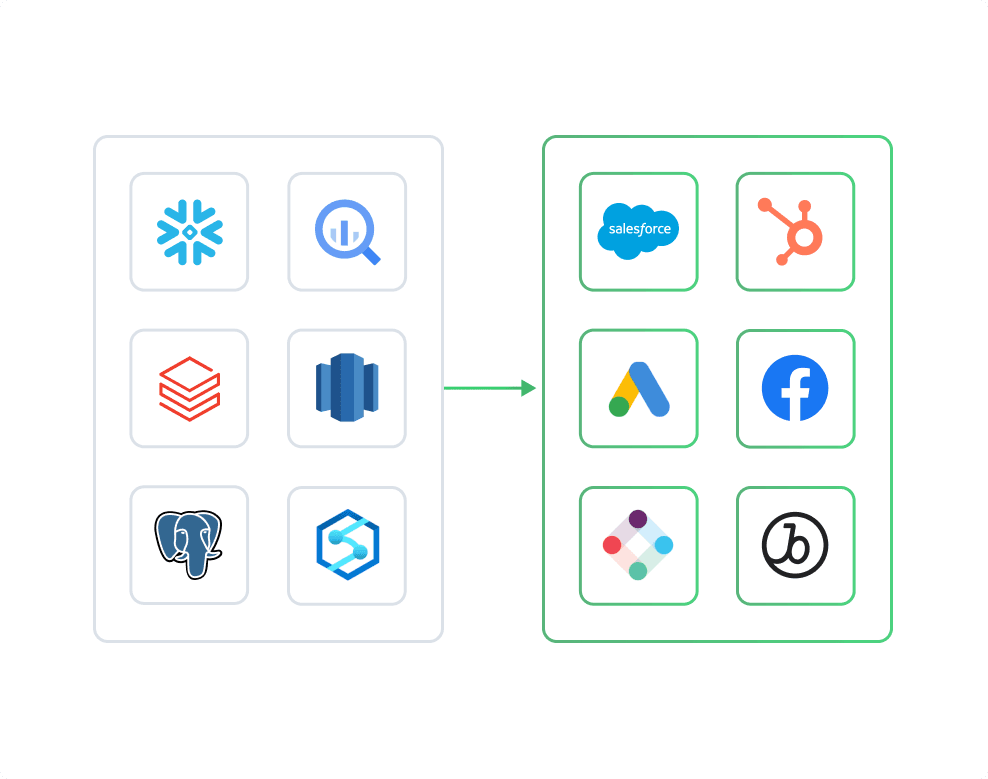 Use cases
Sync data from Google BigQuery to HubSpot in less than 5 minutes
Target customers to upsell based on the product features they currently use
See a customer's Stripe and NetSuite invoices directly from HubSpot
Personalize content in marketing emails based on a customer's product usage
Send lifecycle emails to customers based on their recent activity in the product (like abandoning a shopping cart)
Send tips to customers on valuable features they haven't used yet
Congratulate customers for reaching milestones within the product
What HubSpot objects can you sync to?
Contacts

Contacts store information about individuals. From marketing automation to smart content, the lead-specific data found in contact records helps users leverage much of HubSpot's functionality.

Companies

The companies object is a CRM object. You can use individual company records to store information about businesses and organizations within company properties. The companies endpoints allow you to manage this data and sync it between HubSpot and other systems.

Deals

A a deal represents an ongoing transaction that a sales team is pursuing with a contact or company. It's tracked through pipeline stages until won or lost. The deals endpoints allow you to manage this data and sync it between HubSpot and other systems.

Tickets

In HubSpot, a ticket represents a customer request for help or support. The tickets endpoints allow you to manage this data and sync it between HubSpot and other systems.

Custom Objects

To represent and organize your CRM data based on your business needs, you can create custom objects. Use the custom objects API to define custom objects, properties, and associations to other CRM objects before syncing data from Hightouch.

Events

A marketing event is a CRM object, similar to contacts and companies, that enables you to track and associate marketing events, such as a webinar, with other HubSpot CRM objects. Below, learn more about working with the marketing event API to integrate marketing events into an app.
What methods can I use to model my Google BigQuery data?
dbt model selector

Sync directly with your dbt models saved in a git repository.

Looker

Query using Looks. Hightouch turns your look into SQL and will pull from your source.

SQL editor

Create and Edit SQL from your browser. Hightouch supports SQL native to Google BigQuery.

Sigma model

Hightouch converts your Sigma workbook element into a SQL query that runs directly on Google BigQuery.

Table selector

Select available tables and sheets from Google BigQuery and sync using existing views without having to write SQL.

Customer Studio

For less technical users, pass traits and audiences from Google BigQuery using our visual segmentation builder.
Other Google BigQuery integrations
Other HubSpot integrations
Activate your data in less than 5 minutes