Sync data from Metabase to Facebook Custom Audiences
Connect your data from Metabase to Facebook Custom Audiences with Hightouch. No APIs, no months-long implementations, and no CSV files. Just your data synced forever.
Your favorite companies use Hightouch to sync data securely at scale.Our customers
Activate your data in 3 easy steps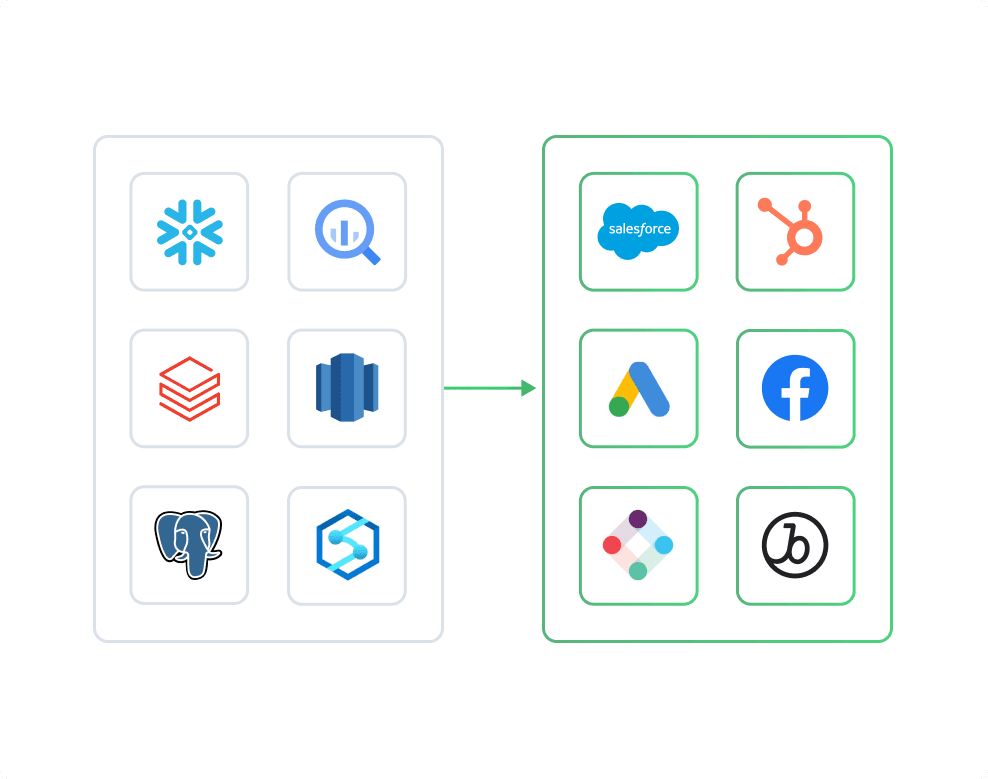 Use cases
Sync data from Metabase to Facebook Custom Audiences in less than 5 minutes
Upload lists to Facebook to run ads based on certain attributes within your database, such as people who have visited your site
Create lookalike audiences on Facebook using subsets of your users rather than all of them
Continuously fuel your Facebook custom audiences with live data so that data remains fresh
What Facebook Custom Audiences objects can you sync to?
Custom Audiences

The Marketing API allows you to build target Custom Audiences from customer information. This includes email addresses, phone numbers, names, dates of birth, gender, locations, App User IDs, Page Scoped User IDs, Apple's Advertising Identifier (IDFA), or Android Advertising ID.
What methods can I use to model my Metabase data?
Custom

Browse available data and query using a file, spreadsheet, collection, or other dataset.

SQL editor

Create and Edit SQL from your browser. Hightouch supports SQL native to Metabase.
Other Metabase integrations
Other Facebook Custom Audiences integrations
Activate your data in less than 5 minutes