Announcing Hightouch on Databricks Partner Connect
The First Data Activation Partner Available on Partner Connect, Hightouch Activates Lakehouse Data to Business Tools
To help business and data teams take action on the insights within their lakehouse, we're happy to announce that Hightouch is now available as a cloud service directly in Databricks Partner Connect. With Hightouch now available in Partner Connect, Databricks users can easily send data to strategic destinations, automate the provisioning of a Hightouch workspace, and sync the business rules defined in the lakehouse—all directly from Databricks.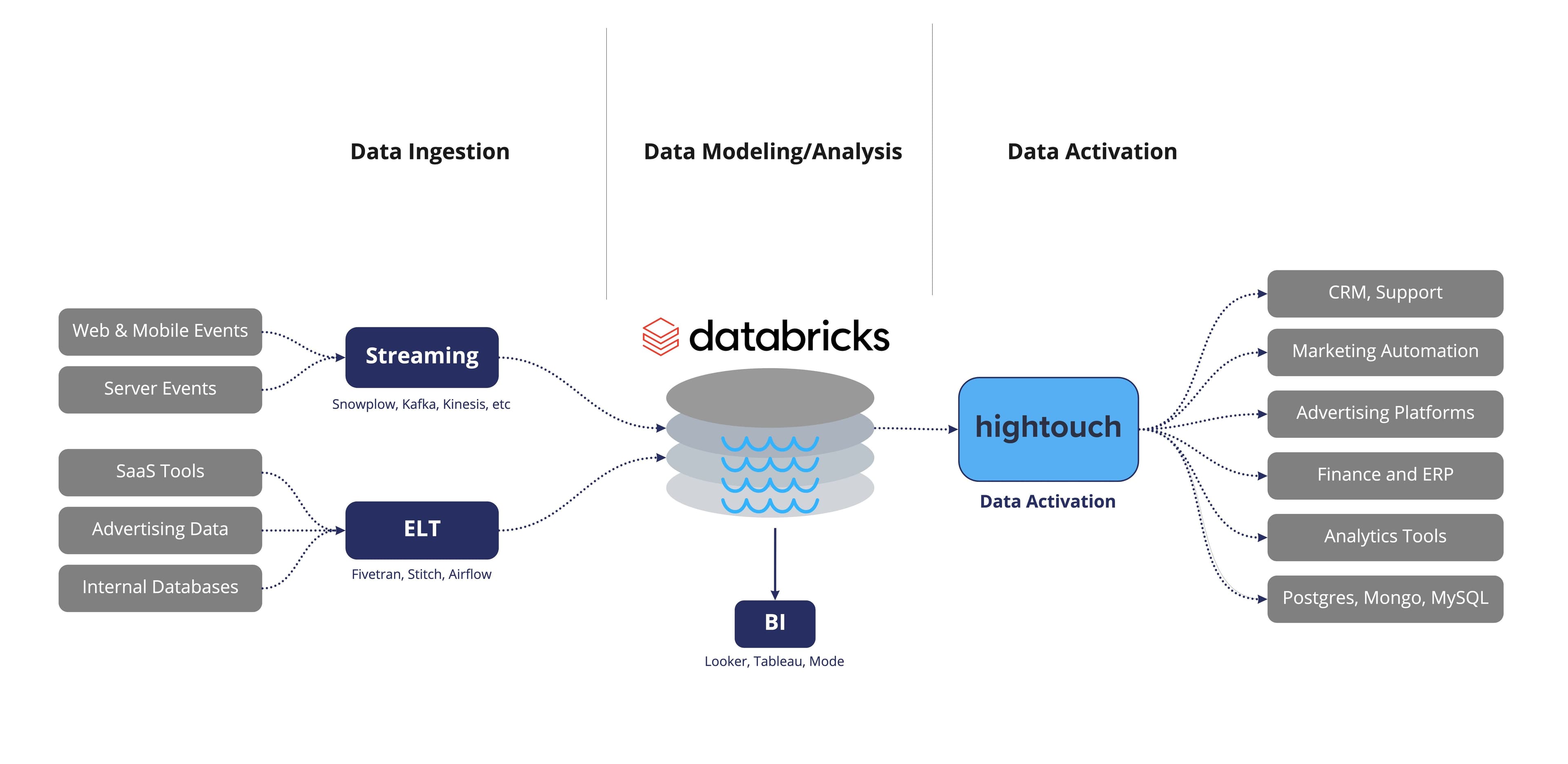 Databricks Architecture
Hightouch makes it trivial to pull data out of Databricks directly into the business systems that are home to business users and their workflows… With Hightouch, employees can leverage a single source of truth about our organization's data to make better mission-critical decisions when it matters most.
What is Partner Connect?
Partner Connect makes it easy for Databricks users to discover data, analytics and AI tools directly within the Databricks platform — and quickly integrate the tools they already use today. With Partner Connect, users can simplify tool integration to just a few clicks and rapidly expand the capabilities of their lakehouse.
What is Data Activation?
All business teams from sales and marketing to support and customer success, need relevant, accurate, and real-time customer data to add critical context to the software they already use on a daily basis. Data Activation is the final step in the Modern Data Stack. Data platforms like Databricks are extremely efficient at consolidating your data in a centralized platform, transforming it for analytics, and ingesting it into your BI tool of choice so you can derive powerful insights. However, there's a core problem: dashboards and reports are only ever used to make high-level business decisions, and data lakehouses are only accessible to technical users who know how to write SQL. Data Activation eliminates this problem by syncing the data in your lakehouse directly back into the tools of your business users.
Data Activation is the method of unlocking the knowledge sorted within your data lakehouse, and making it actionable by your business users in the end tools that they use every day. In doing so, Data Activation helps bring data people toward the center of the business, directly tying their work to business outcomes.
Reverse ETL Overview
What is Hightouch?
Hightouch is the world's leading Data Activation Platform. Business teams, from sales and marketing to support and customer success, need relevant, accurate, and real-time customer data to add critical context inside the software they already use. Whether you're enriching data in your CRM, optimizing ad spend, personalizing lifecycle marketing campaigns, building audiences, or even sending alerts to your favorite communication tools, Hightouch makes your data actionable – all with SQL, no scripts, or APIs needed. Once you've connected to Hightouch, you can take advantage of your existing dbt data models or simply define your data using SQL. All you have to do is map the appropriate columns from your data source to the proper fields in your destination and initiate your data sync. With Hightouch, you can send custom objects, events, audiences, file uploads, or notifications/tasks to over 100 different destinations.
With Hightouch, customers can tackle more business workflows while maintaining a single source of truth for their data. We are especially excited about Hightouch enhancing the Customer Data Platform capabilities for the lakehouse.
Steve Sobel
Global Industry Leader for Media & Entertainment
•
Databricks
The powerful integration between Hightouch and Databricks additionally enables data teams to turn their existing lakehouse into a Composable Customer Data Platform (CDP) which opens new opportunities for business teams including:
Syncing custom audiences to ad platforms for retargeting or lookalike audience building

Empowering GTM teams with product usage data

Sending personalized emails based on customer behavior

Automating business processes such as invoice creation or metered billing
To learn more about the Composable CDP, check out this post on the databricks blog.
Hightouch Audiences
Getting Started in Partner Connect
Through Partner Connect, you can start activating your Lakehouse data in just a few clicks. Our team has created a walk-through video here for you to see just how easy it is to get started activating your lakehouse data.
Follow the launch instructions in the video, and have your first Hightouch sync running (for free) in under 5 minutes!