Announcing the Hightouch Fivetran Extension
Automatically trigger Hightouch syncs as soon as the freshest data is available.
The new Hightouch Fivetran extension lets you schedule your Hightouch syncs to run as soon as your upstream Fivetran connectors and Fivetran dbt transformations are complete. While we've had upstream triggers for dbt Cloud for some time, this Fivetran release gives our 150+ joint Fivetran customers even more flexibility and control to ensure that the freshest data flows into their operational tools. The Hightouch Fivetran extension is currently available in public beta to all customers.
Automating Data Flows in the Modern Data Stack
Organizations rely on real-time customer data to power critical business decisions. The modern data stack has made this promise more accessible than ever. But with more tools come more silos. Data and business teams need data to flow seamlessly across their stack to streamline operations and continuously improve go-to-market strategies.
By triggering Hightouch syncs to run as soon as Fivetran connectors or Fivetran dbt transformations complete, teams can:
Send real-time outbound campaigns as soon as an important customer action takes place

Proactively notify the sales teams when a prospect downloads a high-intent marketing asset

Update lead scores based on real-time in-app engagement

Continuously improve customer 360 profiles to hyper-personalize user experience

…and much more!
We're big fans of drinking our own champagne (see here and here) to unlock the power of Data Activation, and this release is no exception. Hightouch has already migrated critical components of our product-led growth motion to be triggered by Fivetran. When Fivetran sends fresh product usage data into Snowflake, we automatically run Hightouch syncs that hydrate core usage reports in Salesforce. Similarly, our self-serve billing email notifications are entirely powered by Fivetran, Hightouch, and Hubspot.
Immediately trigger Hightouch syncs once Fivetran jobs complete
How It Works
Fivetran can run dbt transformations defined in a Git repository. Fivetran dbt transformations are valuable for transforming raw data as soon as the related Fivetran connector has finished syncing. The Hightouch Fivetran extension detects when Fivetran dbt transformations are complete and immediately triggers your scheduled Hightouch syncs. You can also trigger a Hightouch sync immediately after a Fivetran connector completes, even if you're not using Fivetran dbt transformations.
To get started, you'll need to connect your Fivetran account to your Hightouch workspace. Head to the Extensions tab, click the Fivetran button, and enter your Fivetran credentials.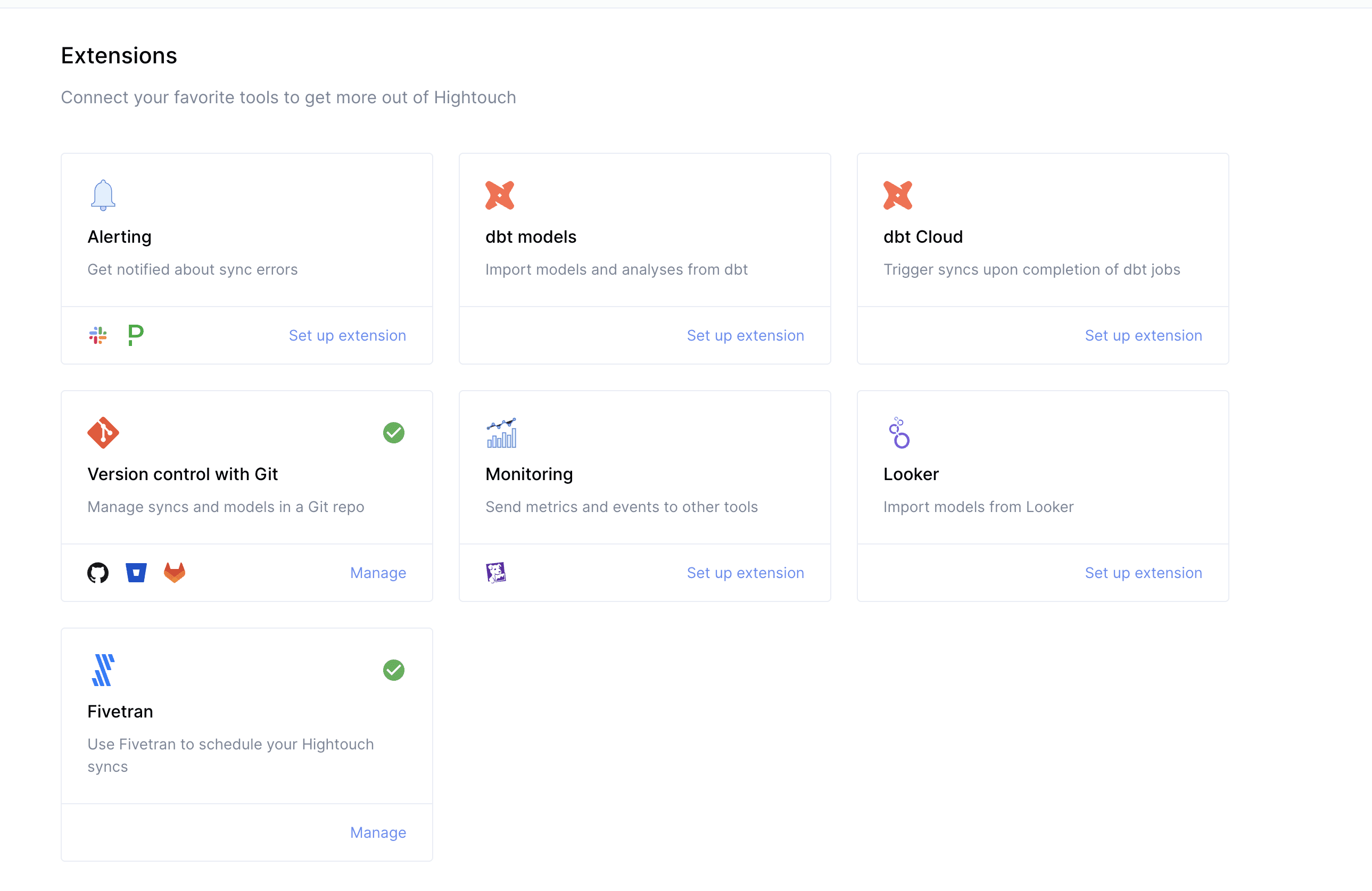 Hightouch extensions now includes Fivetran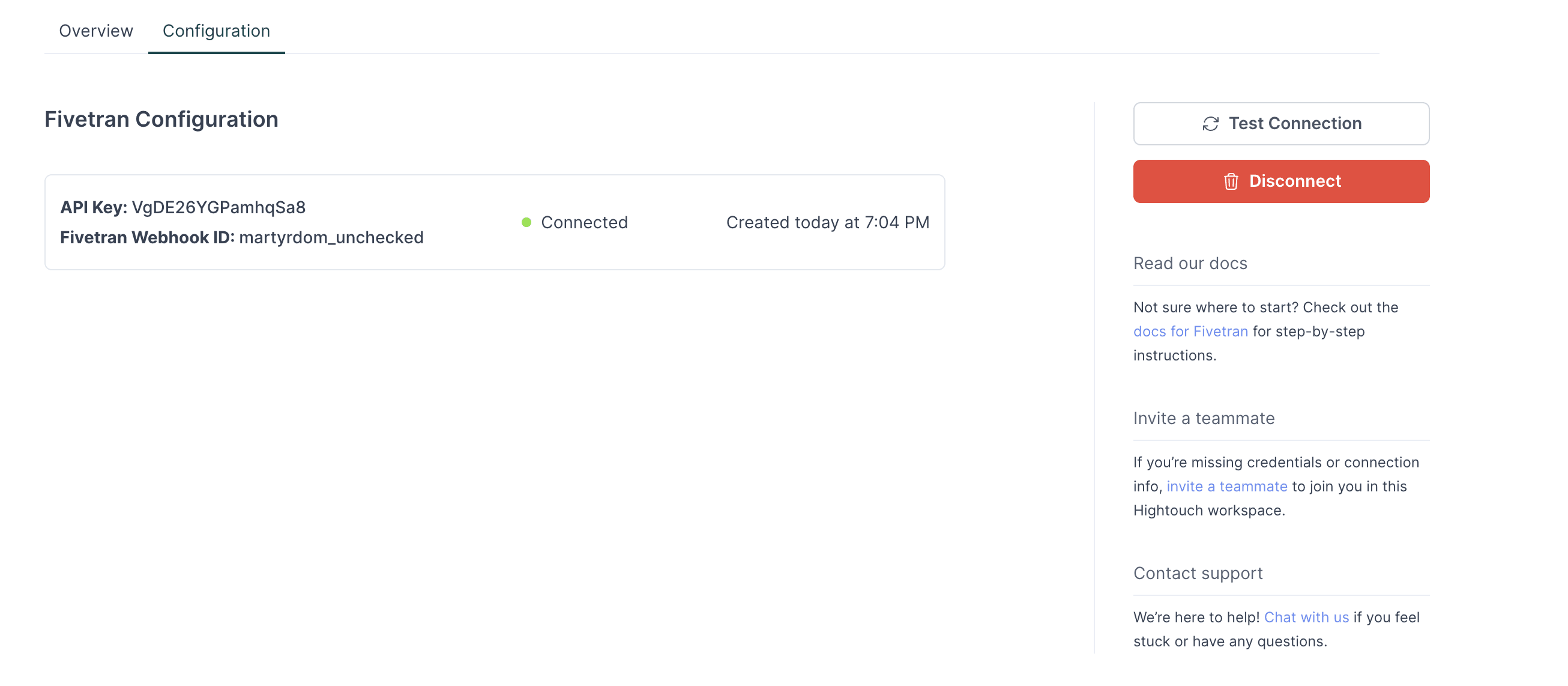 Fivetran extension configuration
Now, when you schedule syncs, you'll be able to select the Fivetran option under your sync schedule configuration. You can choose any number of Fivetran connectors and dbt transformations to trigger your Hightouch sync.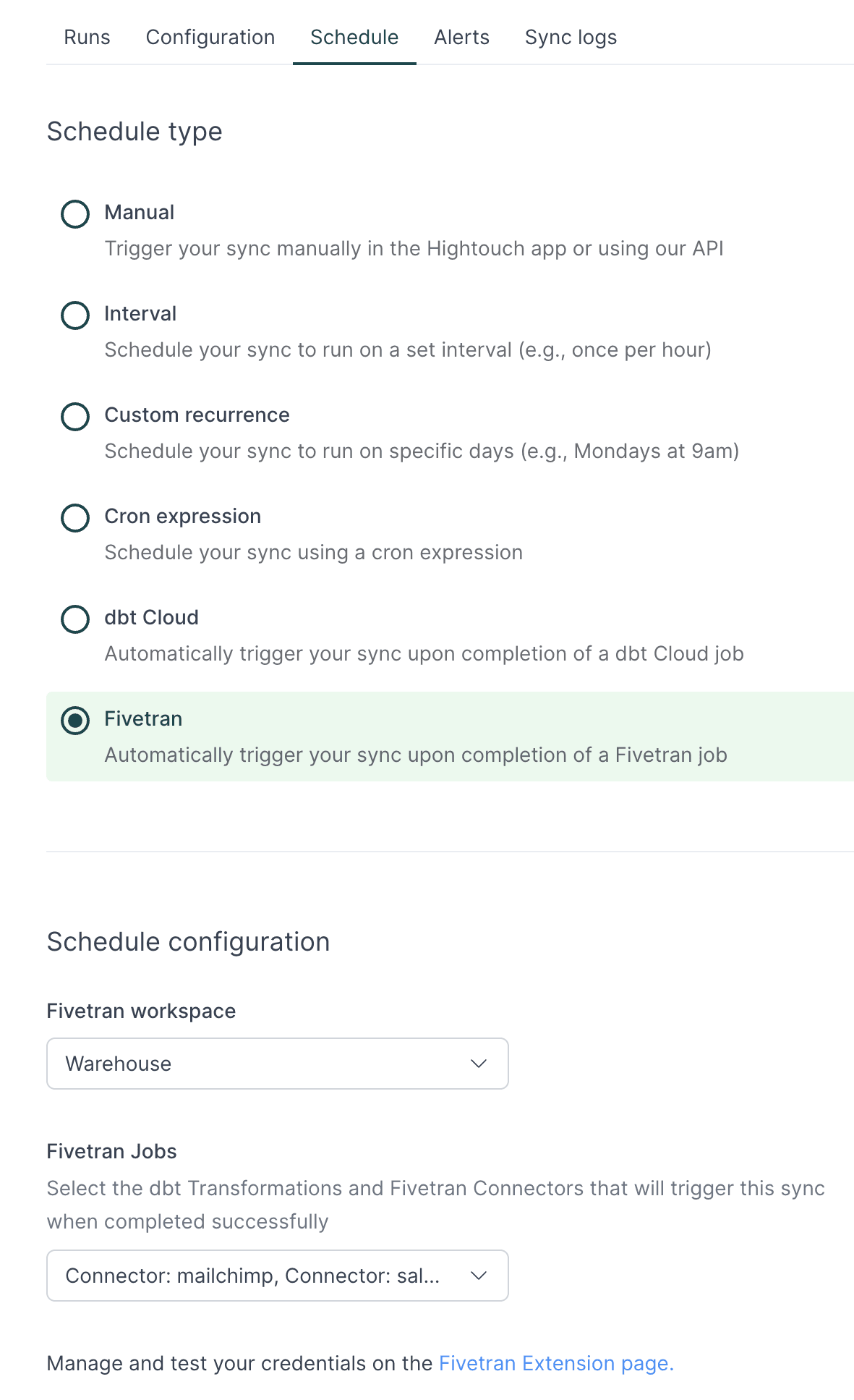 Hightouch sync configuration with Fivetran schedule option
Data engineering teams are continuously looking for new ways to optimize data flows across their organization. We're pleased to see Hightouch continue to build best-in-class integrations across the modern data stack, and this latest Fivetran extension will ensure that our mutual customers are using the most up-to-date data to power their business decisions.
Get Started
The Fivetran Extension is available to all customers in public beta today. When the feature is GA, it will be included in our Business Tier plan. Just jump to the Extensions tab to get started. Check out our docs to learn more.