Finally: A LiveRamp Alternative
LiveRamp and its competitors all took the same (expensive) approach to data onboarding. There's a better way to boost match rates.
LiveRamp holds a near-monopoly in the "data onboarding" space, helping companies build audiences across advertising platforms– often at an outrageous expense. How expensive? LiveRamp boasts in its earnings report that its top 95 customers each have annual contracts greater than $1M. Practically daily, we speak with industry professionals who feel they "absolutely need" LiveRamp but wish they didn't– either because of the strain it puts on their budgets or because, despite the value they see in LiveRamp, they are dissatisfied with its technology and outdated user experience.
You might wonder how LiveRamp keeps rolling along, given its premium pricing and frustrated customers. The answer is the absence of much serious competition– until now.
Today, we want to tell you about how Hightouch pioneered a new approach to data onboarding that yields superior outcomes to LiveRamp with an improved user experience- at a fraction of the cost. In this article, we'll walk through how Liveramp actually works and review in depth the shortcomings of LiveRamp's platform compared to Hightouch's Match Booster.
LiveRamp's Stranglehold on Data Onboarding
LiveRamp is an industry juggernaut boasting annual revenues just shy of $600M. Its product portfolio has expanded over the years, but the core value proposition and primary use cases have always remained the same:
LiveRamp has constructed a robust set of third-party PII and device data from third-party providers like Acxiom and publisher networks.

LiveRamp anonymizes the PII into its proprietary anonymous identifier called a RampID to construct its

identity graph

, which contains RampIDs tied to other device and platform identifiers.

When a company uploads data, LiveRamp matches and enriches the uploaded customers to other identifiers through the RampID.

LiveRamp syncs the enriched data to ad platforms, increasing the likelihood that the customer's first party data matches in the ad platform.
Dubbed "data onboarding," this process improves match rates between lists of people advertisers want to reach with the corresponding audiences on advertising platforms. These improved match rates amplify the reach and efficiency of marketing campaigns. Although the specifics of data onboarding may differ based on a company's infrastructure (notably including a new streamlined Snowflake app), the overarching concept remains consistent.
LiveRamp's success is a testament to the power of data onboarding. Onboarding really works. Enriching first-party audiences with additional user identifiers results in higher match rates on advertising platforms and magnifies the impact of audience strategies like retargeting and suppression lists.
LiveRamp's Shortcomings
While data onboarding can boost match rates, LiveRamp's approach is far from perfect.
First and foremost: LiveRamp is very expensive. From their latest earnings report: 95 of their subscribing customers pay more than $1M each, and some back-of-the-napkin math suggests that many of their remaining 800+ customers pay nearly $500k each on average. LiveRamp can get away with these high contract costs because there aren't truly different alternatives to boost match rates.
While some companies may be able to stomach the cost of LiveRamp because of promised return on investment, the actual products that LiveRamp has built have significant downsides:
Black-box systems: LiveRamp's identity resolution is unconfigurable and opaque. Users have no idea (or control over) what actually is happening with their customer data; they just see the end impact on match rates. That end result can vary widely from company to company– and it's impossible to troubleshoot why.

Manual data management: Implementation can be a painful process. In a typical implementation, users must upload their customer PII directly to LiveRamp in order for the data to be matched and ultimately passed to ad platforms. This requires the user to package up their own first-party data into CSV files and load them to a cloud bucket or network drive. This upload process can often take days to complete, and the files must adhere to LiveRamp's rigid file formatting requirements in order to be processed.

Antiquated tooling: LiveRamp's toolkit lacks modern features. LiveRamp's Connect audience builder, for example, lacks advanced segmentation capabilities and can take days for stats to update in the UI.

Data insecurity: LiveRamp users must upload and store their customer data in LiveRamp to get its benefits. This introduces another layer of risk and duplication for data security and consumer privacy.

A disappearing data moat: Historically, LiveRamp was the strongest solution for data onboarding because of the wealth of identifiers it built over decades with its third-party cookie. As cookies are deprecated, LiveRamp has to rely on purchased third-party data sets to enrich onboarded data. In other words: LiveRamp no longer has an inherent competitive advantage in third-party identifiers.
Liveramp's longstanding presence in ad tech has allowed it to increase prices without any substantial additional benefits to its users.
Boosting Match Rates without LiveRamp
Here's the good news: finally, organizations can bypass LiveRamp and its data onboarding competitors to boost match rates. Hightouch is now offering an alternative approach to enriching customer data with third-party information and it's unlike any other solution on the market. This isn't just a sales pitch: it's a statement of fact that advertisers need to hear.
We launched our Match Booster product this spring, and we're seeing remarkable results. In almost every head-to-head evaluation, advertisers were able to maintain or even increase their match rates by switching to Hightouch. And if that's not enough, they did it in a fraction of the time and a fraction of the cost. In one case, a major health company replaced LiveRamp with Hightouch, saving over $400k annually while improving its match rates.
How is this possible? The concept behind data onboarding is dead simple: from any given customer identifier, like an email address, add other known identifiers before trying to match that customer to an ad platform audience. We take that same fundamental approach. We aggregated our own third-party data sets from the best providers out there– many of which LiveRamp also relies on. This lets us provide the same or better outcomes of data onboarding- without LiveRamp's many pain points, especially since LiveRamp no longer has the benefit of cookie-derived third-party data.
Here's how it works. Companies use Hightouch to build custom audiences in their own data warehouse and then select the ad platforms where they want to advertise. Hightouch then enriches the customer's data in-flight as it syncs to the end destination. At the most basic level, the result is the same as data onboarding: customer identifiers reach advertising platforms with additional fields available for matching. But there's an additional benefit to using Hightouch - advertisers can build their audiences using the full depth and granularity of data in the warehouse. This means they can utilize all of their data and unlock more targeted audiences, with even higher match rates than they could by uploading limited CSVs to LiveRamp.
Here's a visual outline of the traditional data onboarding process at LiveRamp compared to Hightouch's Match Booster product: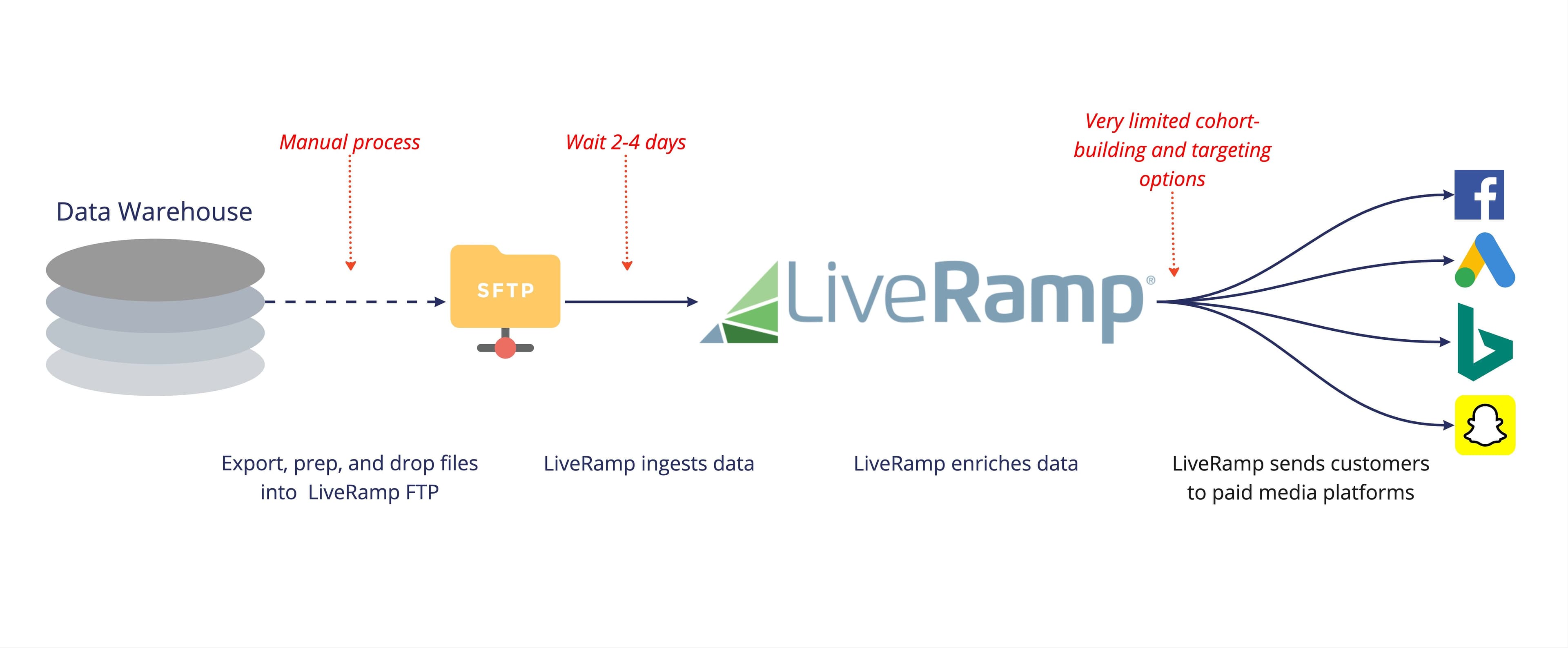 LiveRamp's traditional data onboarding process is manual and time-consuming. Data doesn't reach ad platforms for days.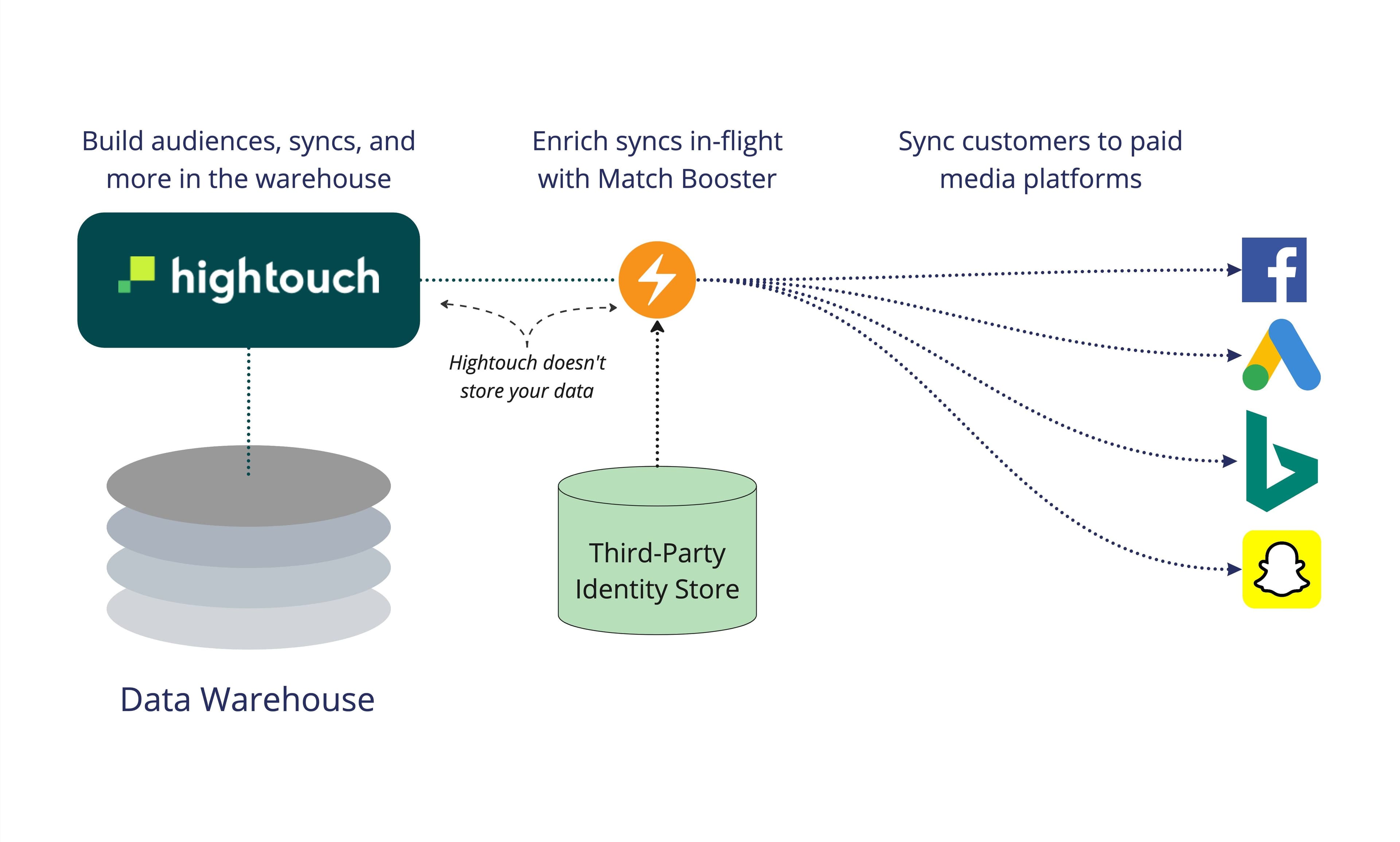 Hightouch's Match Booster is easy to use. You can keep ad platforms up-to-date without delaying for days, and Hightouch doesn't store your data
This process is much more business-friendly than LiveRamp's, and it still boosts match rates:
User-Friendly. Hightouch's products work just as well for data teams as they do for marketers and advertisers. Using Match Booster can literally be as simple as flipping a switch on one of your data syncs to an advertising destination. There are no manual CSVs to pull, format, and upload into another system: once you set up a recurring sync in Hightouch, it will automatically run in perpetuity.

Timely. You don't have to wait to run campaigns with your customer data. You can sync customer data and enrich it with Match Booster immediately.

Transparent. No black box here: Hightouch is highly observable and configurable. You can measure the performance of each sync, review match rates, adjust settings, and more. If there are sensitive use cases (such as in financial or healthcare industries) where you need higher levels of confidence and fidelity in your identity graph, you can fully configure that in Hightouch.

Secure. Hightouch does not copy or store your first-party data, and it remains within your data warehouse. Hightouch handles tasks like identity resolution, audience building and sync scheduling within your own environment. Match Booster enriches additional data as audiences are in transit to your advertising destinations

Affordable. We recognize that data onboarding can and will be a competitive space. We aren't pricing Match Booster as if we have a monopoly like LiveRamp does. The companies that have left LiveRamp for Hightouch have saved hundreds of thousands of dollars annually.
In addition to all of these benefits, Hightouch does more than just data onboarding. Hightouch activates any data from the warehouse to 200+ marketing, advertising, and operational tools. As the warehouse increasingly becomes the center of gravity for data operations, Hightouch acts as a partner to power all parts of your business with your data.
Now, we're not claiming to be better than LiveRamp for every single use case. LiveRamp has built a broad product over decades, and we aren't trying to match and replace it perfectly. For example, our Match Booster product is built to support the major walled gardens and DSPs– but LiveRamp also supports a long tail of smaller DSP integrations that we simply don't have API access to integrate with yet. If these particular DSPs are critical for your business, LiveRamp may still be your best option– though we'd love to hear from you about the ones you need so we can add them! What's really important is that the broader market now has a viable alternative that delivers similar, or better, match rates with a superior product experience and more secure approach.
Put LiveRamp to the Test
The era of LiveRamp's stranglehold on marketers and advertisers is ending. We know we won't be the last company to innovate and take on the data onboarding behemoth– but we are the first. We believe that software vendors should have to prove their claims, so if you're interested, you can do a proof-of-concept test with us for free and see for yourself. If you're using LiveRamp and want to try a real alternative- schedule a meeting with our solutions engineers.