Announcing Hightouch on Snowflake Partner Connect
The First Data Activation Platform Available on Snowflake Partner Connect, Hightouch can now be be launched directly from Snowflake
To help business teams activate their most valuable data in Snowflake, we're happy to announce that Hightouch is now available as a cloud service directly on Snowflake Partner Connect. The native integration with Snowflake enables customers to begin activating Snowflake data with Hightouch in just a few clicks.
Hightouch is ushering in the last-mile of analytics, enabling customers to leverage Snowflake as an end-to-end data platform. Through Snowflake Partner Connect, using Hightouch with the Data Cloud is secure, easy, and nearly instant.
Tarik Dwiek
Head of Technology Alliances
•
In addition to Partner Connect, Hightouch has achieved both Snowflake-ready and Premier Partner status, designating Hightouch as a validated partner that adheres to the Data Cloud's best practices for product integrations.
What is Data Activation?
All business teams from sales and marketing to support and customer success, need relevant, accurate, and real-time customer data to add critical context to the software they already use on a daily basis. Data Activation is the final step in the Modern Data Stack. Data Platforms like Snowflake are extremely efficient at consolidating all of your data into a centralized platform, transforming it for analytics, and ingesting it into your BI tool of choice so you can derive powerful insights. However, there's a core problem: dashboards and reports are only ever used to make high-level business decisions, and data warehouses are only accessible to your technical users who know how to write SQL. Data Activation eliminates this problem by syncing the data in your warehouse directly back into the tools of your business users.
Data Activation is the method of unlocking the knowledge sorted within your data warehouse, and making it actionable by your business users in the end tools that they use every day. In doing so, Data Activation helps bring data people toward the center of the business, directly tying their work to business outcomes.
What is Hightouch?
Hightouch is the world's leading Data Activation Platform. All business teams across sales and marketing to support and customer success, need relevant, accurate, and real-time customer data to add critical context inside the software they already use. Whether you're enriching data in your CRM, optimizing ad spend, personalizing lifecycle marketing campaigns, building audiences, or even sending alerts to your favorite communication tools, Hightouch makes your data actionable – all with SQL, no scripts, or APIs needed. Once you've connected to Hightouch, you can take advantage of your existing dbt data models or simply define your data using SQL. All you have to do is map the appropriate columns from your data source to the proper fields in your destination and initiate your data sync. With Hightouch, you can send custom objects, events, audiences, file uploads, or notifications/tasks to over 100 different destinations.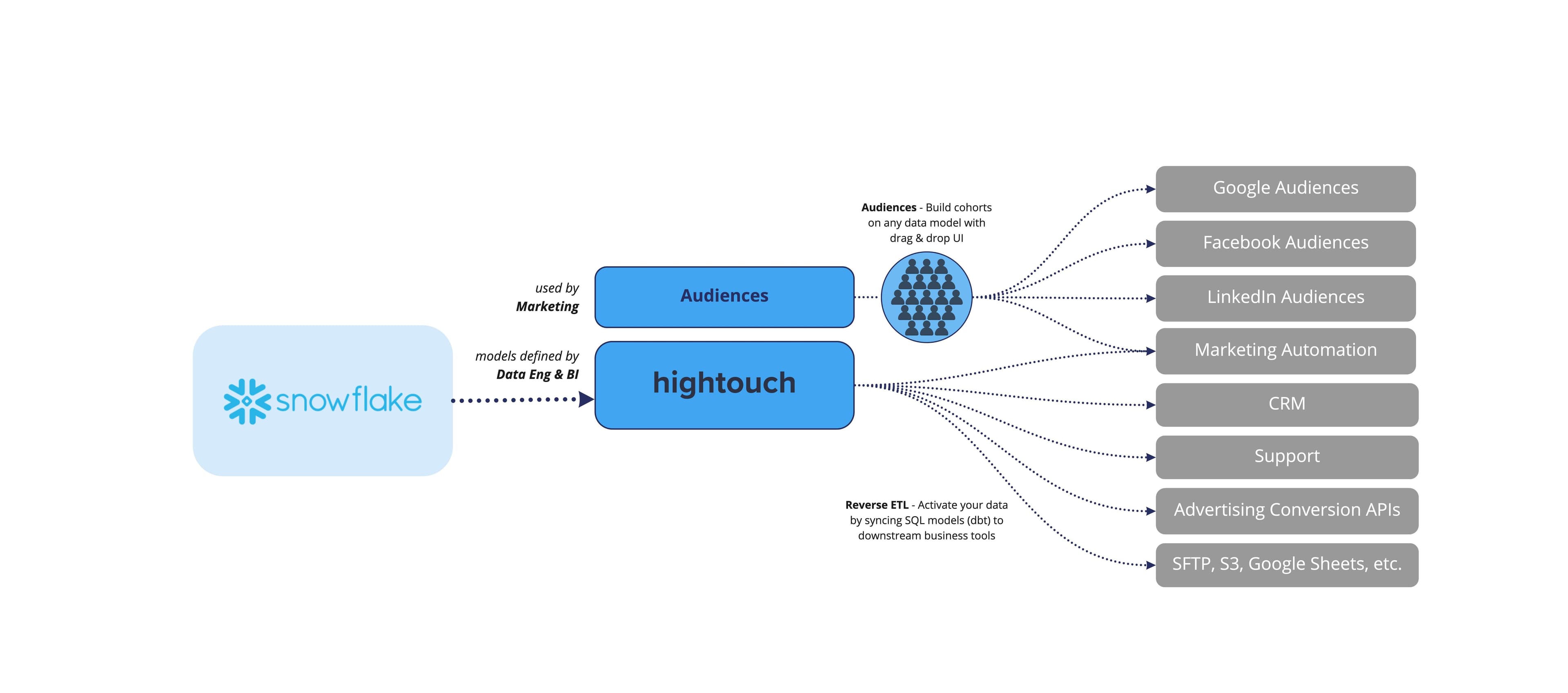 What is Partner Connect?
Partner Connect lets you seamlessly create accounts with select trusted Snowflake partners and integrate these accounts with your Snowflake instance. It provides a convenient option for trying out various 3rd-party tools and services vetted by Snowflake, and then adopting the ones that best meet your business needs.
Getting Started in Partner Connect
Through Partner Connect you can start activating the data in Snowflake with just a few clicks. After logging into the Snowflake UI, a tab labeled "Partner Connect" is available on the left-hand navigation bar. From there you can select Hightouch, point to existing data sources and start activating data in minutes. Here's how it works:
If you don't already have a Snowflake account you can create one by clicking

here

Once signed in to your account, click the Partner Connect tab

Select Hightouch from the list

Read the integration settings and click "Launch"

Once the account has been created, a pop-up will appear that states the account is ready to be activated. Select "Activate"

A new window will open where you are prompted to sign in to Hightouch

Once signed in, you will need to either choose an existing workspace or make a new one

Once a selection has been made, your Hightouch workspace will open with your Snowflake source configured in the sources tab - ready for you to

create your first sync

!
After you have created and launched your first free sync, Hightouch will begin to automatically activate your Snowflake data to any of Hightouch's 100+ pre-built destinations.
If you have questions or require assistance at any point during the setup, the Hightouch team is available. You can access the Hightouch support team by starting a chat directly on the site or contact us at friends@hightouch.com