Everything You Missed at the First-Ever Hightouch Demo Week
All the details from three days of hands-on demos to show you What's Possible with Hightouch
Alright, folks! That's officially a wrap for our first-ever Hightouch Demo Week! Thanks to everyone who joined for your thoughtful and engaging questions—we hope you feel inspired and enabled to solve new use cases for your business with Hightouch. If you missed it…fear not. We've got all the highlights (and replay links) here 👇
Day One: How to Use Hightouch to Supercharge Marketing Campaigns 🚀
We kicked off Demo Week with an overview from Alec Haase on how marketing teams leverage Hightouch Audiences and Data Activation to supercharge personalization in marketing and advertising tools like Facebook Ads and Salesforce Customer Relationship Management (CRM).
Josh Couper then walked us through a hands-on demo diving into how marketers from industry-leading organizations like Lucid activate their customer data to create hyper-personalized campaigns in a CRM like Salesforce.
From there, we dove in even deeper to learn how to build and manage audiences centrally using Hightouch Audiences. Josh closed out day one with a step-by-step demo on setting up an omnichannel campaign across Facebook Ads and Salesforce CRM 🚀.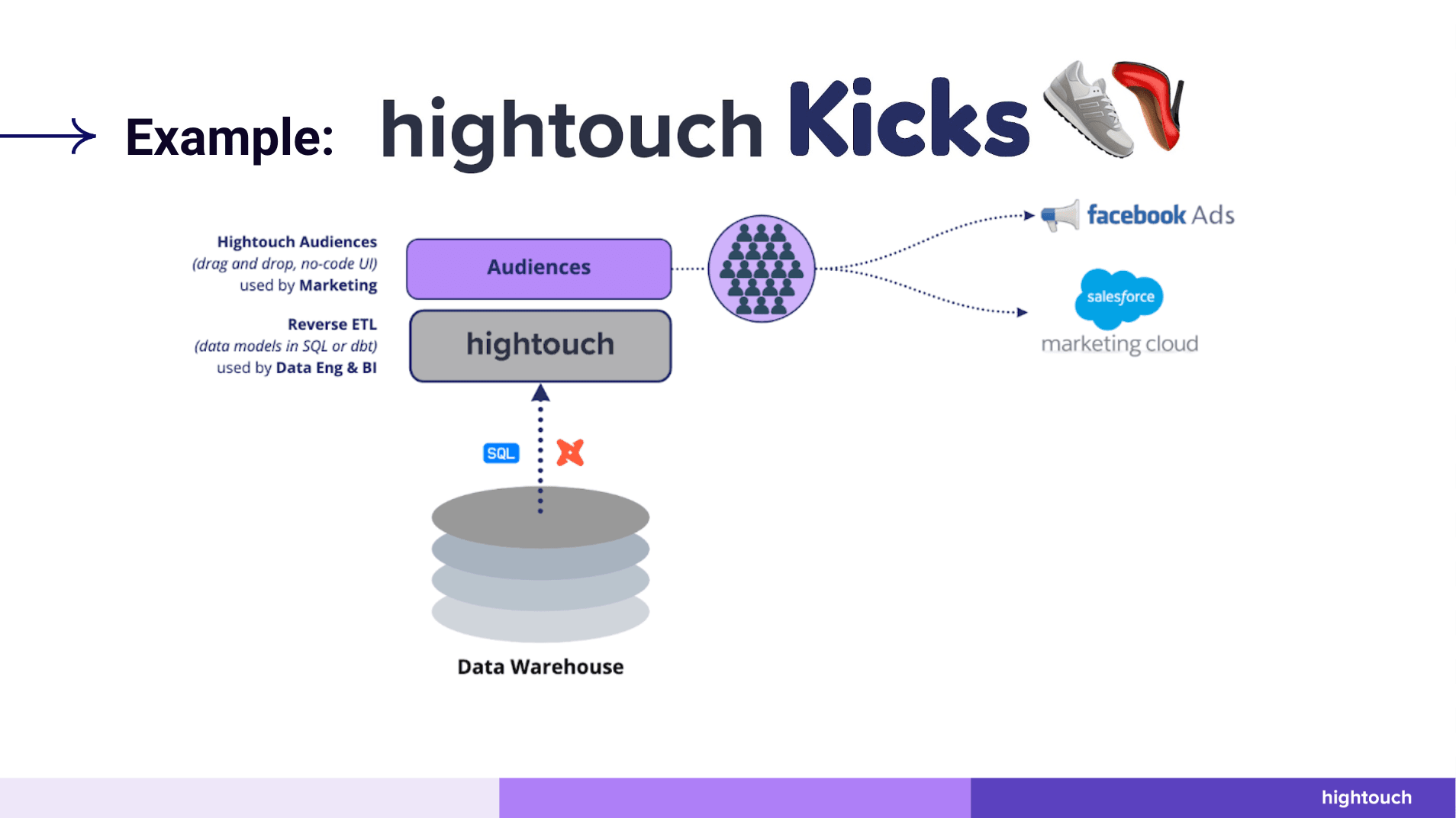 Hightouch Audiences helps marketers build hyper-personalized campaigns
Day Two: How to Use Hightouch to Maximize Return on Ad Spend 🎢
Day two was centered around various advertising use cases and how performance marketers can use Hightouch to maximize their return on ad spend 💰.
Andrew Jesien dove right in to show us how easy it is to set up automating conversion uploads with Hightouch - specifically by walking us through a set up of an integration with the Facebook Conversions API (CAPI).
From there, Andrew highlighted how advertising teams can use Hightouch Audiences to centrally manage their omnichannel targeting strategies with a step-by-step demo on setting up an automated audience sync of high lifetime value (LTV) users to both Facebook and Snapchat.
Automate conversion events with Hightouch
Day Three: How to Use Hightouch to Optimize Sales Activities 🛠️
For our third and final day, we got a hands-on demo from Kevin Tran showing how revenue-generating teams (that's Sales, Marketing, and Success) activate warehouse data with Hightouch to build a consistent 360-degree view of the customer—across teams and across SaaS tools.
Because the reality is Sales teams don't want to use BI tools to get Success data; Marketing teams don't want to write SQL to get Sales data; Support teams don't want to disrupt their queue to get product usage data. They want those insights delivered directly into the CRM systems, email marketing platforms, or success tools they use daily. Kevin walked through how you can start syncing consistent data directly into those SaaS tools in less than 15 minutes.
Taking it to the next level 📈, Kevin showed us how teams can get proactively notified of important, real-time customer events by syncing directly into messaging tools like Slack. With proactive (and fun!) notifications for potential revenue-impacting events like when a champion leaves a company or when a customer signs up for a free tier account, teams spend less time context switching or digging for data and more time taking action.
Get proactive notifications for important customer events with Hightouch Notify
Thanks for a great week!
Thanks again for making our first Demo Week so much fun! We hope you enjoyed Seeing What's Possible with Hightouch. If you have feedback for us or further questions, we'd love to hear from you! And if you're itching to get started testing some of these use cases for your business, you can sign up for a free Hightouch account here.