Why The Zebra Chose a Composable CDP
We're powering insurance policy marketing and advertising personalization directly from our data warehouse.
It's a busy digital world out there. The only way to only connect with customers is by personalizing with relevant content. At The Zebra, we needed to personalize insurance policy messages to millions of members, so we started looking for a Customer Data Platform (CDP) to unify our customer data and deliver it to our marketing and advertising tools.
As we explored our options, we heard from many team members with negative past experiences with traditional CDPs. We also learned about a new approach, the Composable CDP, that could leverage our data already stored in Snowflake rather than starting from scratch with a new platform.
In this blog post, we'll share our experiences with traditional CDPs and exactly why our team at The Zebra chose to implement a Composable CDP. We'll share how this architecture has enabled us to supercharge our performance and lifecycle marketing channels while driving better alignment between our data and marketing teams.
A Quick Overview of The Zebra
Before discussing our actual decision criteria to implement and adopt a Composable CDP, we'll explain who we are at The Zebra and our business context.
Our Business
Insurance is a really complicated industry to navigate because there are hundreds of providers and even more factors to consider regarding policies and premiums. We work with millions of members and hundreds of insurance suppliers to help them find the best-priced insurance policies that are tailored specifically to their individual needs. Our goal is to give our customers access to accurate and relevant information so they can make informed decisions and pay less for their insurance.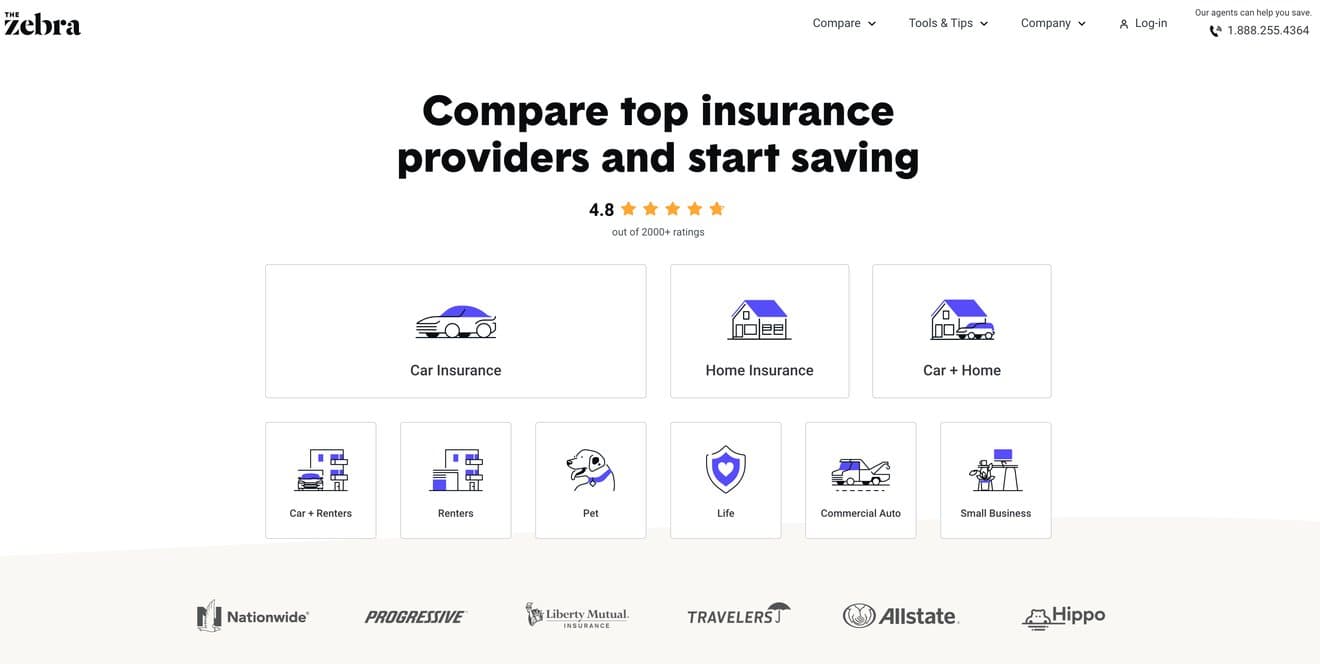 Most of our revenue comes from commissions we earn through our insurance partners. One of the things that makes The Zebra really unique is that we don't sell any data. The Zebra only makes money when we help our customers save money, so success for us is all about delivering relevancy to our users based on their specific needs and requirements.
Our Data Architecture
At The Zebra, we're always looking to future-proof our technology stack and adopt technologies that scale as our data grows so we can use it to drive value for our users. To that point, we've invested heavily in modern data tooling like Snowflake, dbt, and Fivetran. Within our data warehouse, our data team has built thousands of dbt models so we can better understand our users. This includes things like custom data models we can use to serve personalized recommendations and other first-party attributes.
Our Data Needs for Marketing
We've spent a ton of time getting our data to a really solid point in Snowflake, but the challenge has always been trying to get that into the hands of our marketing team.
Here at The Zebra, we have two core marketing channels: performance marketing (ads) and lifecycle marketing (email and SMS). We wanted to use our first-party data to enrich the conversion events we upload back to our ad platforms so we could improve our match rates to ensure we're not targeting the wrong users and, consequently, increase our return on ad spend. We also needed a way to reliably sync data from custom audiences defined in our warehouse to Iterable so we could serve personalized offers and content to individual users.
Moving data out of Snowflake into either of these channels has consistently been a huge challenge because our data team was forced to either download ad-hoc CSVs or build and maintain custom integrations for every marketing destination. Given that no two marketing requests are the same, this effect was compounded because our data team constantly had to update or build new pipelines whenever our marketing team needed a new data point or attribute. It could take anywhere from 3-6 months just to launch a new campaign as our data team worked through their backlog of tickets.
CDP "PTSD"
When we started down this journey of marketing activation and personalization, we initially evaluated traditional CDPs. Very quickly on in our evaluation, it became apparent that almost everyone across both our data and marketing teams previously had a negative experience implementing or leveraging a traditional CDP in the past.
We didn't want to undergo a 6-12 month implementation, and we didn't want to pay for features we didn't need. For our requirements, we simply needed a solution that would allow us to reliably build and define audience cohorts from Snowflake and sync them to our destinations.
Flexibility was also a major sticking point for us because we knew from experience that CDPs force you to align your data to their schema structure. Our data is really complex; trying to boil everything down to a narrow account/user object would be impossible for us.
We also wanted to avoid building redundancy into our data stack and implementing a CDP would mean copying our data to another storage/processing layer when all of the data we need is actively sitting in Snowflake waiting to be used. Moving data outside our cloud infrastructure also opens us up to security risks, another factor we were keen to avoid.
Why We Chose a Composable CDP
For our requirements, we really wanted a lightweight solution that would sit on top of our existing data infrastructure, and inevitably, this is what led us to Hightouch. With Hightouch, we can leverage all of the existing investments we've made into Snowflake and dbt.
The platform gives us all the capabilities of a traditional CDP, but we have the flexibility to use any and all of our data assets. We don't have redundancy in our data stack: data is only stored in Snowflake and doesn't need to be copied into Hightouch. Higthouch turns Snowflake into a marketing activation layer, which is a huge unlock for us. We were able to go from 0-100 in a matter of weeks.
Since adopting Hightouch, we've seen some pretty remarkable results as well. This includes a 170% increase in match rates on Facebook and a 50% increase in click-through rates for our email marketing campaigns. We've gone from what could have been a six-month wait for data down to a matter of days, and that means we can run experiments and launch new campaigns immediately.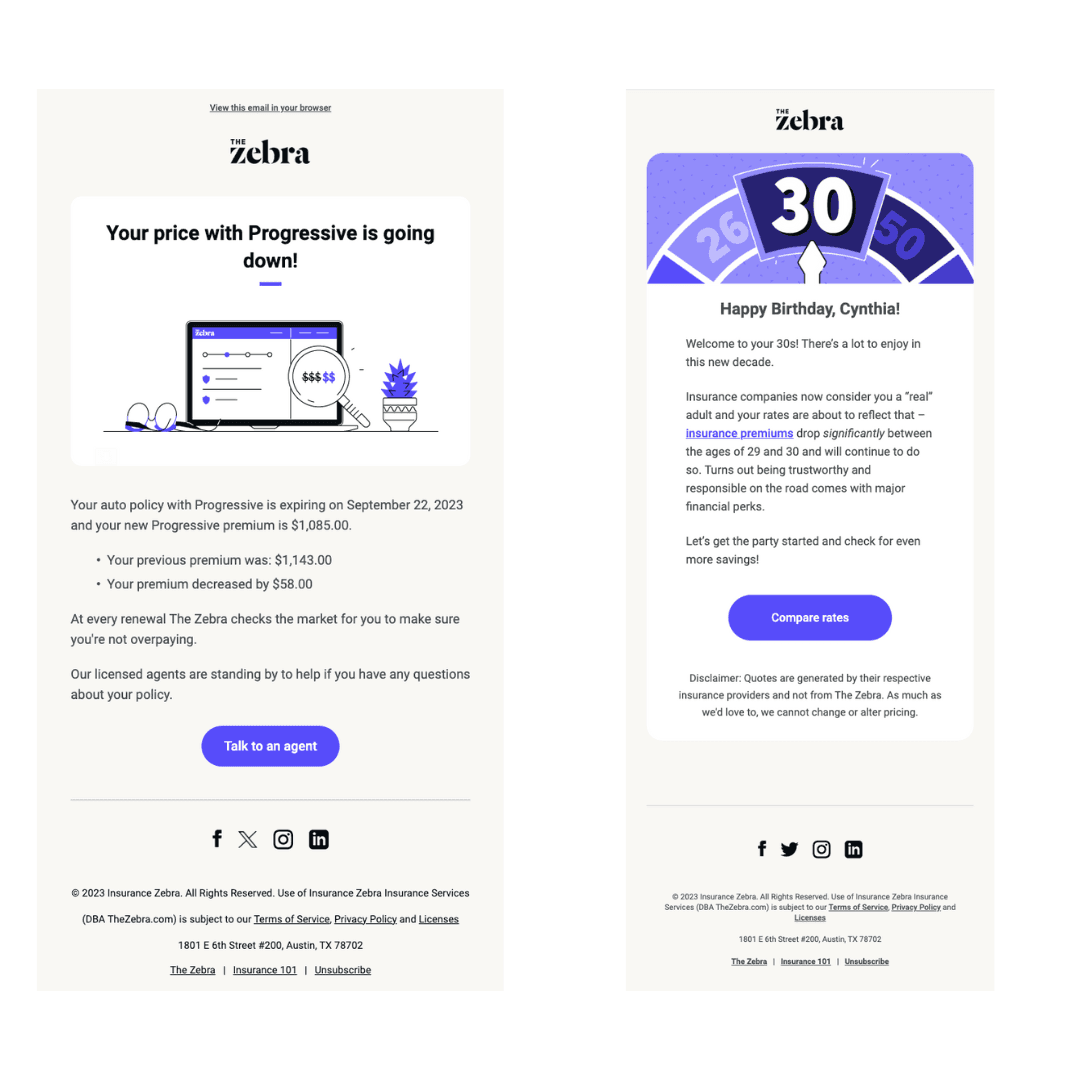 If you want to learn more about the actual use cases we're driving through Hightouch, you can check out our full case study.
Closing Thoughts
If you're evaluating CDPs, you need to consider three factors:
What use case are you trying to solve?

What stakeholders are you trying to serve?

What technology do you already have in place?
Many companies make the mistake of thinking in terms of CDP features rather than orienting around the actual outcomes they're trying to solve. The thing that makes the Composable CDP so unique is that the architecture gives you all of the core capabilities of a traditional CDP directly from your existing data infrastructure. For us at The Zebra, it was clear that we could best meet our use cases with the Composable CDP–and we're thrilled to see real revenue growth based on that decision.