Why Bol.com Chose a Composable CDP
Leveraging first-party data for audience-based targeting in a cookieless world.
With the imminent decline of third-party cookies, companies relying on them for marketing and advertising purposes must proactively seek viable alternatives. As one of these companies, our team at Bol.com recently embarked on this intricate journey and are now eager to share our insights with the world.
In this blog post, we will delve into the motivations that led us to transition away from third-party cookies and embrace a Composable CDP architecture that prioritizes our valuable first-party customer data. Through this strategic shift, we have successfully amplified the speed and durability of our advertising strategies, guaranteeing their sustained efficacy in the long run.
Who We Are at Bol.com
Bol.com is the e-commerce market leader in the Netherlands and Belgium. We offer over 100 million different products, and we partner with over 52,000 different sales partners to serve 13 million active customers. We sit on petabytes of valuable data. This includes the product catalog, customer events, purchase history, first-party attributes, and custom data science models that live in our cloud data warehouse.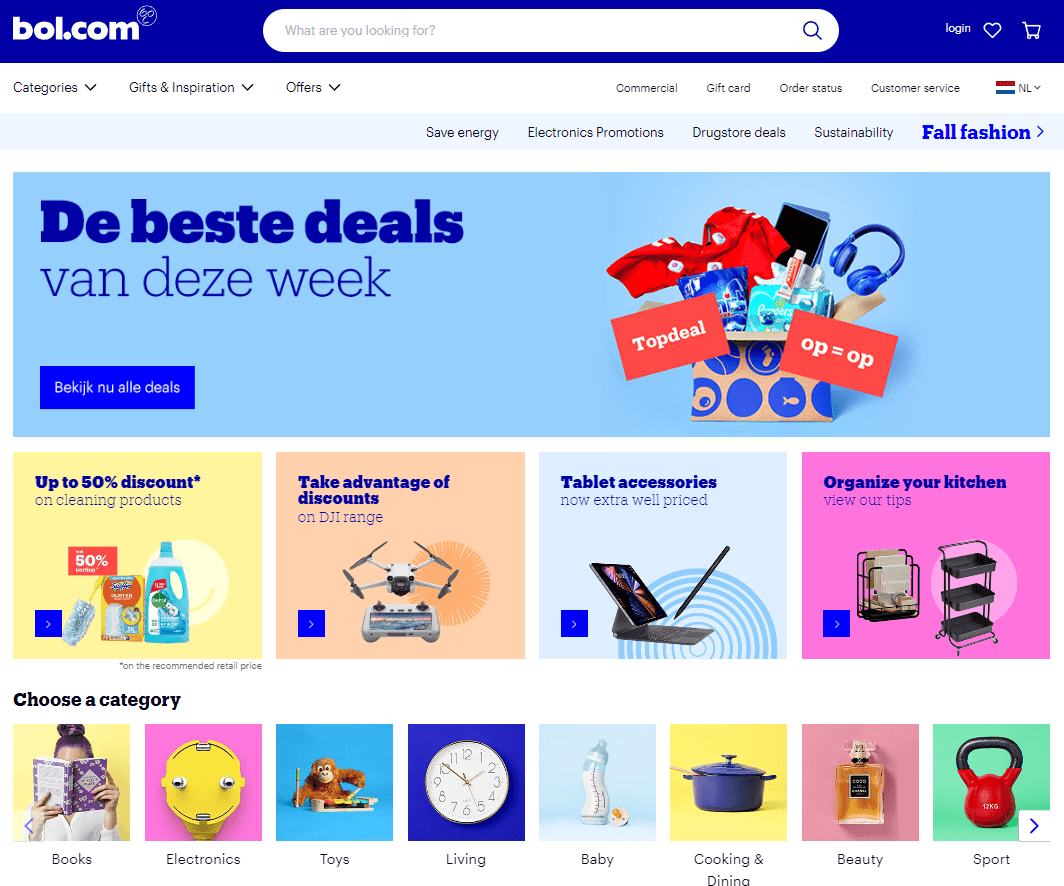 Our Business Model
The retail media offerings have become one key strategic driver for Bol.com. Within our retail media business, we have three core products:
Brand Advertising: brand-specific pages for individual products and display advertising solutions.

Performance Advertising: sponsored product offerings on the product list pages and product detail pages.

Off-Platform Advertising: advertising we deliver outside of Bol.com using our first-party data
Underneath these core pillars, we have several foundational teams to support our self-service and managed service offerings. This structure allows us to create relevance for our advertisers, partners, and customers–and that means serving hyper-relevant ads based on our target audiences at scale.
One Year to Act…
For the last few years, we've relied heavily on third-party cookies to power our advertising campaigns. However, with all of the recent browser changes and the fact that Google is planning to sunset third-party cookies entirely, we knew we were going to have to rebuild from the ground up.
Given that over 50% of our traffic comes from our mobile apps, we also knew that we needed to shift away from third-party cookies and send customer events and first-party data directly to our advertising platforms. Given these circumstances, we had to move quickly, we quickly began evaluating Customer Data Platforms (CDPs).
Our CDP Evaluation
During our CDP evaluation, we encountered significant challenges in finding a solution that met our first-party data requirements and allowed us to leverage our existing data infrastructure.
Most of the CDPs we assessed proved to be inflexible and rigid in accommodating our specific needs, particularly in terms of data modeling. This posed a major issue for us since we have tons of different audience models in our data warehouse. We rely heavily on this wealth of information to predict customer purchasing behavior and deliver highly relevant ads to our customers. Attempting to fit our structured data into the confines of a black-box solution was not a viable option.
Security emerged as another crucial consideration for us, as our collaborations with numerous partners and advertisers necessitated the utmost care in handling personally identifiable information (PII). Data privacy is at the forefront of everything we do here at Bol.com, so we were keen to avoid transferring PII data outside of our own cloud storage environment.
Furthermore, time-to-value was a pressing factor. Typical CDP implementations require a substantial implementation timeframe ranging from six months to a year–and that doesn't account for procurement or onboarding processes. Given the precarious state of our advertising business, waiting for such an extended implementation period and risking potential re-implementation was simply not viable for us.
In the end, each and every CDP we evaluated encountered these same core issues. Consequently, we concluded that no traditional CDP could adequately serve our advertising business, and settling for an inadequate solution was not an option we could afford to entertain.
The Composable CDP
To circumnavigate our way around these challenges that traditional CDPs pose, we began looking for solutions that could sit on top of our infrastructure. This search quickly led us to Hightouch and the Composable CDP. The key difference between a traditional CDP and a Composable CDP is that a traditional CDP operates as a separate entity, whereas a Composable CDP simply sits on top of your existing data infrastructure.
Rather than purchasing a traditional packaged CDP, we chose to implement a Composable CDP using Hightouch. Architecturally, this approach is far more flexible and extensible to our needs because we're able to take advantage of all the native functionalities of a traditional CDP directly on top of our existing data warehouse. We can easily leverage all of our existing first-party data to power our most complex advertising campaigns.
Benefits of a Composable Architecture
This modular CDP architecture offers us three major benefits:
Security & Storage

: Because Hightouch simply sits on top of our existing data warehouse, we never have to move data outside of our own cloud infrastructure. This allows us to avoid paying

duplicative storage costs

and maintain strict governance over our data.

Audience Management

: With Hightouch's native

audience-building capabilities

, anyone from our marketing team can easily build rich audience segments using all of the data living in our data warehouse –not just events from third-party cookies. This greatly improves our audience reach because we can now build much more granular audiences.

Activation: We have an in-house event collection system we've designed to forward behavioral data to our warehouse. With Hightouch, we can send conversion events directly to any of our advertising platforms to help them better understand which ads led to a conversion. This enables us to optimize our campaigns and increase our return on ad spend.
Within a remarkably short span of 6 weeks, we successfully recreated all our audiences in Hightouch and stood up integrations with each of our many Conversion APIs, effectively eliminating the reliance on third-party cookies for our on-site and in-app advertising while improving match rates and unlocking even greater effectiveness of our advertising spend
Key Takeaways
Having access to all of our data available in our data warehouse means we can build better audiences to power our campaigns. Hightouch has increased our audience reach by 109%. We're powering millions of impressions every month, and we've seen a 33% click-through increase for all brand ads we're serving.
If you're interested in more specific details about our specific use, check out the full bol.com case study.