The Zebra Boosts Match Rates by 170% and Drives Personalization with Snowflake, Hightouch and Iterable
The Zebra is the nation's leading insurance marketplace, specializing in comparing auto, home, and pet insurance to help users save money and lower their premiums. With hundreds of carriers, The Zebra's state-of-the-art online comparison tool empowers users to pinpoint policies that match specific requirements. The platform also provides a rich repository of educational content to help shed light on the intricate world of insurance so buyers can make informed decisions.
The Results
Boosted ad match rates by 170% on Facebook

Campaign creation time reduced from 3+ months to a couple of days

Increased click-through rates on key email campaigns by 70% and lowered unsubscribes by 50%

Improved data sync frequency from 6 months to ~ 1 day

Increased return on ad spend (ROAS)
The Challenge
The Zebra connects with 100+ insurance companies to deliver millions of quotes to individual users. To support this, one of the key initiatives is launching relevant campaigns across multiple marketing channels and touchpoints to improve the overall user experience and increase engagement. However, the marketing team struggled to access the data they needed to run these campaigns.
The marketing team faced four core challenges:
Time-consuming development on custom integrations

Unlocking self-serve data capabilities

Personalizing marketing campaigns

Improving ad match rates
To solve this problem, the marketing team turned to Snowflake, Hightouch, and Iterable to create a Composable CDP, unlock self-serve data access, and power data-driven campaigns across channels to drive engagement, optimize ad spend, and increase match rates.
The Zebra makes money when we help our customers save money, so success for us is all about delivering relevancy to our users based on their specific needs and requirements. Hightouch gives us access to all our data to orchestrate and build personalized user journeys.
Cynthia Caridad
Director of Lifecycle
•
The Zebra
The Solution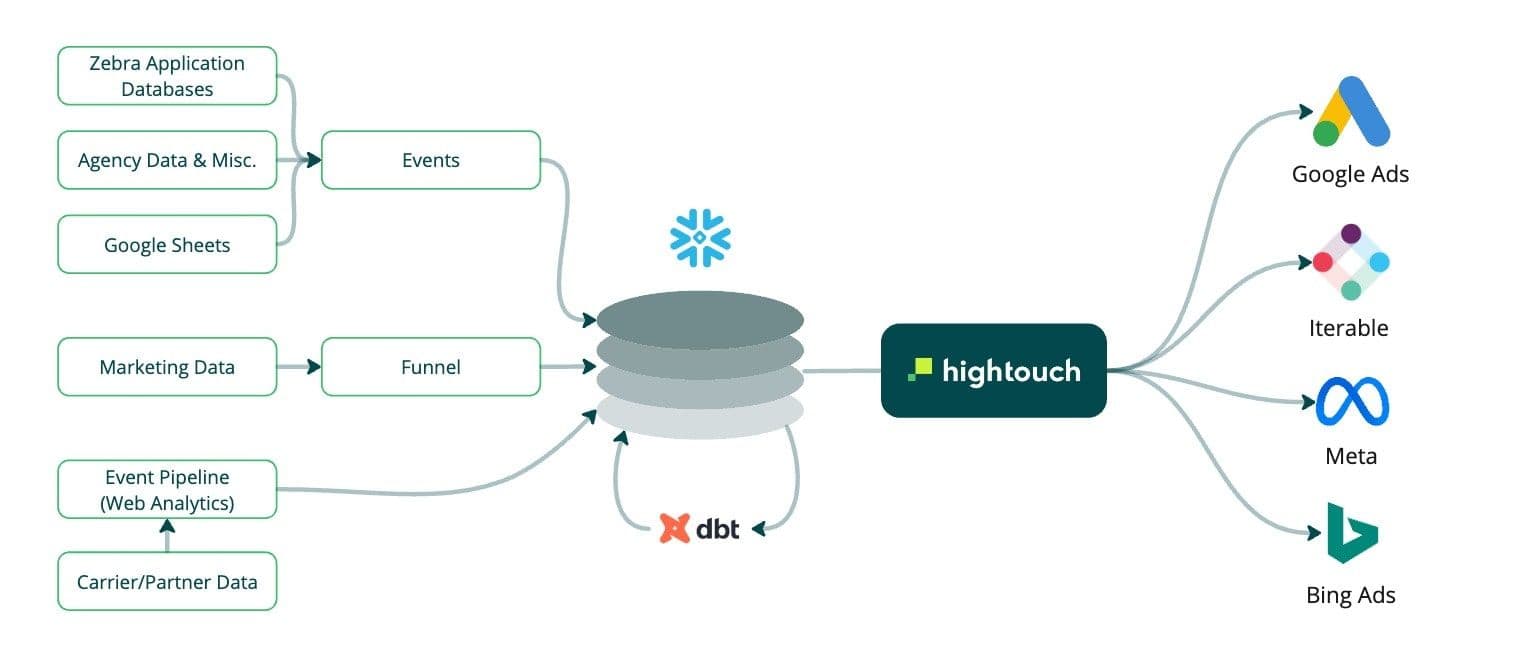 Powering 1000+ Data Models in Snowflake
The Zebra's data infrastructure is built entirely around Snowflake. The platform acts as the underpinning engine that powers the entire organization. Previously, the data team relied on a legacy data warehouse that was difficult to scale and support diverse workloads. Since adopting Snowflake, the data team has been able to work seamlessly, spinning up as many as 20+ warehouses.
Since adopting Snowflake, The Zebra has created one centralized view of the customer for analytics and marketing activation, and the data team is powering over 1,000 different dbt models.
Before Snowflake, we didn't have a single view of our customers. Since adopting the platform, we can run near infinite workloads and power 1000+ dbt models that are the backbone of everything we do across the business.
Making Data Self-Serve with Hightouch
The number one blocker for the marketing team at The Zebra has always been data accessibility because the data team simply couldn't keep up with demands. Moving data out of the warehouse meant writing custom scripts, downloading manual CSVs, or building custom integrations with various third-party APIs.
Anytime the marketing team needed a new attribute or data point, they were forced to submit a ticket and wait on the data team. Depending on the priorities of the data team, it could be up to six months before that data was made available.
We evaluated CDPs but quickly realized that no solution would allow us to activate our existing data in Snowflake. Hightouch bridges the gap between data and marketing so we can access our first-party data and use it to build audiences.
Cynthia Caridad
Director of Lifecycle
•
The Zebra
Since adopting Hightouch, this bottleneck has been completely eliminated. The data team can now seamlessly and reliably sync data out of Snowflake to customer engagement platforms like Iterable and various ad platforms–and the marketing team can build self-serve audiences using all of the data available in Snowflake.
Access to the first-party data living inside Snowflake has unlocked huge benefits, not only from an audience creation perspective but also in terms of ad optimization. Using Hightouch to enrich conversion events with additional first-party data, match rates on Facebook have increased by 170%. Additionally, by syncing conversion events to the Facebook conversion API, The Zebra has been able to retarget and suppress audiences to further optimize return on ad spend and increase performance across all campaigns.
We've gone from what could have been a six-month wait for data down to a matter of days, and that means we can run experiments and launch new campaigns immediately.
Cynthia Caridad
Director of Lifecycle
•
The Zebra
Orchestrating Complex User Journeys with Iterable
Before Iterable, the marketing team couldn't orchestrate and launch campaigns from a single platform. Since implementing an all-in-one cross-channel marketing platform, The Zebra can now orchestrate user journeys across various channels–like email and SMS.
With Iterable, we've taken full command of every communication channel, from email to SMS notifications. It's not just about sending messages but crafting tailored user journeys.
Cynthia Caridad
Director of Lifecycle
•
The Zebra
Using Hightouch audiences to complement Iterable's capabilities, the marketing team has built more complex and targeted user journeys. Campaign creation time has dropped from months to a few days, and Zebra has launched over eight new lifecycle campaigns in Iterable.
Two of these campaigns have yielded transformative results. By sending personalized renewal emails with relevant information on current and previous policies and premiums at the time of renewal, the marketing team saw a 50% decrease in unsubscribes and a 70.6% increase in click-through rates. Additionally, the marketing team ran an email campaign targeting users on their birthdays to help them shop rates for even more savings, which saw a 58% increase in click-through rates.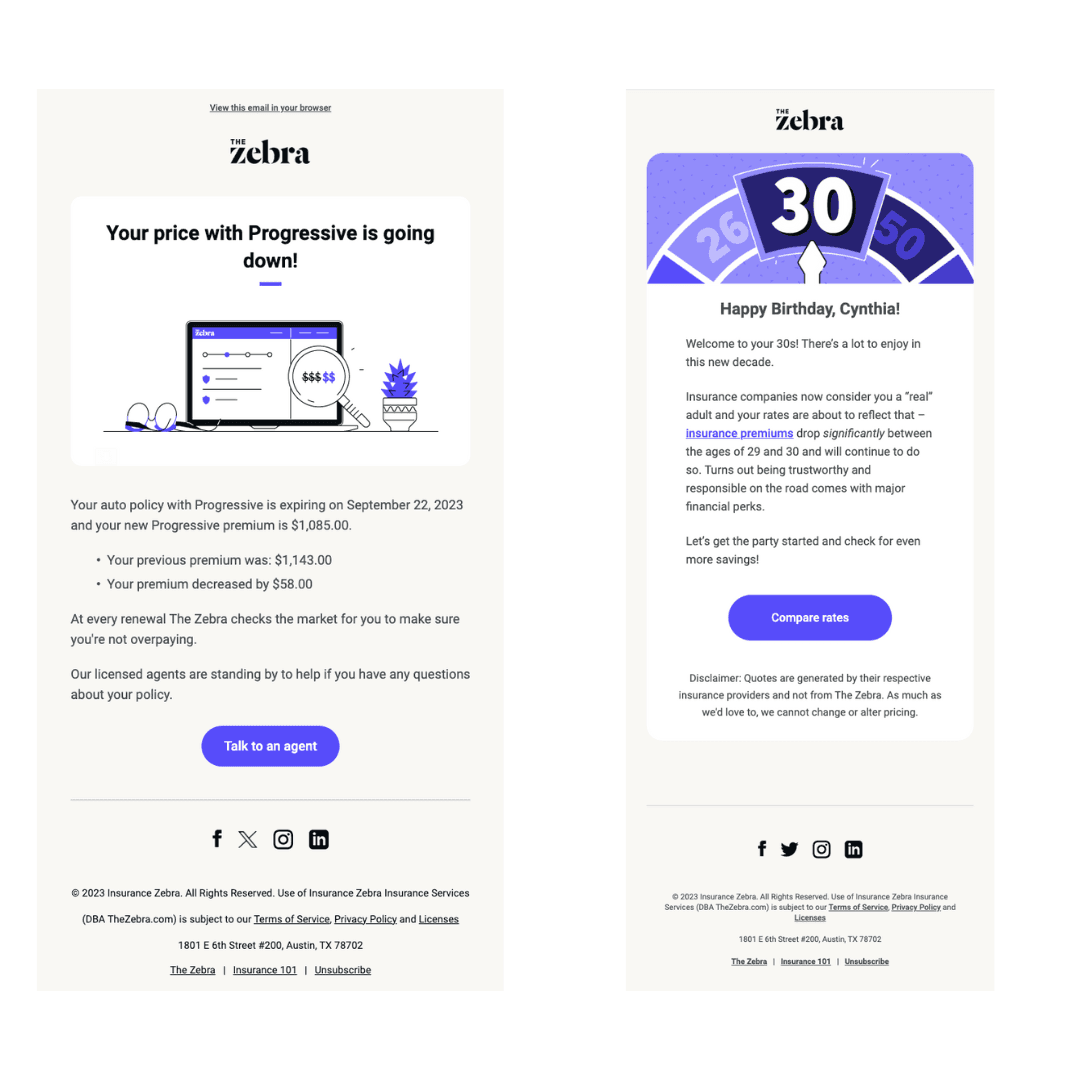 What's Next?
Now that The Zebra has unfettered access to their customer data, they can accelerate their experimentation. They can launch new campaigns within days of the idea's origin and use customer data to personalize their cross-channel campaigns with relevant content. This transformational change has created a robust feedback loop between the data and marketing teams so they can collaborate better to drive outcomes that move the needle forward.