Hightouch Notify: Get Notified Where You Work
Stop checking dashboards: start getting notified about key business events (from your warehouse) directly in your messaging tools
We're excited to announce Hightouch Notify, our new feature that enables you to send personalized, warehouse-triggered messages to destinations like Slack, Microsoft Teams, and Mattermost.
We believe data should be available in the tools you live in every day. We spend so much time in our messaging apps. Why not get notified about key business events in them, too?
With Hightouch Notify, you can stop checking dashboards and running daily reports. Just write SQL to define the data you care about and let Hightouch alert a specific user or channel when something needs attention. Best of all, Hightouch Notify is free for everyone!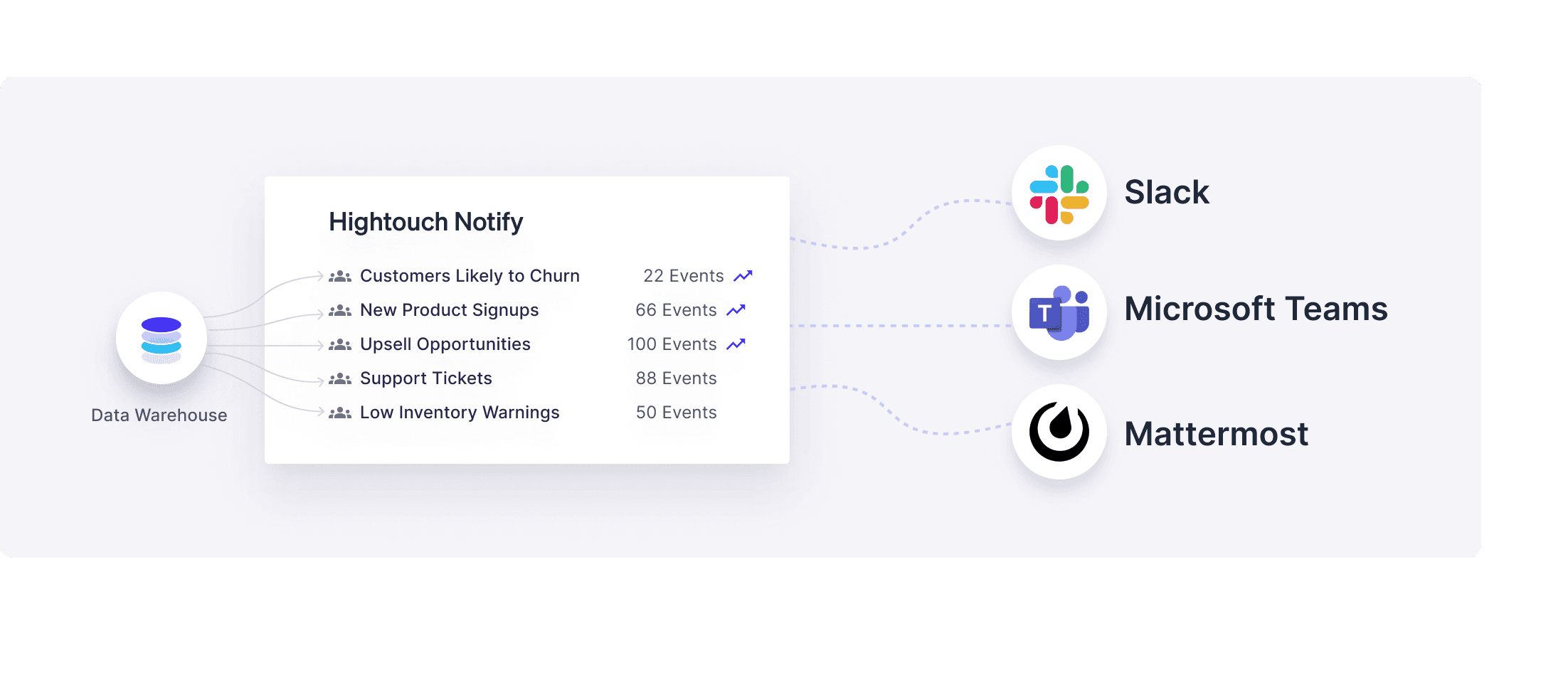 Why Alerts Are Better Than Dashboards
Our early customers will remember Slack as the first destination we built here at Hightouch. To this day, it remains one of our most popular integrations because our customers agree that real-time notifications are better than dashboards.
You've seen it happen before. Dashboards get built and quickly forgotten about. Really, when was the last time you opened that "daily" report for customer churn? When you remembered it existed and found the courage to peek inside, you had to hunt for data that had changed. You saw one of your biggest customers hadn't logged in for over a month, which was a huge red flag for renewals. But at that point, it was too late. Even as you rushed to send a Slack message to your account team, you couldn't help but wonder: how could I have known about this earlier?
We don't believe the solution here would have been to check the dashboard more frequently. Key business events go unnoticed because dashboards are inherently reactive. You need a proactive solution: bringing alerts into the tools you live in every day.
Now that we've covered where your events should be delivered to, the next question is: where should they be triggered from?
Why Notifications Should Be Powered by Your Warehouse
Of course, there are other ways to get notified on Slack: for example, you could use an iPaaS solution or use a SaaS tool's native Slack integration. But other solutions can only send messages based on data from a single, isolated tool. What if you need to join data from across your company to define a key business event? Suppose you want to get notified on product churn from high-value customers. To accomplish that, you need to combine sales data (ARR) with product usage data (usage activity and churn). The only place where all of that data coexists is in your data warehouse.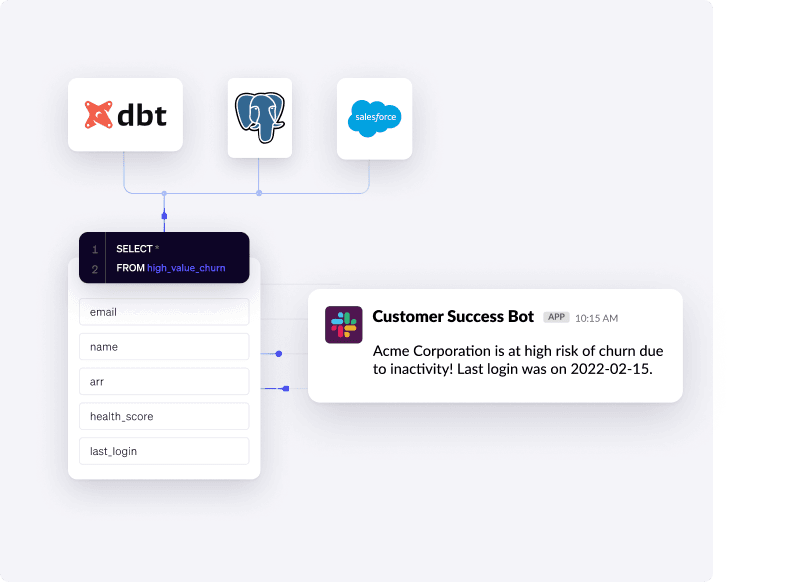 Another benefit of powering your notifications with your data warehouse is that you have the flexibility and familiarity of SQL. With Hightouch, you can easily define the events you want to track (or use existing dbt models) and in a few clicks have them appear in your preferred messaging tool as soon as the events occur.
Introducing Hightouch Notify
Starting today, Hightouch users can activate their business data by sending notifications to a variety of messaging destinations, including Slack, Microsoft Teams, and Mattermost.
These are not your typical destinations. We built these integrations to support nearly every notification or alerting use case imaginable.
Send messages to any #channel or @user

Customize notification content with data from your warehouse

Build interactive messages using powerful frameworks like Slack's Block Kit

Use data models created in other tools like Looker or dbt
Our good friends at Vendr—a platform that helps companies buy and renew software licenses—were early adopters of Hightouch Notify and currently use it to send messages to both internal and external recipients.
Before adopting Hightouch Notify, the team at Vendr used to spend an entire day of each week sending Slack messages to customers with software licenses coming up for renewal. Now, with Hightouch Notify, they can automate this outreach process. Here's how they accomplish this:
Connect Hightouch to a data source (Snowflake) and a notification service (Slack)

Write a SQL query to identify upcoming renewals and affected customers

Define message recipients so that personalized notifications are sent to the relevant customer Slack channels

Compose a message template enriched with data from the warehouse (like specific renewal dates)

Define when a message should be sent (e.g., when a new renewal is identified)
Here's the end result: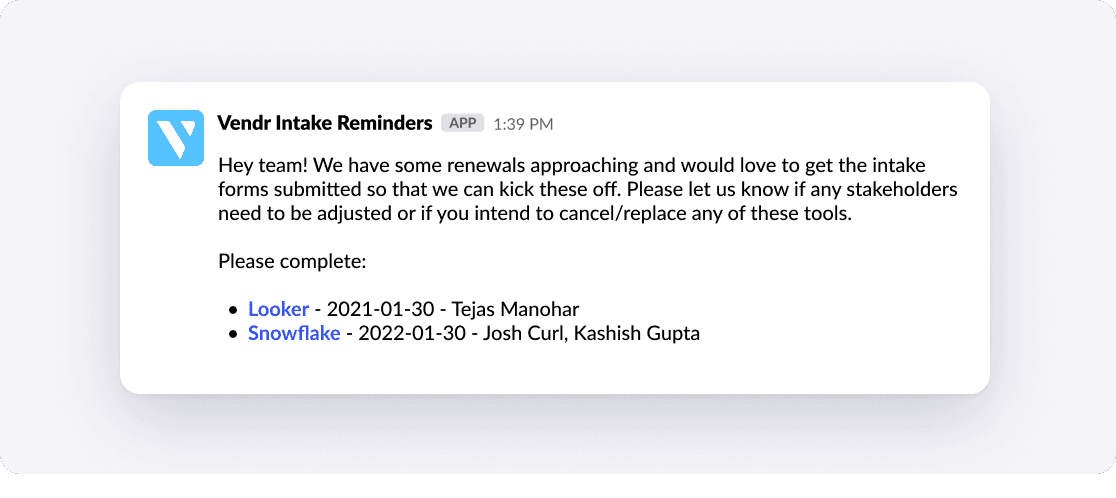 (Learn more about Vendr's story here.)
The story doesn't end there. Hightouch Notify is also great for automating internal workflows. Here at Hightouch, we use our own product to notify our customer success team whenever a new workspace is created. We don't believe in dashboards or daily reports. We need to know about these business events as soon as they happen.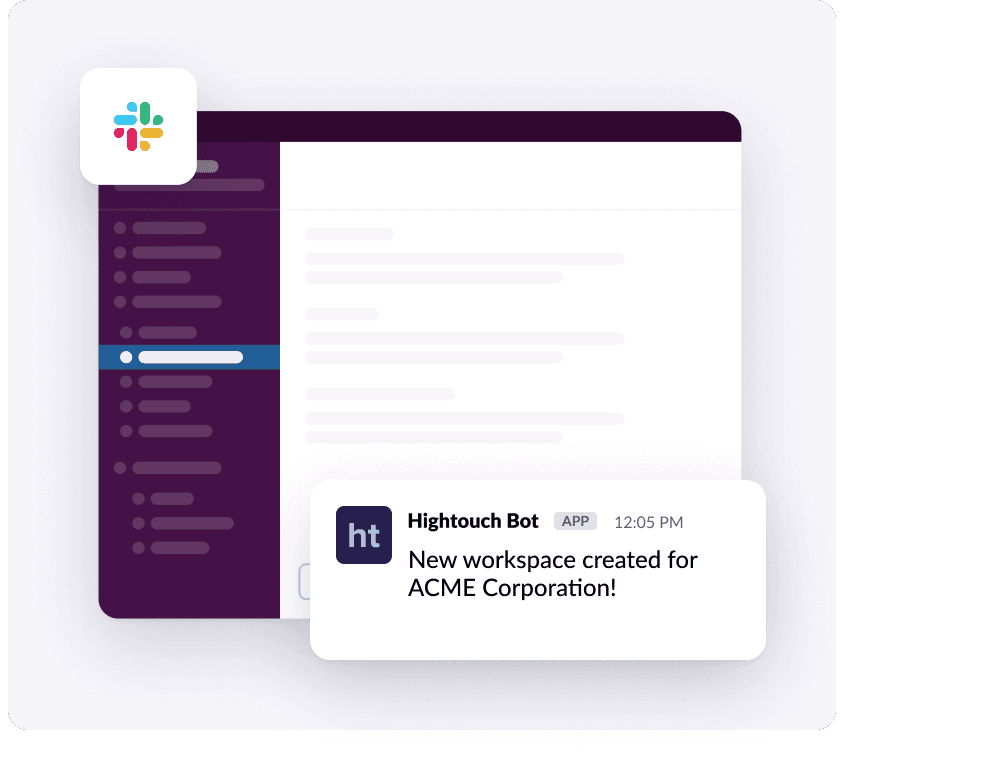 How Hightouch Notify Fits Into Your Business
Hightouch Notify can automate just about any business workflow that depends on timely, data-driven notifications. Here are a few examples inspired by real customer use cases.
Sales
Get notified when product usage exceeds plan limits
Customer success
Get notified when customers are likely to churn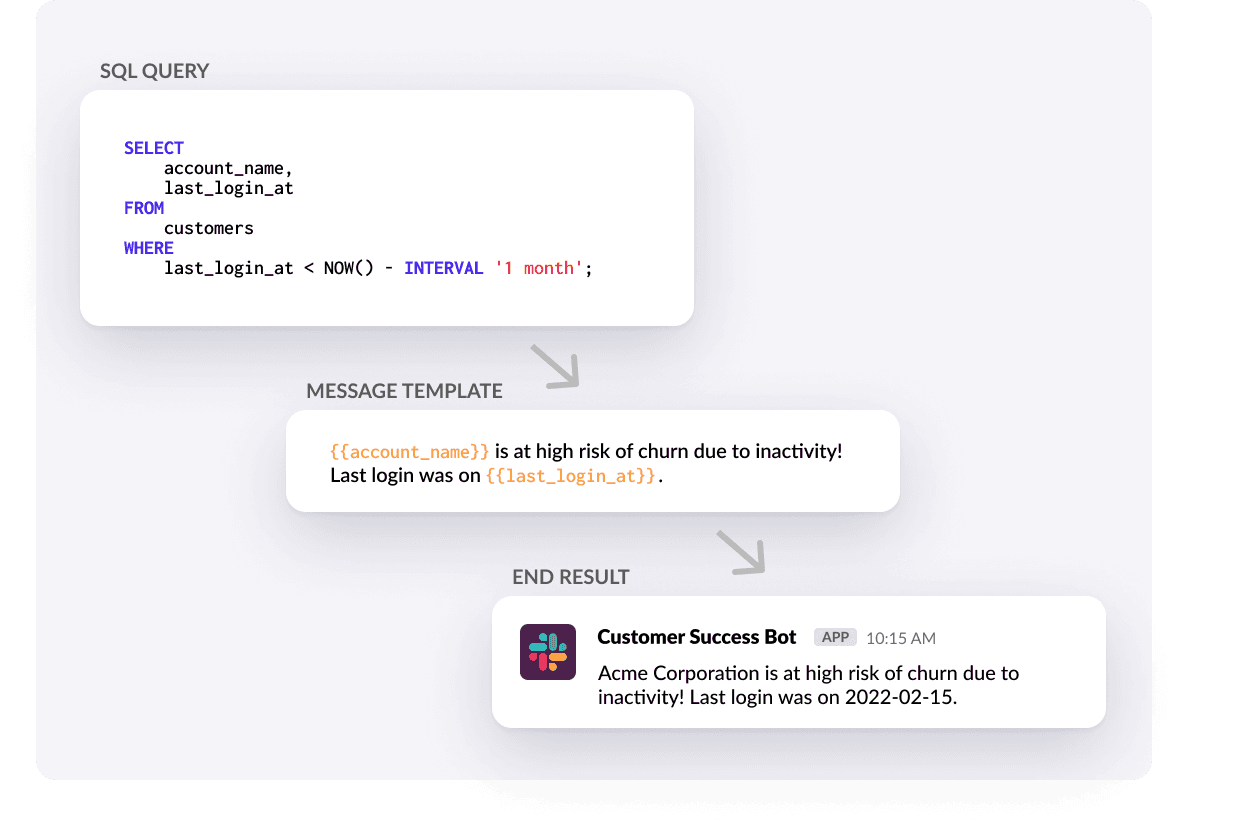 Operations
Get notified when inventory is low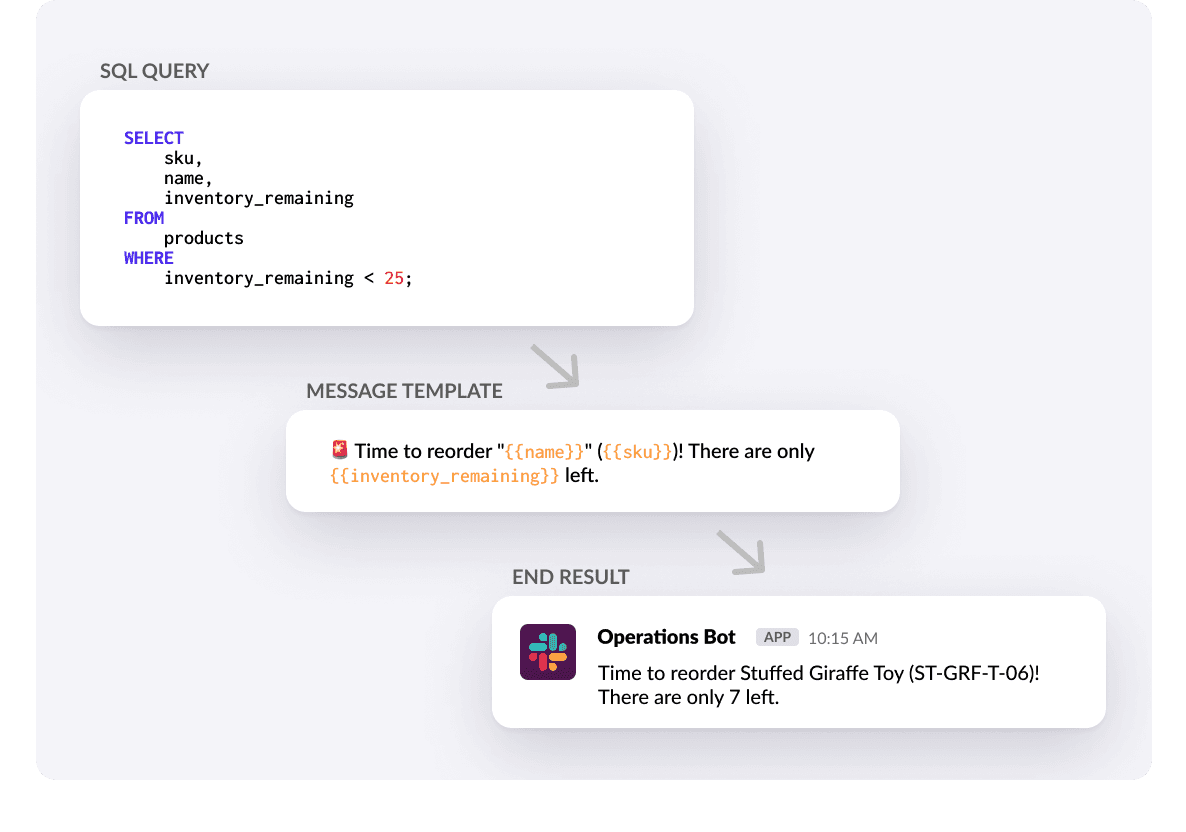 Finance
Get notified when invoices are overdue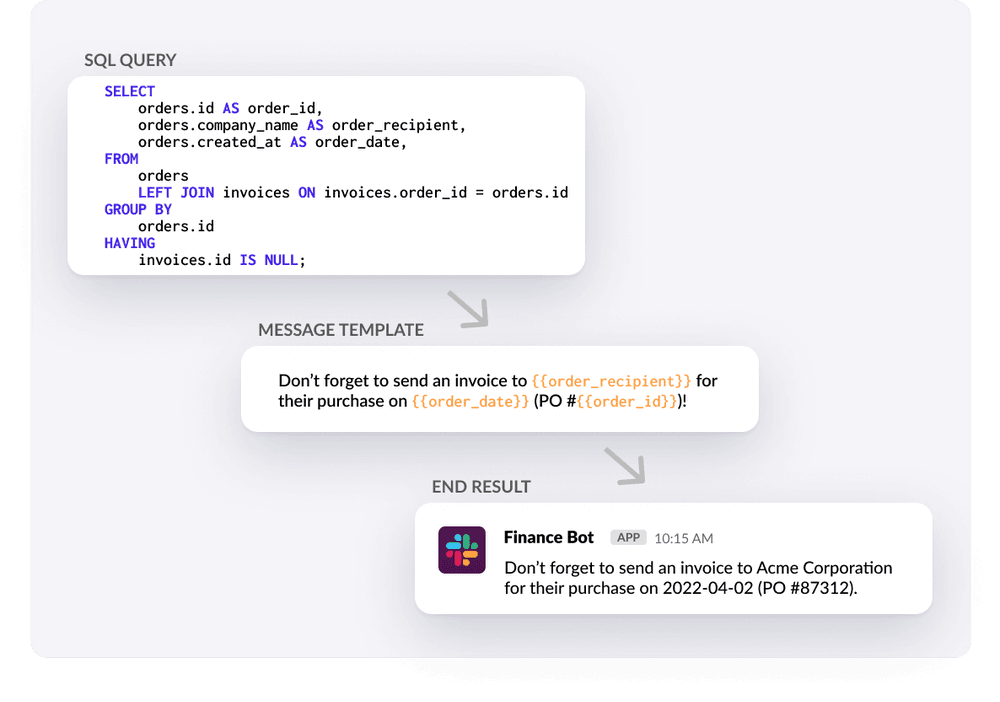 Get started with Hightouch Notify
Hightouch Notify is free for everyone, and you can get started by signing up for an account. We're excited to see what you build!