Hightouch Joins the LinkedIn Marketing Partner Program
Power advertising campaigns on LinkedIn with your first-party data
Hightouch is proud to announce our Matched Audiences Integration with LinkedIn Marketing Solutions. LinkedIn is the world's largest professional network, so we're excited to continue offering our users features that enable them to use LinkedIn more effectively. LinkedIn Ads is a destination in Hightouch: wherever your data is, you can build custom audiences and sync them directly into LinkedIn Ads without writing a line of code. You can better target customers on LinkedIn and run smarter campaigns by fully leveraging your first-party data, and keep audiences in sync without manually uploading CSVs.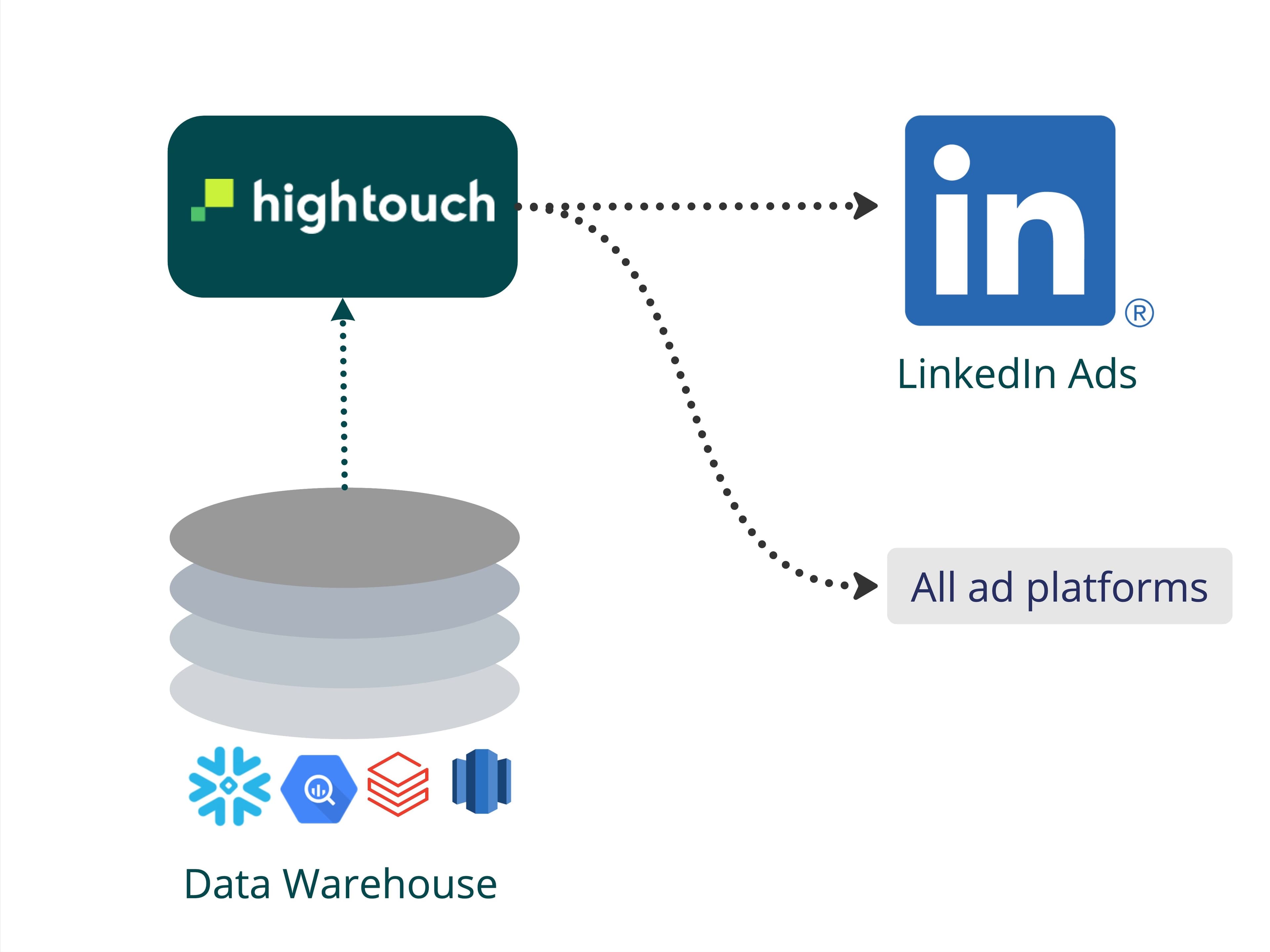 Hightouch enables our team to quickly build and sync audiences directly to Linkedin from all of our customer data in Snowflake. Now, with Hightouch, we can unlock fresh new campaign ideas in just a few clicks.
Kishan Antala
Senior Product Manager
•
Morning Brew
Use Cases
Build suppression and retargeting audiences. Sync your known customers into LinkedIn Ads. You can either retarget these customers for specific follow-up engagements or suppress them from now-irrelevant campaigns to reduce wasteful ad spending.
Target lookalike audiences. Use your known customers as seeds for future campaigns to similar audiences in LinkedIn Ads.
Keep campaigns fresh. Fuel your LinkedIn Ads custom audiences with live data so that they never go stale. Set up your recurring syncs once, and never upload a manual CSV again. ‍
Improve match rates. Use Hightouch's Match Booster feature to enrich your audiences as you sync them to LinkedIn Ads, increasing the number of customers you can connect to LinkedIn's platform. Improve your campaigns' performance by beginning with the largest possible audience size.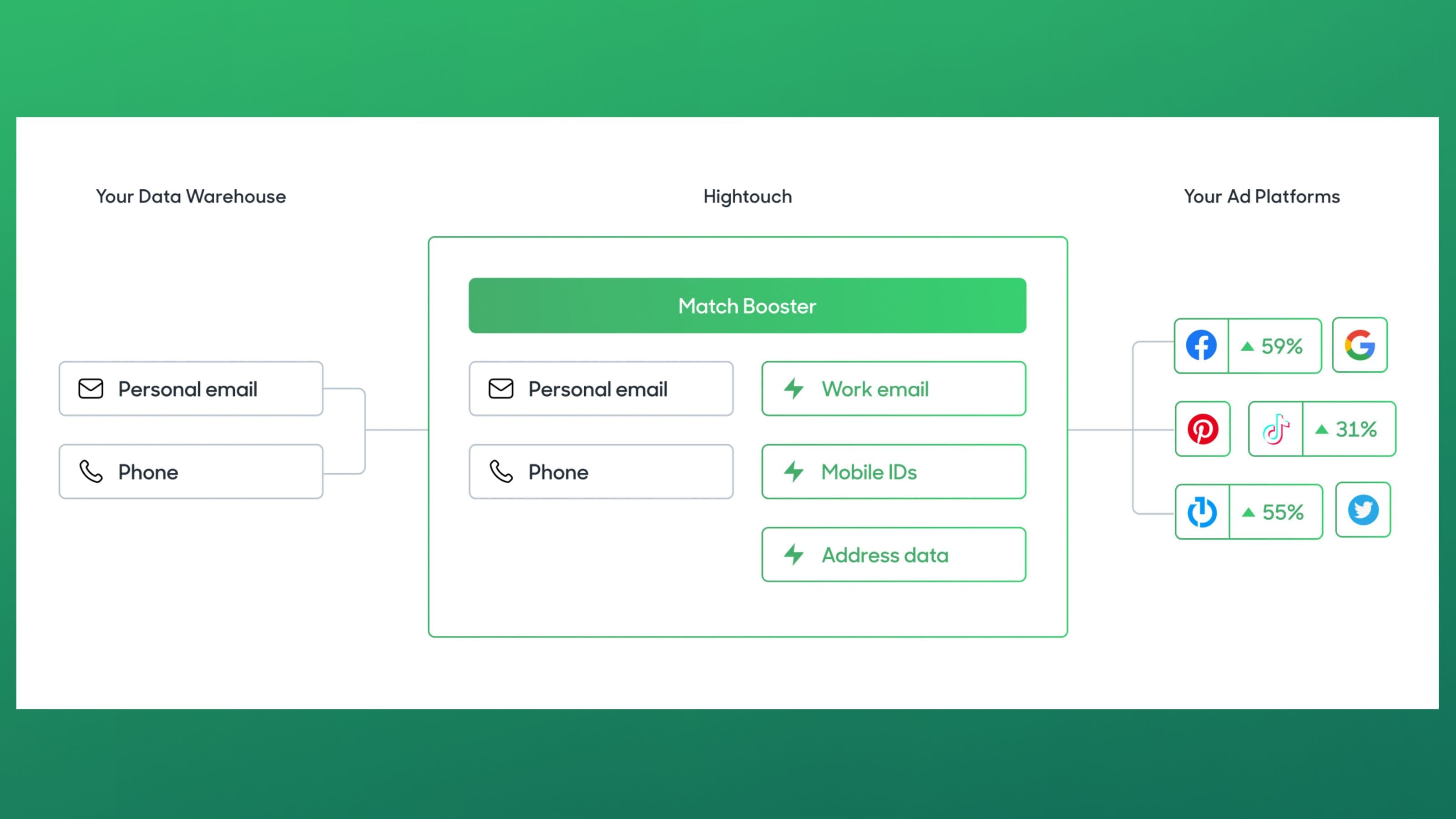 How it Works
Within Hightouch, you can sync data to LinkedIn Ads just like any of our other destinations, like Google Ad Manager, Facebook, and more. You start by connecting your data source, and then define models you want to sync to LinkedIn Ads. You can build models with tools like SQL, dbt, or our code-free visual audience builder. You can set syncs to more than 200 destinations on a one-time or recurring basis, so your data stays fresh and up-to-date in every tool you use.
Your data in LinkedIn Ads will be up-to-date with your source of truth, and will match what you're syncing to all of your other tools. For more information, read our documentation about LinkedIn Ads.

Get Started
The LinkedIn Ads Matched Audiences Integration is available for all pricing plans in the Destinations tab in Hightouch workspaces. Reach out to our solutions engineers for a demo today to see how Hightouch can help your team activate your data into LinkedIn Ads.