How to Setup dataloader.io
Learn how to leverage dataloader.io to sync data into Salesforce and why it may not be the best option for you.
Over the years, Salesforce has introduced many different features and tools to help ingest data into the platform. One of the tools designed to tackle this problem that many people don't know about is dataloader.io.
What is dataloader.io?
Originally created by Mulesoft before the company was acquired by Salesforce in 2018, dataloader.io is a cloud-based tool that helps you import CSV files directly into Salesforce. The tool offers a visual data mapper which allows you to import, export, or delete records for standard or custom objects in Salesforce.
How Does dataloader.io Work?
dataloader.io works very similarly to the Salesforce Data Loader and Salesforce Data Import Wizard. However, this tool is not natively available in Salesforce. You can access it through the Salesforce AppExchange or via your own browser.
With dataloader.io, you can upload CSVs locally from your computer and map the columns and rows from your source file to the appropriate fields in Salesforce. The tool provides a smart-mapping feature to help you save time mapping your data, and it allows you to automatically schedule your imports and exports automatically.
Pricing
There are three pricing tiers for dataloader.io: free, professional, and enterprise–and all of them are calculated on a user-per-month basis. With the free version, you can import 10,000 records per month, with a file size limit of 10 MB. The professional version starts at $99 per monthly user and gives you 100,000 monthly records and a file size of 50 MB. The enterprise edition starts at $299 per monthly user and gives you unlimited monthly records and a file size limit of 100 MB.
Getting Started with dataloader.io
Since dataloader.io is a web-based tool, setting it up for use is pretty straightforward and only takes a couple of steps:
1. Create a new task. The first step in dataloader.io is to create a new task and choose whether you want to import, export, or delete your data. You'll also need to choose which object you'll be interacting with.
dataloader.io
2. Upload your CSV. After you've chosen how your data should appear in Salesforce, you'll need to upload your CSV.
dataloader.io CSV Upload
3. Map your data. Once you've uploaded your CSV, it's important to ensure that the columns in your file are mapped to the appropriate fields in Salesforce. Dataloader.io will map some automatically, but you'll most likely need to do some manual mapping on your own.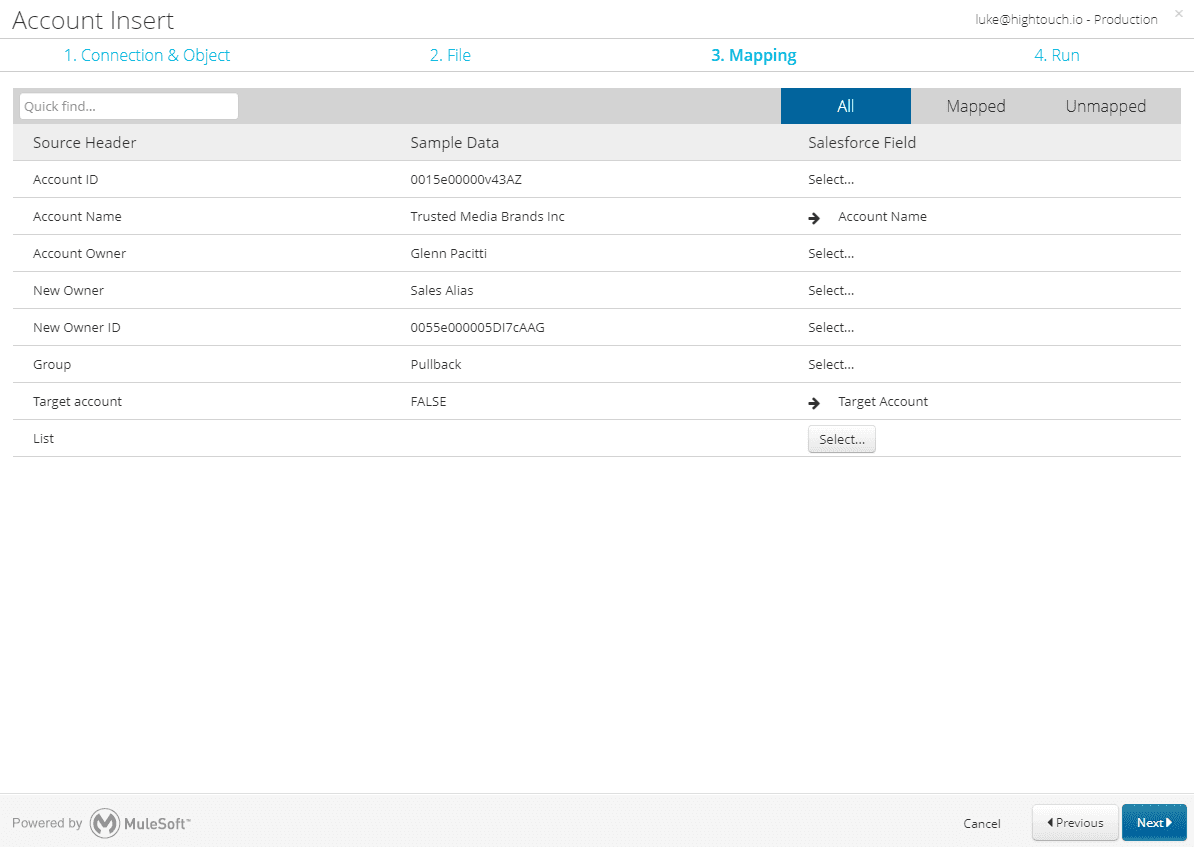 dataloader.io Mapping to Salesforce
4. Import your data. After you've mapped your data, you can run your sync and choose whether you want to leverage Salesforce's Bulk API or Batch API.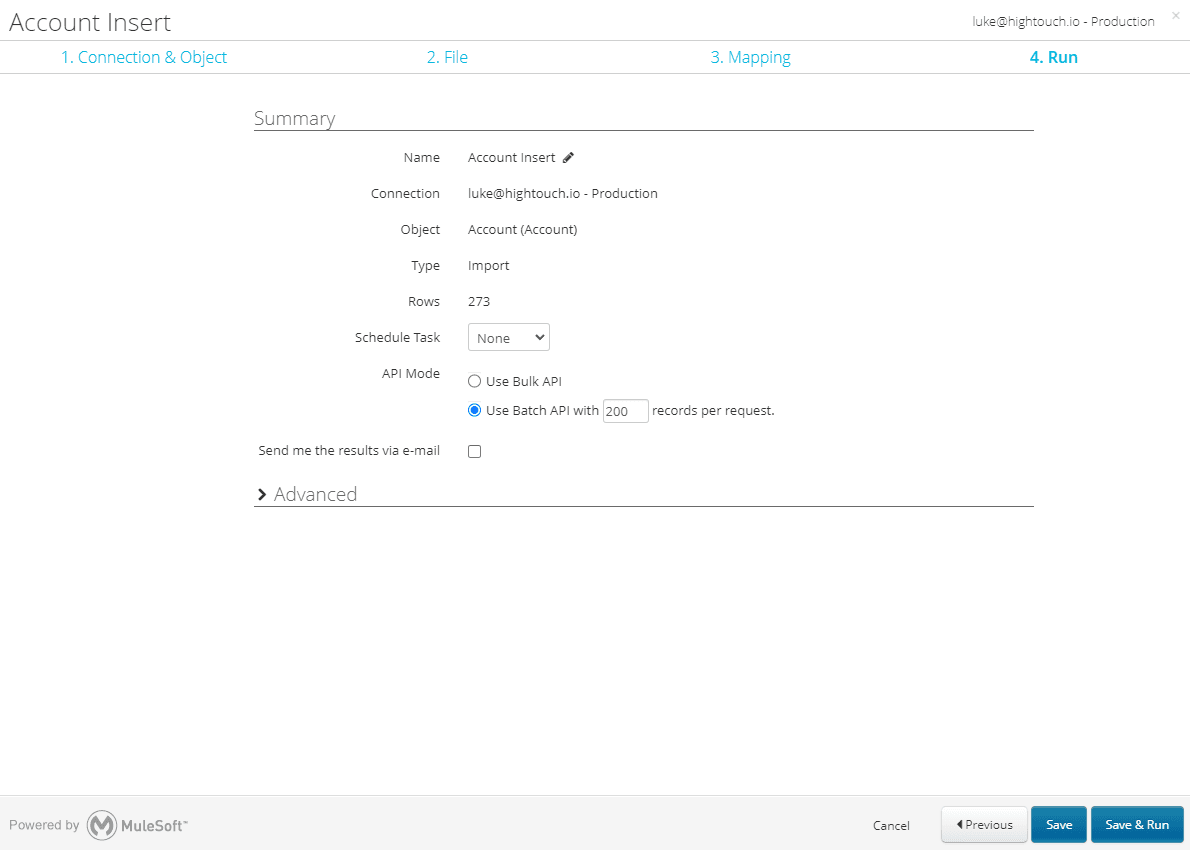 dataloader.io Final Import to Salesforce
Pros and Cons of dataloader.io
dataloader.io is immediately more appealing than Data Loader because it's a web-based tool. However, much like Data Loader, dataloader.io is also an archaic tool. There have been very few updates or product releases within the last year.
To take advantage of the scheduling and automation feature, you need to ensure that you're manually saving an updated CSV with the exact same file name as your previous import; otherwise, you'll just upload the same data as your last import. This means it's nearly impossible to schedule tasks to run on a daily, weekly, or even monthly basis. Since all tasks automatically expire after 30 days, manual tasks are the most reliable.
If you're uploading similar data with an import task, there is an option to save your mapping file, so you don't have to re-configure your mappings every time you want to run a task. Since dataloader.io limits you to 10,000 records per month with the free tier, you'll run out of records quite fast, and since professional and enterprise tiers are quite expensive, the immediate reaction is to look for an alternative.
Final Thoughts
dataloader.io is a useful tool if you need to do a single import/export from Salesforce to update some fields and objects at scale. For consistent use, this tool is not built to handle large use cases, so you'll probably need a dedicated Data Activation platform like Hightouch. Hightouch syncs data directly from your warehouse to over 150 different destinations (including Salesforce.), and the first destination is completely free when you create a new workspace.