Planning for Success: Constructing a CDP Use Case Roadmap
Make a plan for the key use-cases that you need to accomplish with your Customer Data Platform implementation.
Marketing spend only continues to increase as the current technology landscape introduces more channels marketers can use to reach consumers. It's estimated that 82% of the US population uses social media, and 94% of households have connected TVs.
Today's marketers have more channels to manage than ever before, whether it's email, ads, push notifications, SMS messages, or on-site personalization. Combining these channels into multi-channel or omnichannel experiences adds further complexity.
Many companies are increasingly adopting Customer Data Platforms (CDPs) to power marketing team channels. Unfortunately, CDP implementations often under-deliver because many companies fail to structure a plan for use case deployment. In this blog post, I'll share the strategic framework we use at Actable to guarantee success in all CDP deployments by mapping out use cases.
What is a Use Case Roadmap?
First, it's important to define a Use Case Roadmap. Here at Actable, we think of a Use Case Roadmap as a phased use case implementation plan over a concrete period of time. Generally, we design use case roadmaps to have increasing complexity up until the use case return on investment is no longer justified by the work required to achieve it.
A thorough roadmap also includes details around the added value of use cases and details of business benefits to help contextualize the main goals of each section of deployment. Here's an example use case roadmap we've used previously at Actable.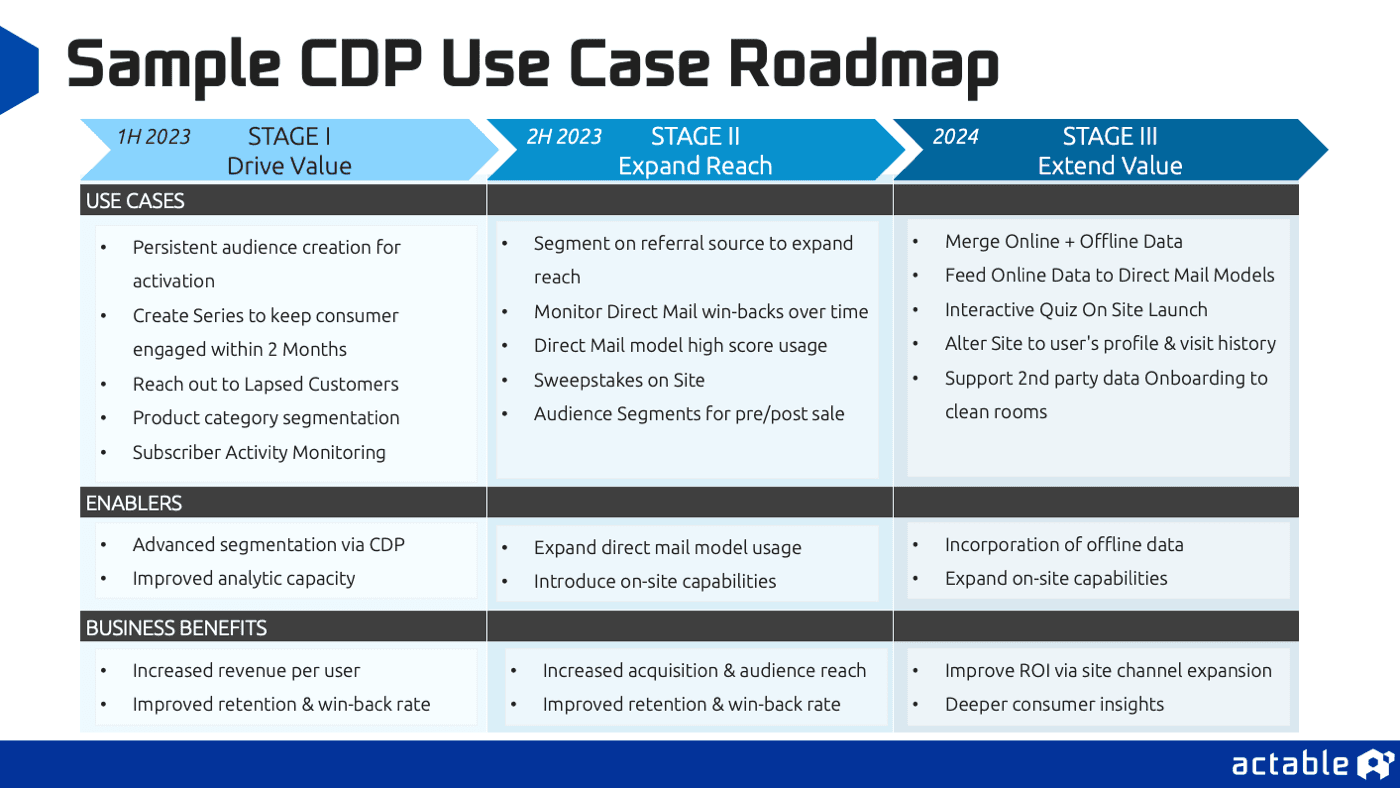 Why Do You Need a Use Case Roadmap?
Immature CDP adoption efforts are often characterized by use cases launched in isolation. This presents a risk of deployment fragmentation with customer data. Enterprise alignment around a use case roadmap provides visibility into broader goals.
This cohesion is important, but completing a use case without the infrastructure to measure the benefit is an additional risk. Proper planning outlines success metrics that can be linked back to business goals. This allows stakeholders to work on key analytical capabilities before launching use cases. A use case roadmap helps you understand the effort required to reach your use cases and outline intentional measurement.
How to Design a Use Case Roadmap
Whether you're considering implementing a Legacy CDP or a Composable CDP, a use case roadmap will help streamline your execution so you can maximize your investment. There are several phases to an effective use case roadmap, and each builds on the previous one.
Aligning Goals and Objectives
Documenting goals is an essential foundational step in building a use case plan. This begins with identifying the stakeholders who are involved in setting those goals and interviewing them. With a thought-out interview process, your marketing platform operators will have a much more effective use case implementation.
Focus areas for these interviews should include:
Goals & Strategy: What goals are you currently tasked with achieving? How variable are the goals within your campaigns and across your channels?

People & Process: Who are your main collaborators when working to achieve your goals? What change(s) would you like to see in the campaign-based workflow?

Data Assets: What are the key data assets internally at present? What are the biggest gaps in your current data?

Marketing Applications: How are you using customer data in your marketing applications today? Please cite a current application that is seen as a success.

Key Channels in Marketing: What channel gets the most effort, time, and/or money from your perspective? What role do you play in defining an audience? What techniques do you use to curate your audiences?

Reporting: How do you evaluate the success from your marketing campaigns? Is there data you'd like access to for reporting but consistently lack?
This framework aims to outline clear parameters to standardize your objectives and align your goals.
Identifying Business Outcomes
When it comes to CDP deployments, there are three core outcomes that organizations are looking to drive:
Engagement: Improving your personalization efforts to drive engagement across channels and deliver better customer-facing experiences.

Reach

: Broadening your marketing channels so you can increase touchpoints with consumers via

lifecycle marketing

.

Efficiency

: Optimizing audience targeting capabilities so you can increase conversions, lower customer acquisition costs (CAC), and

improve return on ad spend

(ROAS)
Figuring out which factor is most important to your business will provide greater clarity as you align teams and prioritize use cases.
Aligning Teams
As a CDP is being implemented, getting started on use cases often requires inter-departmental collaboration and alignment. Developing a Use Case Roadmap provides a springboard for that inter-departmental alignment. You should facilitate this by involving key team members from analytics, data engineering, marketing, and marketing operations. This makes it much more of an organizational priority.
Collaboration: When crafting a roadmap, it's essential to gather opinions from a diverse set of team members. You can accomplish this with an interview process. This will help you create a complete picture of data assets, identify gaps in your marketing approach, and to determine the top-ranking channels.

Feature enablement: Outlining use cases can help refine which features to adopt and where to focus your activation efforts. With a plan, feature prioritization for launch becomes more apparent. Your CDP users can focus on learning how to use the tools they need in the platform or configure the integrations required for outbound deployment based on the specific use cases you'll be addressing.

Mindshift in execution: By categorizing use cases, your teams can enter "sprints" with a clear focus, allowing your various members to get involved based on their roles. This prompts a discussion across your organizational teams around audience definitions. This holistic understanding will also carry through to your omnichannel deployment. You can structure touchpoints sequentially with journey-building features as users qualify for an audience. Prioritize use cases that deliver value early and communicate the successes to build momentum and support for the initiative.
Use Case Prioritization
Figuring out which use cases to prioritize when implementing your CDP can be very challenging. You should prioritize use cases against ease of execution (Effort) and expected return (Benefit).
Benefit: The overall business impact of the use case in terms of helping reach business goals or potential ROI. This also includes scale and/or the number of channels reached in a given use case. (NOTE: a higher impact equals a higher score.)

Effort: The amount of lift it would take to start the use case, including technology access, enhancements, and assets needed to go live. (Note: a lower effort equals a higher score)
An exercise to help assist this is scoring each use case on a High, Medium, or Low Scale and averaging those results for both descriptors.
Low Lift: Using technology and infrastructure that already exists.

Medium Lift: Use Cases that can be implemented with a certain amount of work to prepare for launch.

High Lift: Use Cases with activation capabilities that have a longer timeline but will add large incremental value.
This exercise will help you establish a baseline to prioritize your use cases that lead to early success. Frontloading quick wins will jumpstart the adoption process so you can build momentum to tackle your more complex use cases.
Some examples of use cases that apply here are creating central suppression audiences for a brand, expanding an email journey to deliver at various omnichannel levels, or leveraging recommendation models to engage users when they arrive on-site.
Final Thoughts
The value proposition of CDPs is clear because organizations are increasingly looking for ways to activate their existing first-party data. Whether you're considering implementing a Legacy CDP or a Composable CDP, a use case roadmap will help streamline your execution so you can maximize your investment.
Bio: Aren Kabarajian is a Marketing Solutions Specialist at Actable. Aren is responsible for helping global brands better organize, analyze, and activate their first-party customer data. Prior to joining Actable, Aren worked extensively in the programmatic media space and was a machine learning consultant for the largest transit system in the US. Aren has a Masters Degree in Applied Urban Science & Informatics from New York University.