The Definitive Guide to the Snowflake Marketplace
Learn how data consumers and data providers are leveraging the Snowflake Marketplace to build data products and enrich their Snowflake data with third-party datasets.
Snowflake was initially popularized as the very first fully-managed, SaaS-based data warehouse built to handle a wide range of use cases and analytic workloads. Since the company's inception, the platform has been built out to better integrate with the heavily siloed data landscape and the ever-increasing number of cloud vendors and SaaS technologies.
Without the ability to leverage data from external partners or third-party data sources, Snowflake would be nothing more than an analytical database. What makes Snowflake so powerful is the fact that you can leverage not just your own first-party data but enrich those datasets with third-party data using the Snowflake Marketplace.
What is the Snowflake Marketplace?
The Snowflake Marketplace enables you to privately access, discover, or share datasets with other Snowflake accounts, regions, or clouds. The purpose of the Snowflake Marketplace is to connect data consumers with data providers and also integrate external technologies into the Snowflake ecosystem.
Snowflake Marketplace
Just like how a mobile phone connects you with a cellular network and allows you to make a live/real-time connection with other mobile phone owners, the Snowflake platform enables you to make a similar live and real-time connection with other Snowflake accounts and their data. At its core Snowflake Marketplace allows data providers to create curated data offerings and paid or free listings to consumers.
The Snowflake Marketplace provides secure access to data listings from providers–thus, removing the need to integrate and model data. Even though you can share your data privately with specific accounts (think of other companies in your ecosystem or applications that can read your data), the Snowflake Marketplace lets you monetize your data or access those same datasets/products from other Snowflake users.
How Does the Snowflake Marketplace Work?
The Snowflake Marketplace works very similarly to the App Store for IOS users or the Google Play store for Android users. Most data products on the Marketplace are datasets that data providers give you access to for free or upon request.
You can share and access live data sets in real-time, so you don't have to create copies. Any non-VPS Snowflake account hosted on AWS, GCP, or Azure can access the Marketplace. Instead of copying, you get access to the live data set. The moment data is changed on the owner's side, you can use this data as well. If you include these datasets in your models and calculations, these would automatically use also the real-time data that the data provider is sharing with you.
Product Categories
Even though the Snowflake Marketplace provides data, data services, and data-driven applications, sharing data is still the most popular way of using it. The Snowflake Marketplace allows you to get access to different categories of data that can help you enrich your data and gain insights. The five most popular data categories available in the Snowflake Marketplace include the following:
360-Degree Customer View: Create a complete 360-degree view of your customer and enrich your Snowflake data with additional external datasets.

Weather: Access specific weather and regional climate data for analysis and predictions (e.g., how does the weather influence buying behavior and delivery times, etc.?)

Financial: Leverage business performance and market insights to power analysis and decision-making (e.g., How is a specific target market doing? Does it make sense to expand? Why are sales numbers dropping?)

Demographics: Use demographic data such as individual and household characteristics per country and region to understand and predict behavior.

Geospatial: Enrich your existing Snowflake data using geographic location data such as zip codes and addresses or geographic patterns to estimate demand.
Snowflake Marketplace Product Categories
Note: The Snowflake Marketplace also offers many other datasets for specific industries such as the public sector, energy, health, life sciences, legal, and leisure like sports, travel, or tourism.
Free Datasets
The Snowflake Marketplace offers access to many free data sets. Here's a list of some of the best free datasets to play around with in Snowflake.
Snowflake Marketplace Data Providers
Data Tools
Even though the Snowflake Marketplace started as a Data Marketplace, it is not solely for sharing data sets anymore. The entire philosophy of creating the modern data stack is to keep your data in a central place and use best-of-breed technologies around it to collect, enrich, model, visualize, or activate data in the way that makes the most sense for your business objectives.
To achieve this goal, Snowflake partners with many different technology companies to help you seamlessly integrate the Data Cloud with other technologies.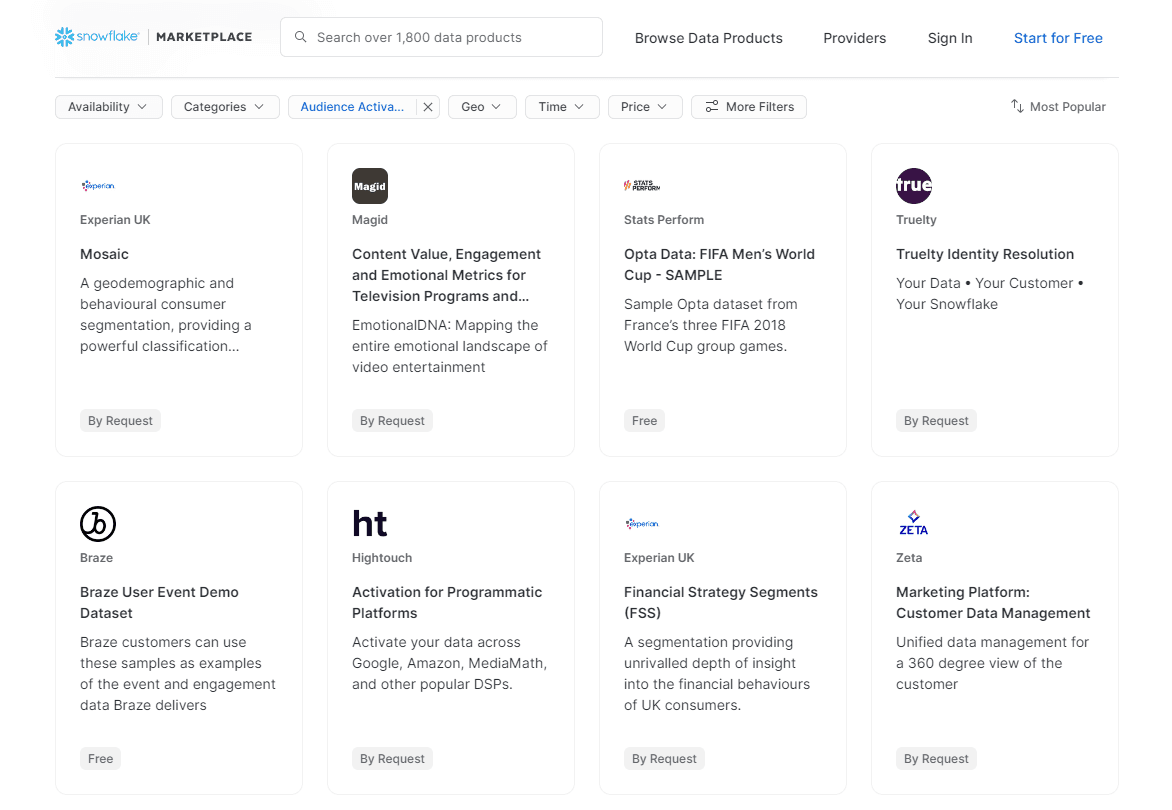 Snowflake Marketplace Data Products
Here are a few examples some of the most popular best-in-breed partners available on the Marketplace:
Data Sharing
There are four ways to share data in Snowflake, all of which utilize Snowflake's native data-sharing capabilities.
Direct share: Direct sharing lets you share specific database objects with another Snowflake account within your region. You're essentially inviting another account to read and use your data.

Marketplace listings: Marketplace listings are offered as datasets or products, and they're available to any Snowflake customers. The Marketplace lets you monetize data products or share additional metadata to one more accounts. You can make your data publicly available for Snowflake.

Data exchange: With data exchange, you can set and manage a group of Snowflake accounts and share data with that group using a Private Marketplace or data clean room. This is often used internally and within business ecosystems.

Reader accounts: With Reader accounts, you can give specific Snowflake users access to read your data. One of the main use cases for this is sharing data through an application.
Final Thoughts
While Snowflake is still most commonly known as an analytics platform, the Marketplace allows you to unlock new use cases in Snowflake, whether enriching your existing data, integrating new technologies into your current ecosystem, or activating your Snowflake data to drive business outcomes. The Marketplace makes Snowflake one step closer to becoming a fully realized Data Cloud.