Hightouch has raised a Series A!
We are proud to announce that we've raised a $12.1M Series A led by Amplify Partners and Bain Capital
We're excited to announce that we've raised $12.1M to bring data into the hands of customer facing teams. Hightouch turns any SQL query into a live data sync to over 60 SaaS tools, making the data actionable and getting it out of the analytics stack. We're lucky to work with incredible customers like Autotrader, Nando's, Lucid Chart, CircleCI, Plaid, Retool, Blend, and Ramp.
Data warehouse as the source of truth
BI and Analytics teams do an incredible job of modeling data and deriving insights from data. What happens next? The data warehouse becomes the source of truth for all information across a company, but the story usually ends there because tooling is focused on getting data into the warehouse rather than out. In other words, too many teams are missing the "last mile" of analytics, where data turns into action.
Why has the data warehouse always been considered the destination for data rather than the source? Because it was too slow to power operations. The data warehouse was always the slow, cheap datastore that served as a backup for all information across the company. It gives companies security that they're not losing information and it is always being saved somewhere.
Now that data warehouses have gotten faster thanks to products like Snowflake and BigQuery, companies are starting to realize they can include the data warehouse as part of their operational workflow.
Hightouch is building market leading Reverse ETL
We are currently focused on building best in class Reverse ETL. The product is simple: we take a SQL query and send the changes in data to any SaaS destination. Simply map the columns from your SQL query to the columns in your SaaS tool, and sync data to any object in the end destination. A great example is syncing the last logged in date and number of users to the account level on Salesforce. In Hightouch, you match from your data warehouse to Salesforce accounts based on domain URL, and then map number of users to number of users and last logged in to last logged in. Hightouch handles things like retries, debugging, version control, alerts, and diffing changes in the data. The product enables anyone with a SQL query to create a live data sync to their SaaS tool of choice.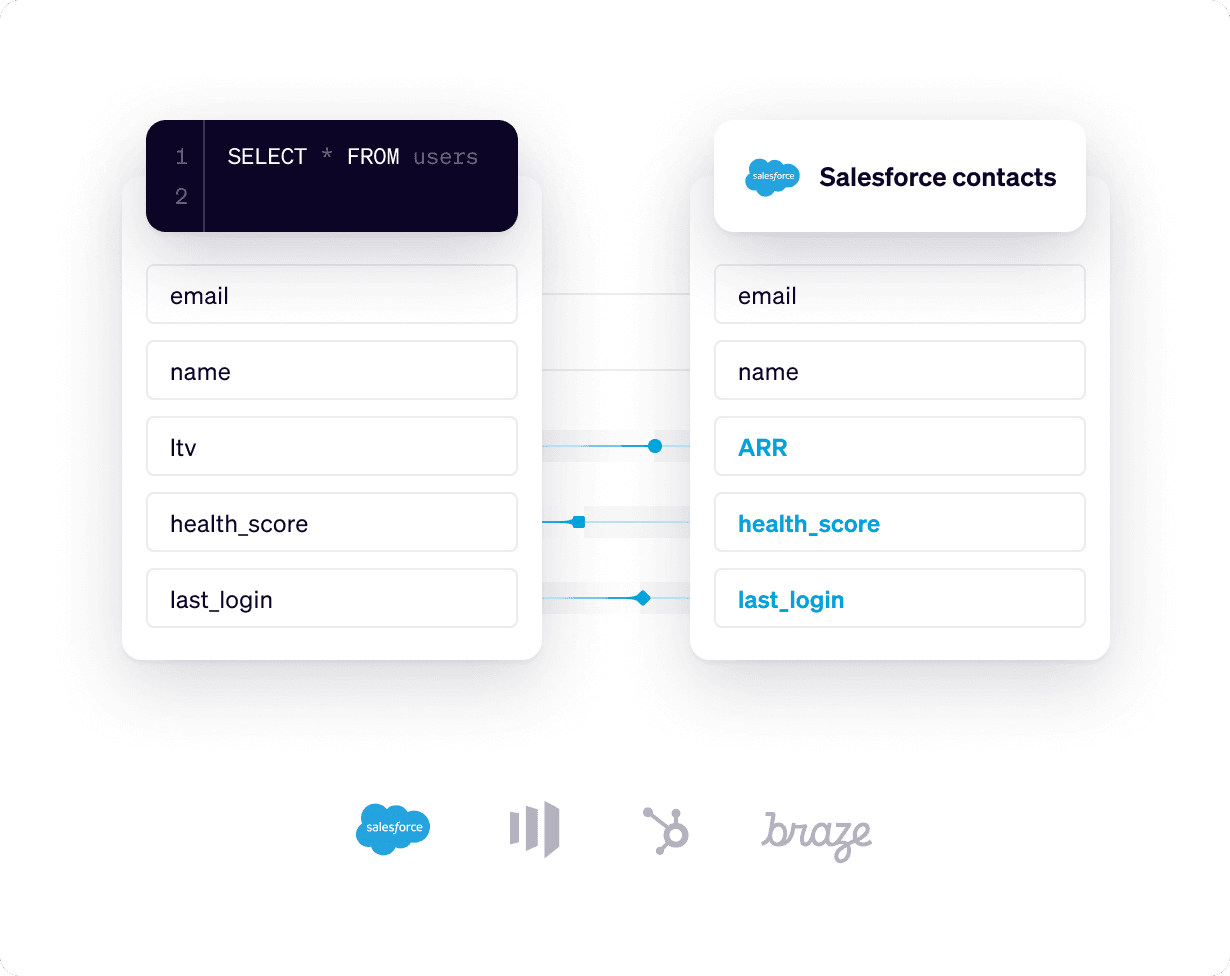 We're lucky to work with industry leading customers and learn from their operations
Data is prolific across companies in every single team – and we truly believe that everyone in a company is a "data person." What does that mean? Most roles require the use and understanding of spreadsheets, BI tools, or SQL, but these roles don't have "data" in the title. It's not that people don't understand data, it's that tooling wasn't built for data savvy people to use data in their workflows. Data is still primarily accessible to developers, and that's the problem. Hightouch bridges that gap.
Hightouch serves both B2B and B2C companies across their marketing, sales, success, support, and finance stack. That's what makes this product so fun to work on – every company in the world will at some point need Reverse ETL. The old way of doing things that requires an engineer to write one-off python scripts to pipe data based on a cron job simply doesn't make sense anymore. Those scripts are brittle and hard to change over time to support new use cases.
We're fortunate to work with industry leading B2C companies like Autotrader, Nando's, and Headway, alongside with top B2B companies like Plaid, Ramp, Retool, and Blend. This is just the beginning though.
dbt and Fivetran Partnerships
Today, along with our Series A we're delighted to announce our partnerships with dbt and Fivetran to complete the modern data stack.
Check out the announcement on the dbt blog which includes a video demo of our dbt model selector and integration.
Also check out the announcement on the Fivetran blog which describes how Fivetran data is used in Hightouch workflows and includes a case study with our mutual customer Blend.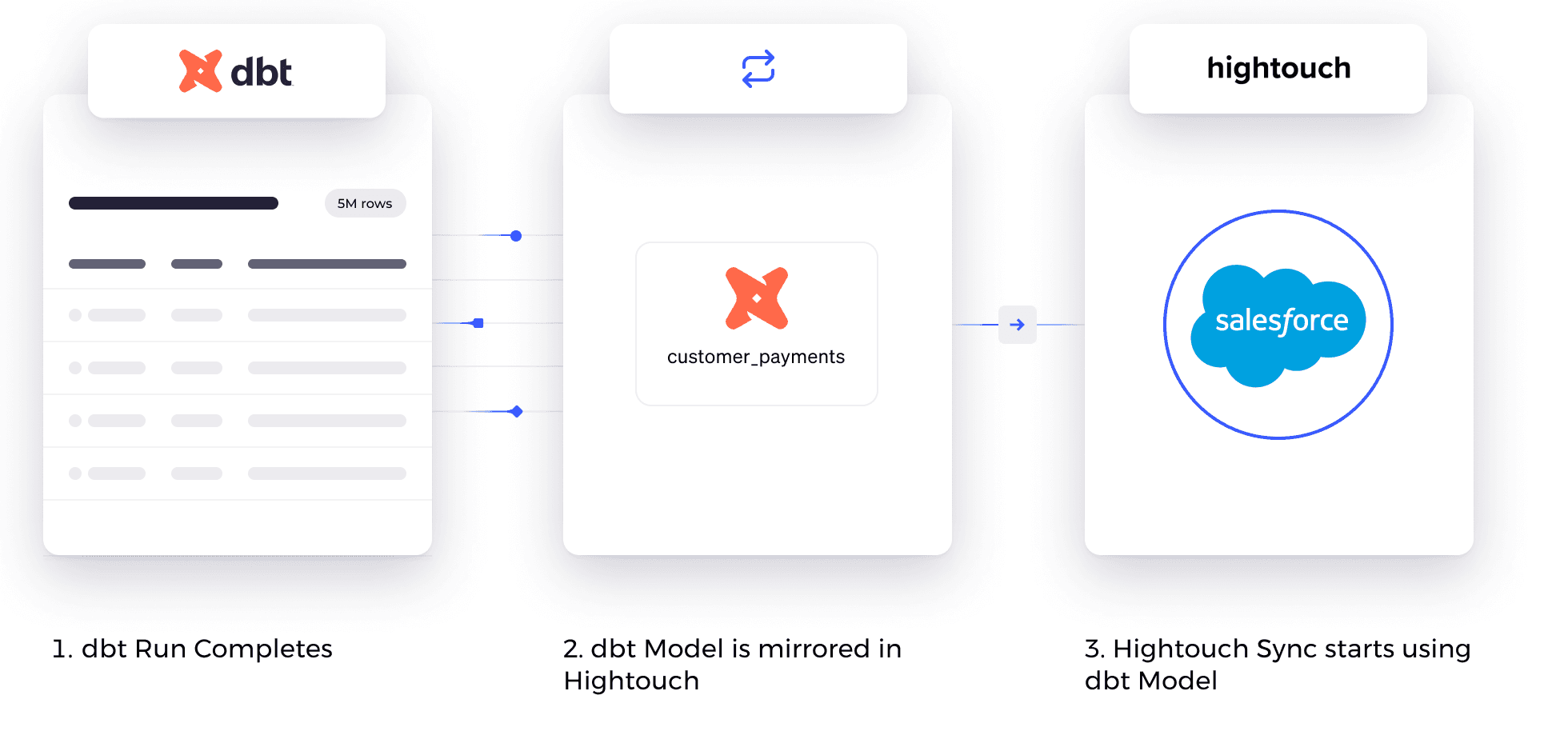 Hightouch is much more than Reverse ETL
Traditionally, users may think of Reverse ETL as a simple copy and paste operation, but the purpose of Hightouch is data activation as a whole. For us, activating data doesn't just mean getting data out of the data warehouse. Not only do we support production databases as a source, we also support Google Sheets, Airtable, and Looker as a source. That's why saying that Hightouch gets data from a data warehouse into a SaaS tool is an extremely limiting way to describe our product. The idea is that anywhere there is organized and structured data in your company, you should be able to activate that data with Hightouch.
Hightouch has built second product used primarily by larger B2C customers, that allows marketing teams to build audiences and filters on top of existing data models. The Visual Audience Builder sits on top of existing SQL queries or models in Hightouch and allows users to create audiences and sync those audiences to ad marketing and email marketing tools. This product makes data accessible to users of any skillset that want to utilize data in their company, and we even find SQL savvy users reaching for this UI because it's so intuitive. Hightouch's visual audience building layer abstracts away SQL terminology and presents audience building in an intuitive way, while in the backend always compiling down to SQL and running on the data warehouse. This democratizes access to data for everyone within a company, regardless of whether they know SQL .
Hightouch also supports workflow-like actions such as creating tasks and tickets in Asana, Jira, Zendesk, or Salesforce. This includes creating notification feeds in Slack when customers do certain actions within the app, such as put down a credit card. We've seen companies like Blend use Hightouch for automation and workflows, putting their data into action by automating Slack messages for their services team to help meet customer deadlines instead of relying on static reports.
On top of that, we also plan to enable real-time streaming use cases by connecting with more real time data sources and destinations. We're currently working on source connectors with faster data warehouses like Materialize and Firebolt, and we hope that Snowflake will develop similar features over time. Additionally, there are many more destinations where fresh data needs to live in order to power core workflows and personalization. For example, Internal ETL helps moving data from the data warehouse into production databases, and our customers then use that production database to power in-app personalization. Finally, we will continue to invest in our API to enable more flexibility with data transfer and embedding hightouch into existing workflows.
This means that Hightouch will be responsible for all operations that utilize data in the warehouse for anything more than BI. Getting data into faster databases is just the first step. Hightouch plans to release features that make SQL queries more and more powerful. Imagine being able to turn a SQL query into something that powers a production app, or being able to click a few buttons and choose the latency at which you want your metrics to be available and how often you want them to be calculated. Hightouch can enable all of these processes with the same underlying technology that we have today, but with different UX to enable different business users.
We are lucky to be backed by supportive investors with domain expertise.
Amplify partners led our $12.1M Series A. They led dbt Labs' Seed round and have been active in the data community for years. They are joined by Bain Capital Ventures, Y-Combinator, and Afore Capital who also invested in this round. Full press coverage on Forbes and Venture Beat!
Get started with Hightouch
Hightouch is free to get started with and doesn't require a credit card! Check out the product at https://app.hightouch.com/signup and join us on Slack to work with our team live.
Come work with us
Hightouch is hiring across the board for Engineer, Marketing, Sales, and Success! More information can be found at our careers page or you can just shoot us an email.