Hightouch Debugger & Observability: Better than Ever
Learn about our updated Debugger, why data observability is important for Reverse ETL and see why no other Reverse ETL platform compares to Hightouch.
It's hard to believe that almost a year ago we announced our Live Debugger as part of our ongoing commitment to observability. Since then we've continued adding improvements to observability in our never-ending quest to make Hightouch a platform data people love.
With these latest changes, we can say with full confidence: Hightouch has the most powerful observability engine out there; no other Reverse ETL Platform comes close.
If you've ever run into a data error, you know how important it is to have deep insights into your data pipelines. You wouldn't use Airflow if you could only see the partial logs of some of your runs, and you wouldn't trust dbt if you couldn't see exactly which models caused which errors, so why would you trust a Reverse ETL tool that doesn't offer you the same level of coverage and insight?
Imagine you get a Slack alert that one of your syncs failed. Our Slack Integration gives you a link to the exact run that failed. Clicking on the alert you will see row-level details of both what was successful and what was rejected, making it easy to narrow down errors and unexpected behavior.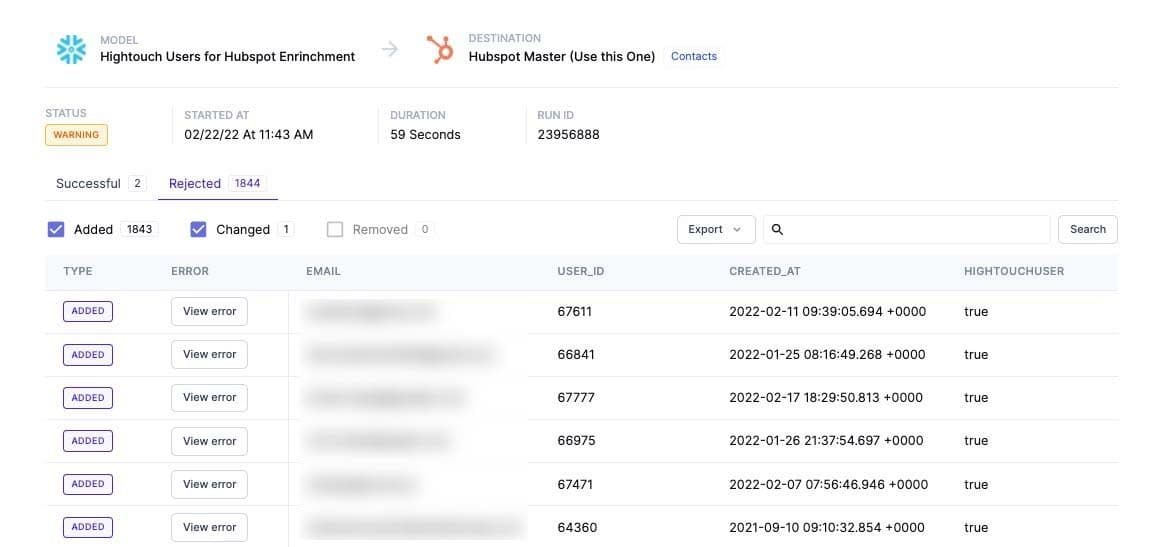 Every single row queried is shown and you can easily filter for successful or failed rows. The table view is great for understanding what was queried when your sync ran, along with any row-level errors produced. Every record is here, and you can filter easily with our primary key search, or export every row and error to a CSV / JSON file for further analysis.
Drilling into any particular row brings up the Live Debugger. This view shows you the entire batch of records sent to and received from the destination. There are no limits to what is shown because every attempt is visible, and you can see the entire request and response for every batch. Nothing is missing.
The best part is that today nearly every destination is supported, everything from your favorite CRMs like Salesforce and HubSpot to Messaging Platforms like Iterable and Mailchimp, and even Ad Destinations like Facebook Audiences and Google Ads. All of these platforms work with our Live Debugger. No other Reverse ETL tool has such a broad coverage of destinations or rich observability features like Hightouch.
Don't take our word for it though, sign up today and try out Hightouch with your favorite destination and see how easy we make it to understand how data flows to your destinations.
To summarize, here are the key features that differentiate Hightouch from other Reverse ETL tools.