Announcing The Trade Desk Integration: Powering Programmatic Advertising with First-Party Data
Use Hightouch to update The Trade Desk with data from the warehouse to increase ROAS
The Trade Desk is one of the largest and fastest growing Demand Side Platforms (DSPs) out there today. Marketers and advertisers rely on The Trade Desk to deliver programmatic advertising campaigns across the internet.
The Trade Desk is one of more than 200 destinations which Hightouch syncs first-party data into. Marketers can use Hightouch to transform their first-party data into actionable campaigns and increase their performance in The Trade Desk. Hightouch powers advertising campaigns with first-party data in all of the major platforms, so a company can just as easily saturate The Trade Desk with data as it can Facebook, Google Ads, and more.
Hightouch can also enrich its syncs to The Trade Desk and other ad platforms with a proprietary selection of third-party data sources. This product, Match Booster, adds additional identifiers to the first-party data syncing to each ad platform. The result: first party audiences have higher match rates in each ad platform. Whatever campaigns you're empowering with first-party data in The Trade Desk will grow more effective as you can better match your data to the audiences in The Trade Desk.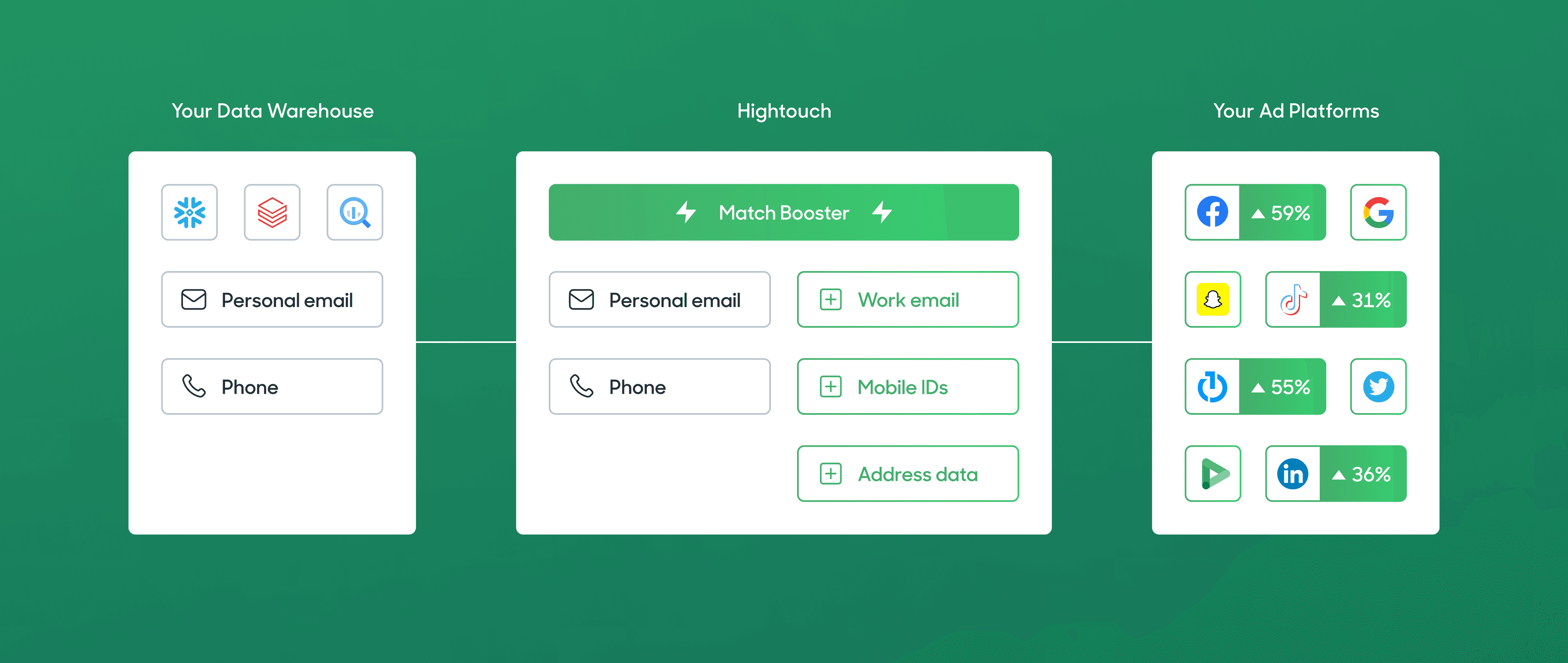 Sample Use Cases
Upload Conversion Events to Optimize Campaigns
Sync conversion events from any data you collect, including in-person transactions, into The Trade Desk using highly customizable postback URLs. This can help you build better attribution models and better optimize your advertising campaigns to drive more conversions.
Build First-Party Segments for Specific Targeting
Directly target specific users for privacy-conscious workflows by sending first-party data directly to The Trade Desk. Whether you want to suppress campaigns from existing subscribers, retarget site abandoners, or reach churned customers with new offers– your first-party data can make The Trade Desk's advertising part of your omnichannel marketing.
Build Lookalike Audiences
Expand your reach by building audiences from any customer data you have. Hightouch can sync any of your user data into The Trade Desk. The more data you can access and provide, the larger lookalike audiences The Trade Desk can build to increase your campaign reach.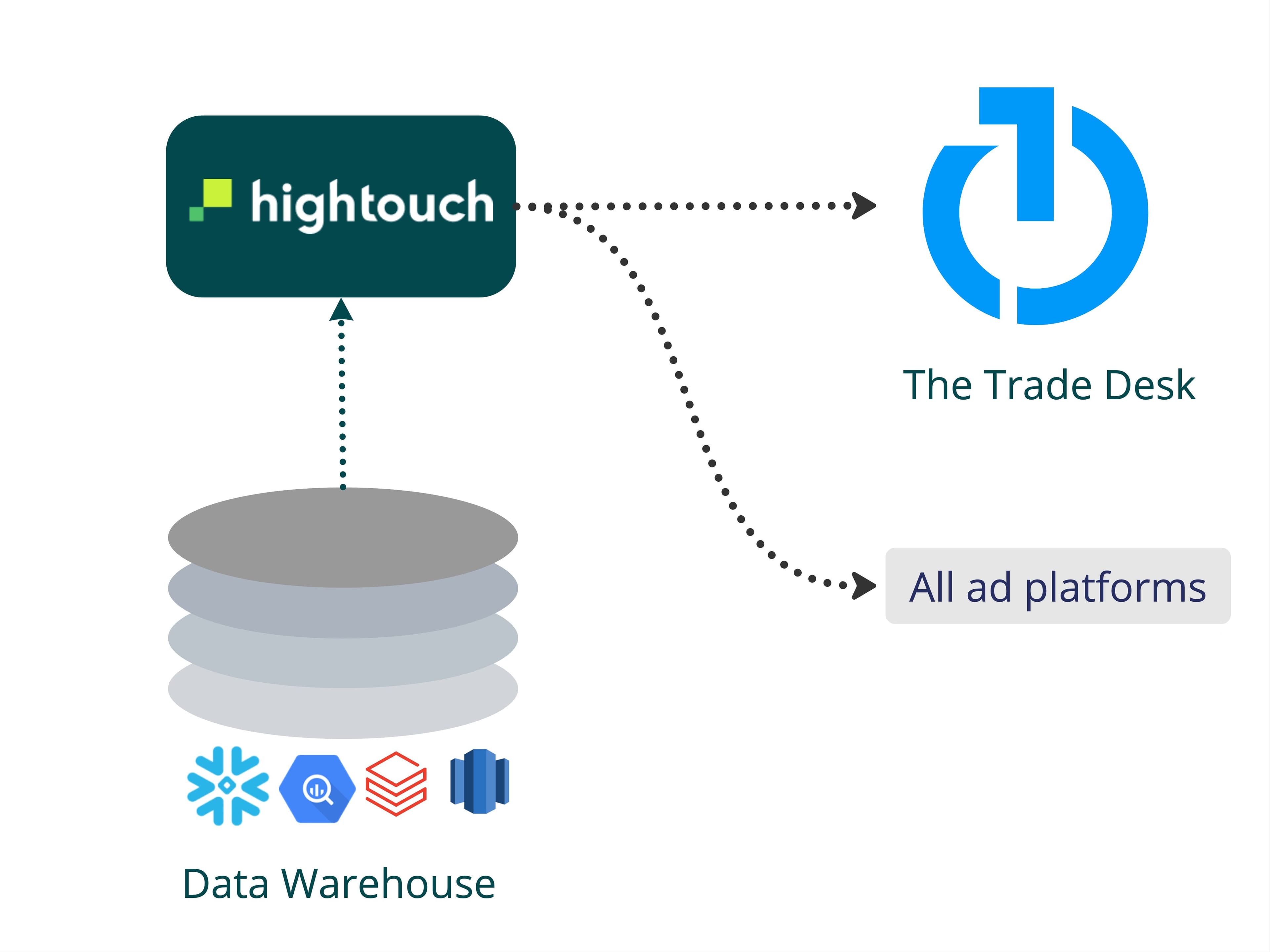 How it Works
Within Hightouch, you can sync data to The Trade Desk just like any of our other advertising destinations, like Google Ads, Facebook, and more. You connect your data source and then define the models you want to sync to The Trade Desk. You can build models with tools like SQL, dbt, or our code-free visual audience builder. You can set syncs to more than 200 destinations on a one-time or recurring basis, so your data stays fresh and up-to-date in every tool you use. Your data in The Trade Desk will be up-to-date with your source of truth and match what you're syncing to your other tools. For more information, read our documentation about The Trade Desk.

Get Started
The Trade Desk is available for all pricing plans in the Destinations tab in Hightouch workspaces. Reach out to our solutions engineers for a demo today to see how Hightouch can help your team power your advertising in The Trade Desk.