Data Activation for Everyone - Announcing Hightouch's New Sigma Integration
Don't stop at analytics: activate your Sigma analyses and data models in tools your business teams use every day.
Sigma is one of the fastest-growing Business Intelligence (BI) applications in the market today. The secret behind their growth is the insight of bringing together the flexibility and ease of use of a spreadsheet with the scale and power of the data warehouse. This hybrid approach makes the benefits of a data warehouse accessible to all kinds of business roles, especially in finance, operations, and marketing teams—where spreadsheets, not SQL, are the norm.
Now, what if you took this idea one step further?
What if those same users could take the insights from Sigma and activate them in the tools they use every day?
Introducing Hightouch's New Sigma Integration
With Hightouch's new integration, your Sigma insights become catalysts for action. You can take any metric, analysis, or customer segment defined in Sigma and sync it directly to the business tools your teams rely on (e.g., Salesforce, HubSpot, Braze, Facebook, etc.), giving your business teams up-to-date, consistent, and contextual data wherever they need it.
Teams can now seamlessly deliver personalized emails, enrich CRMs with lead scores, help support teams prioritize tickets, and much more.
Analyzing the impact of these actions in Sigma can then improve your business strategies, allowing you to iterate faster.
Data Activation as a feedback loop.
Example 1: Driving Personalization for Retail and E-commerce Organizations
One example of how to take advantage of Hightouch's Sigma integration is building personalized emails for specific customer cohorts.
Aggregating data across many sources like brick-and-mortar stores as well as digital experiences like app and web in the data warehouse unlocks a complete 360-view of customers. Thanks to Sigma, business teams can leverage this data to create granular analyses like customer journey paths or lifetime value (LTV) modeling to better understand user behavior.
While these insights can be extremely beneficial alone, with the new integration, teams are able to take these same insights and activate them out to email marketing tools, such as Braze or Iterable. Hydrated with a complete picture of who the high-LTV customers are, what is available in inventory, and the items customers previously viewed, business tools are now better enabled to create rich, personalized experiences for customers, ultimately driving more conversions.

Create highly personalized emails with Sigma and Hightouch.
Example 2: Sales Territory Planning in Salesforce
Another example of how users can drive action with insights from Sigma is sales territory planning.
Sales teams can build out their territory plans and pull in data and analyses to enrich their accounts, all within their Sigma Workbooks. This creates a fuller picture of the end customers, including how to best outreach and service them.
With the sales territory planned in Sigma, using Hightouch, sales operations teams can sync those analyses back into tools like Salesforce, giving account executives deep, up-to-date data right at their fingertips - no need to export CSVs or context switch across applications to take action on reaching out to those prospects.
Hightouch brings all the powerful analyses from Sigma into Salesforce so that sales teams can hit their top-line goals.

Sync sales territory planning from Sigma to your CRM with Hightouch.
Unlocking Value Beyond BI
Write Once, Use Anywhere: With Hightouch, you can leverage your existing business logic in Sigma and ensure everyone across your organization has access to the same data, truly democratizing access to data and unlocking the value of your warehouse.

Take Action on Your Insights: The new Sigma integration enables you to activate the insights from your Sigma Workbooks in any of your sales, operations, finance, or marketing tools, so you can take action on consistent, up-to-date data.

Streamlined Workflows: Business teams can easily select any element in a Sigma Workbook and sync that data directly to the tools they use every day–without needing to know SQL–making it a seamless part of their daily workflow.
Sigma empowers data and business teams to maximize their data warehouse by providing fast, scalable, and secure exploratory analysis in a spreadsheet user interface. The Sigma integration in Hightouch means that users can take insights within Sigma and use them directly in applications connected to Hightouch. Together, we're building efficiency across the organization from data insights to business outcomes.
How It Works
When you create a Hightouch model off of Sigma, Hightouch taps into the underlying SQL of the Sigma element and runs it against your configured source (e.g., your cloud data warehouse). Once the model is created, you can leverage it like any other Hightouch model to create automated syncs to your selected destinations.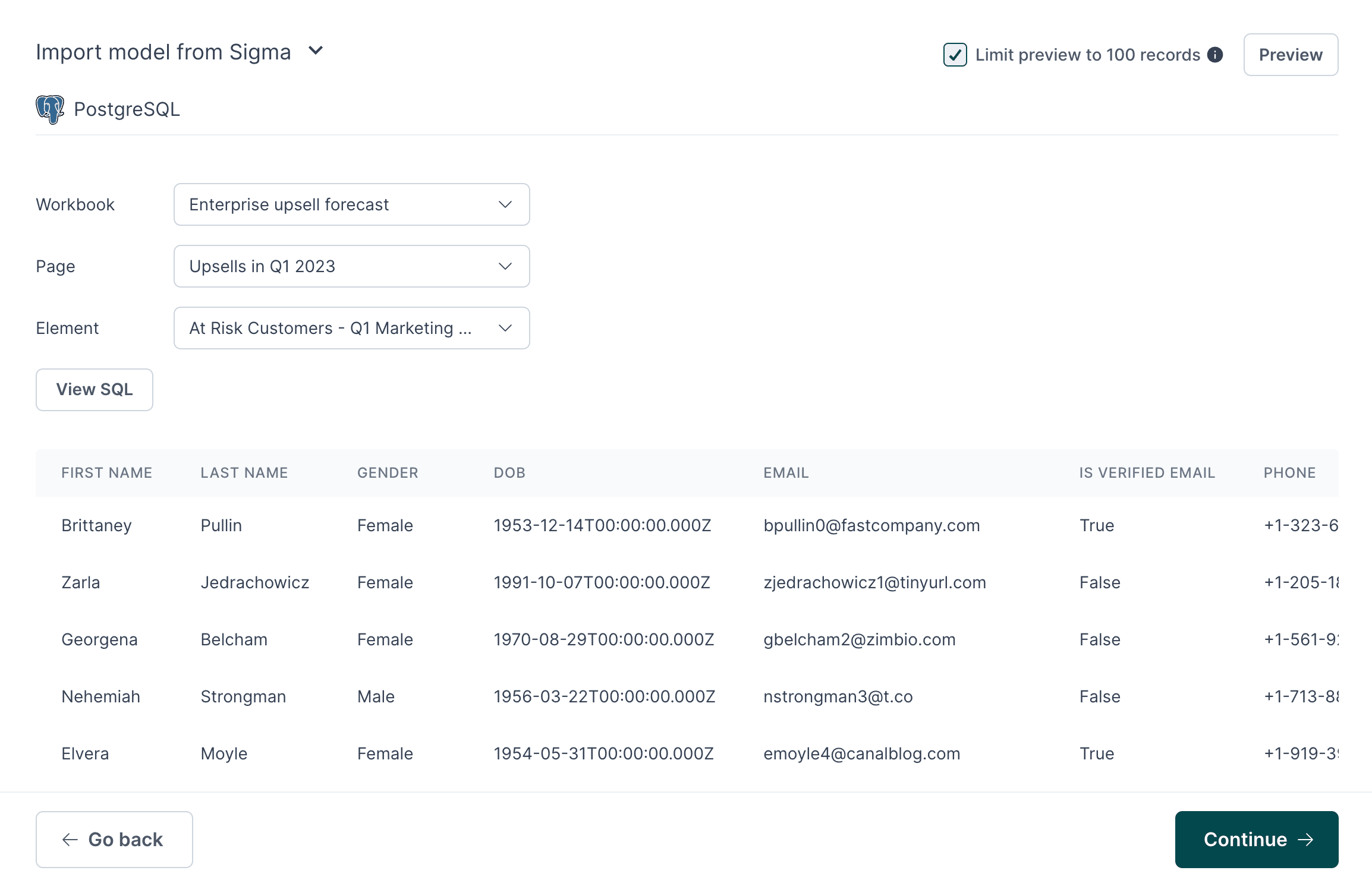 Add Sigma Workbook as a Hightouch model.
Get Started
The Sigma integration is available to all Hightouch customers at all tiers. Check out our docs or request a demo to get started with Hightouch's Sigma integration.