Announcing Hightouch's New StackAdapt Integration
Hightouch teamed up with StackAdapt to allow advertisers to synchronize their data with StackAdapt to enhance programmatic advertising campaigns.
We're excited to announce that advertisers can now use Hightouch to sync data from their warehouse to StackAdapt! StackAdapt is a multi-channel programmatic advertising platform that combines state-of-the-art AI and machine learning with an intuitive user interface. StackAdapt gives media buyers an easy way to drive performance across all devices, inventory, and publishing partners.
Hightouch's integration makes it easy for advertisers to sync data from their warehouse into StackAdapt via Reverse ETL, ensuring their data remains up-to-date. Leveraging first-party data empowers advertisers to create highly-effective campaigns in StackAdapt to target the right customers, at the right place and time. With StackAdapt, advertisers can use their data for different campaign strategies and leverage comprehensive customer insights through reporting.
"StackAdapt's collaboration with Hightouch offers advertisers the ability to seamlessly transfer, build, and activate first-party data strategies across all channels without the need for complex integrations," said Ben Brodie, Director of Corporate Development and Channel Partnerships at StackAdapt. "This partnership is another great example of our mission to put personalization and first-party data at the center of advertising."
How It Works
Within Hightouch, syncing data with StackAdapt is straightforward. First, choose your data source, define the models you want to sync and choose StackAdapt as your destination. You can create models using tools like SQL, dbt, or our code-free visual audience builder. You have the flexibility to set up one-time or recurring syncs to over 200 destinations, ensuring that your data remains up-to-date across all your tools.
This architecture, connecting your data storage to your downstream tools like StackAdapt, creates a Composable Customer Data Platform (CDP). The Composable CDP keeps your data in StackAdapt up-to-date with your source of truth, and will match what you're syncing to all of your other tools. For more information, read our documentation about StackAdapt.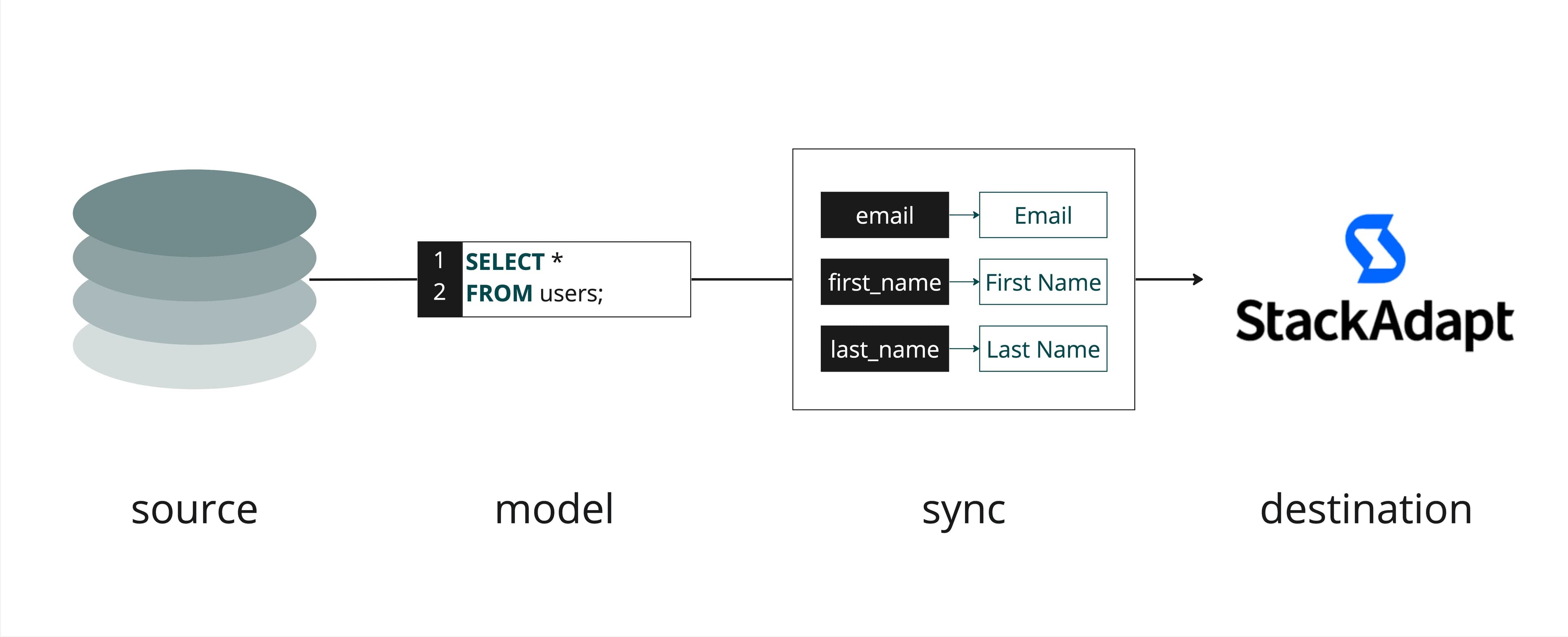 Get Started
StackAdapt is available in the Destinations tab in Hightouch workspaces for all pricing plans. Reach out to our solutions engineers for a demo today to see how Hightouch can help your team activate your data in StackAdapt.