Creating multi-touch journeys with Databricks, Hightouch, and Intercom
Mews is a cloud-based property management (PMS) platform designed to automate and simplify bookings, payments, inventory, housekeeping, guest communication, and revenue management. Powering over 3,500 of the world's largest hospitality brands, Mews provides a secure and seamless platform where companies can automate their operations to create world-class guest experiences.
Results
Increased engagement across email campaigns to achieve 50% open rate and 4% click-through rate

Reduced engineering time from days to minutes

Eliminated data silos and established and centralized data platform

Enabled granular segmentation and audience targeting

Automated messaging to customers and partners
The Challenge
With so many hospitality companies leveraging the Mews platform, customer data is at the center of everything that Mews does. However, with multiple different data sources and no centralized source of truth, data was scattered across multiple disparate systems. Mews had no ability to segment audiences for personalized communication, which was a huge missed opportunity because the company works with some of the largest hotels in the world.
Success for Mews is directly linked to the company's ability to continually provide value and educate and upsell existing customers. However, the Mews platform operates out of many different regions and offers many different product lines and services, so keeping customers up to date on platform changes and new features is vitally important. To solve this problem, Mews turned to Databricks, Hightouch, and Intercom.
The Solution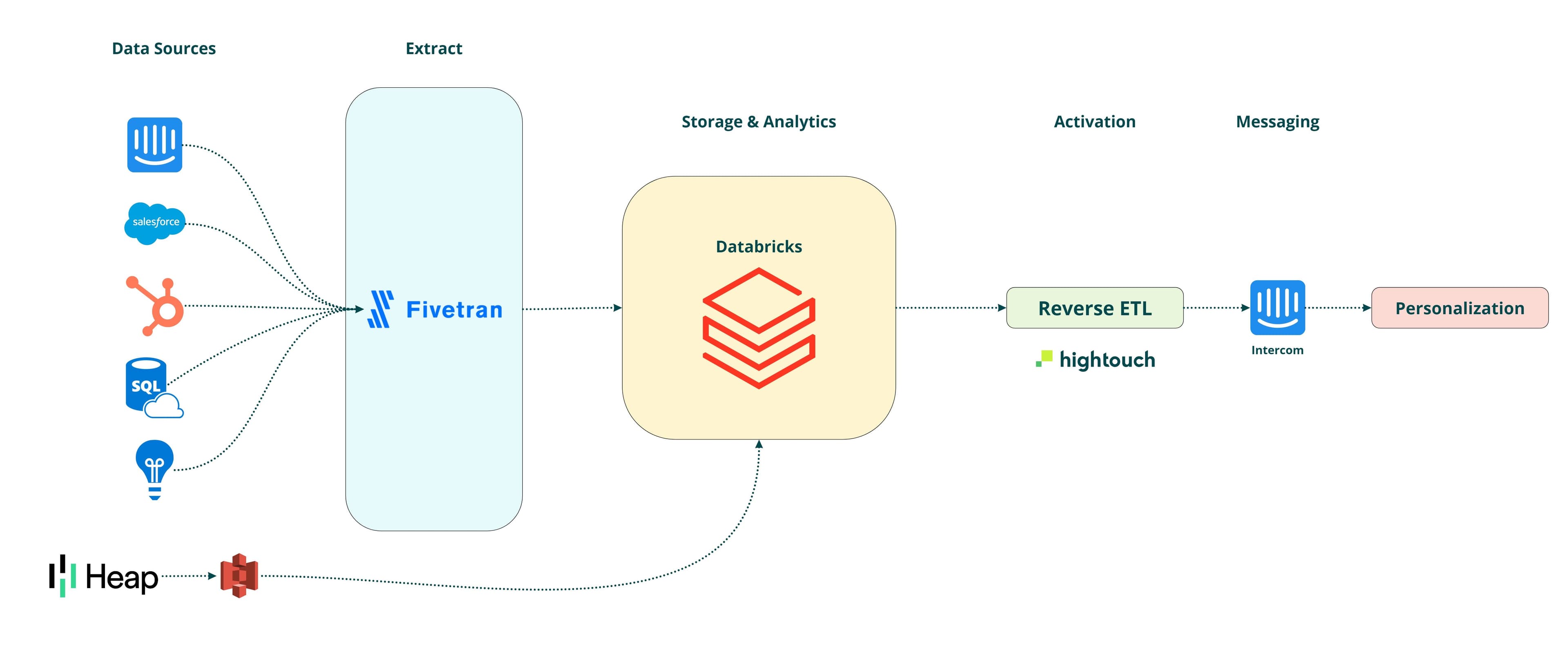 Databricks
Mews has multiple services and products, which means data is stored and collected across many different data sources, and understanding product usage and its impact on the business as a whole was extremely challenging. The data team wanted to consolidate and merge all of these disparate datasets to create a single and unified customer record.
The entire Mews data infrastructure is built within the Microsoft Azure cloud, so finding solutions that natively integrated with Azure was extremely important. With no centralized source of truth, the data team evaluated many different data platforms but quickly realized that Databricks would best support their use cases.
We were looking for a solution that would allow us to scale how we process data and also enable future use cases. Azure Databricks gives us the flexibility to manipulate our data using the development language that is most suited for the job.
Vojta Kopal
Director of Engineering, Data Science
•
Mews
Since implementing Databricks, the data team has created a 360-degree view of the customer and multiple data models, which power numerous Hightouch syncs and touchpoints through Intercom.
Hightouch
Upon implementing Databricks, the data team quickly realized the product and marketing teams wanted access to this same data, and they wanted it available in Intercom so they could power personalized communication. The data team was relying on custom scripts to manage data flows out of Databricks. To ease this manual process of moving data out of Databricks, the data team turned to Hightouch.
Previously, we had built a home-grown pipeline that took days to sync data to Intercom. Using Hightouch, I was able to sync that same data in minutes. Our data team doesn't have to spend time debugging their code anymore because Hightouch has a built-in debugger and version control.
Vojta Kopal
Director of Engineering, Data Science
•
Mews
Using Hightouch to sync data from Databricks to Intercom enables the marketing and product teams to create granular audiences and segmentations without having to hop between tools or upload manual CSV files.
Hightouch allows us to leverage our existing data models so we can take action on our data immediately. We don't have to worry about where the data comes from or how it's modeled because Hightouch takes care of everything.
Vojta Kopal
Director of Engineering, Data Science
•
Mews
With Hightouch, every data sync into Intercom can be automated and scheduled, allowing the data team to focus on more important tasks, all while keeping Intercom up-to-date with fresh, curated customer data.
Intercom
Every customer-facing use case at Mews is powered by Intercom. The platform essentially acts as the company's CRM, where business teams go to access and leverage customer data. This enables the marketing and product teams to power a number of personalization use cases.
Within Intercom, the marketing team has built multi-touch journeys to educate, up-sell, and convert existing customers to try out new features. These communication flows are defined within Intercom, and they're tailored specifically to the attributes that the marketing team defines. This increased personalization has helped Mews drive more engagement with their customers, and the marketing team has seen 50% open rates and 4% click-through rates on specific campaigns.
We can granularly target thousands of customers and surface specific information to specific users based on their historical data and their behavioral data. Doing this, we've been able to convert more leads and generate more revenue.
Bethany Goetcherian
Customer Marketing Manager
•
Mews
Mews is constantly shipping new features, and keeping customers up-to-date on how these features work or how the changes impact them from a regulatory compliance perspective is extremely important. Using granular segmentation, the product team pushes product updates to customers. They also use Intercom to escalate action items to customers so they can understand how specific legal or taxation updates impact their region. This same use case is also applied to partners available in the Mews marketplace so they can update their products and services as needed.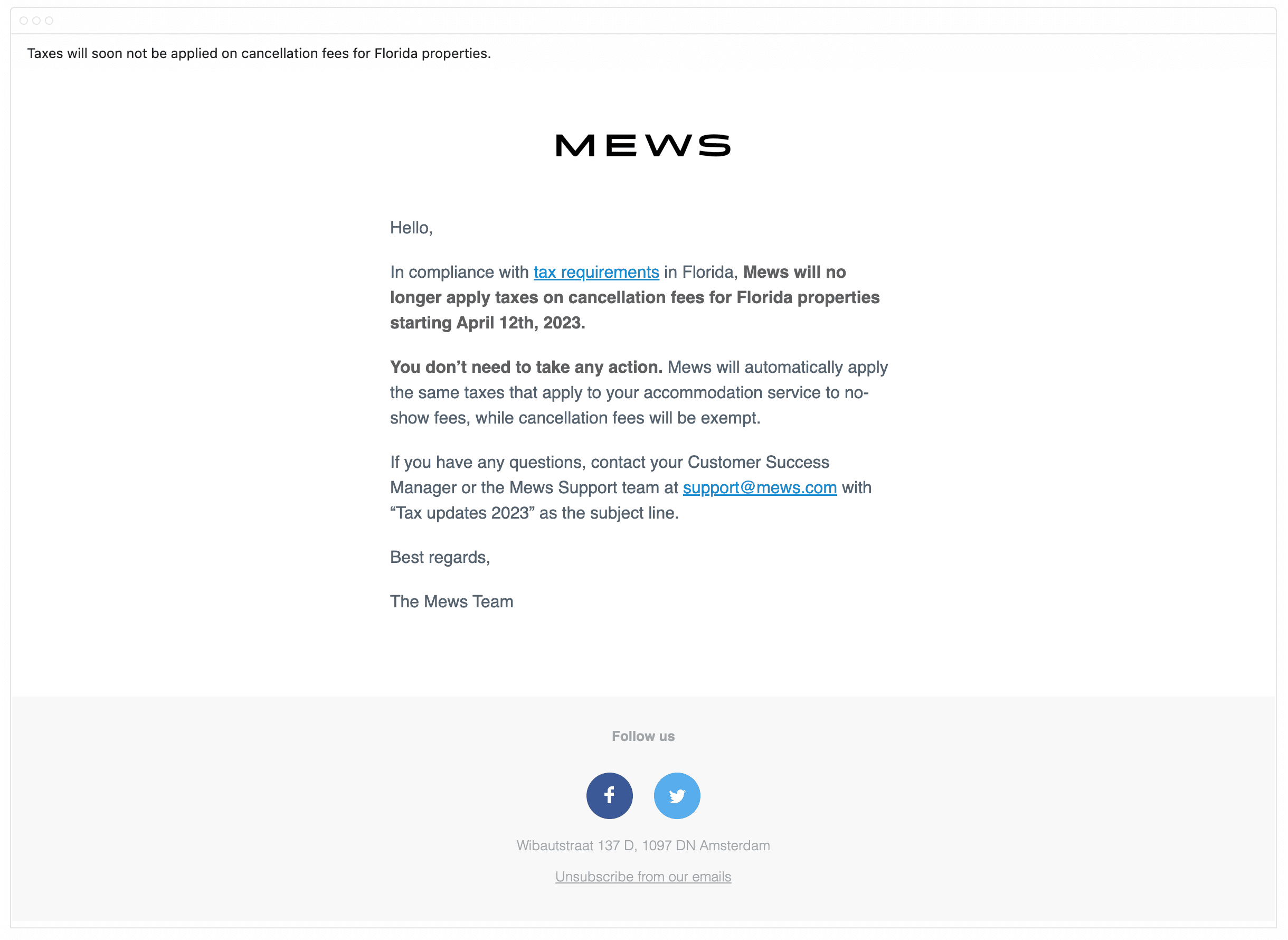 Intercom gives us the ability to dynamically communicate with both our customers and partners so they can stay up to date with product features or compliance changes where they need to take action immediately.
Vojta Kopal
Director of Engineering, Data Science
•
Mews
What's Next?
Mews is continuing to focus on supporting cross-team functions, and the company is continually trying to activate all of the rich data living in Databricks. The next big initiative for Mews is mapping out product utilization flows and using Hightouch to sync that data to downstream destinations like HubSpot and Gainsight to support better decision-making and personalization.