Announcing Hightouch Schemas
Visually define customer data models to unlock audience building and activation from ANY data set in minutes.
Introduction
At Hightouch, we've had the privilege of working with some of the most advanced marketing teams, giving us a unique perspective on the true state of customer data. We've seen scenarios where teams deal with hundreds of events and data points collected from various sources while others rely on simple customer tables to drive their omnichannel marketing efforts.
Regardless of the complexity of the data, one thing is clear: marketers should be empowered to extract immediate value from it. That's why we're thrilled to announce the launch of our new feature, Schemas, which makes defining and exploring your organization's customer data models easier than ever before - making it ready for marketing activation in minutes.
With Schemas, organizations can easily extract immediate value from their data, regardless of its complexity, empowering marketers to build audiences and activate campaigns quickly. This blog will provide an overview of the Schemas feature, its benefits, and how it helps organizations at any stage of data maturity maximize the value of their customer data.
Schemas Overview
Customer Studio, Hightouch's suite of marketer-first features, is trusted by leading organizations like Chime and Cars.com to build and sync audiences and experiments directly from their data warehouse to over 200 marketing and advertising platforms.
Rather than exposing all of the data from the data warehouse to Hightouch, teams define their data models or "schemas" in Hightouch for Customer Studio to work from. Previously, this was a manual process that likely took our solutions team's help to get up and running.
Now, thanks to our new Schemas feature, organizations can, in minutes, visually define the data they wish to expose to Customer Studio for their marketing teams to work from. No matter the state of your data, you can choose (and customize) the tables you wish to leverage in Hightouch and easily define relationships between those tables. The feature allows anyone to get started building audiences from the data they already have today while then being able to continue to iterate on their data models one step at a time.
For example, a retail company could start with a simple schema that looks something like the image below. From simply defining the existing tables they wish to use via the schema builder, they can power various marketing campaigns like Cart Abandon Retargeting, Purchaser Suppression, and Lookalike building. All in a matter of minutes.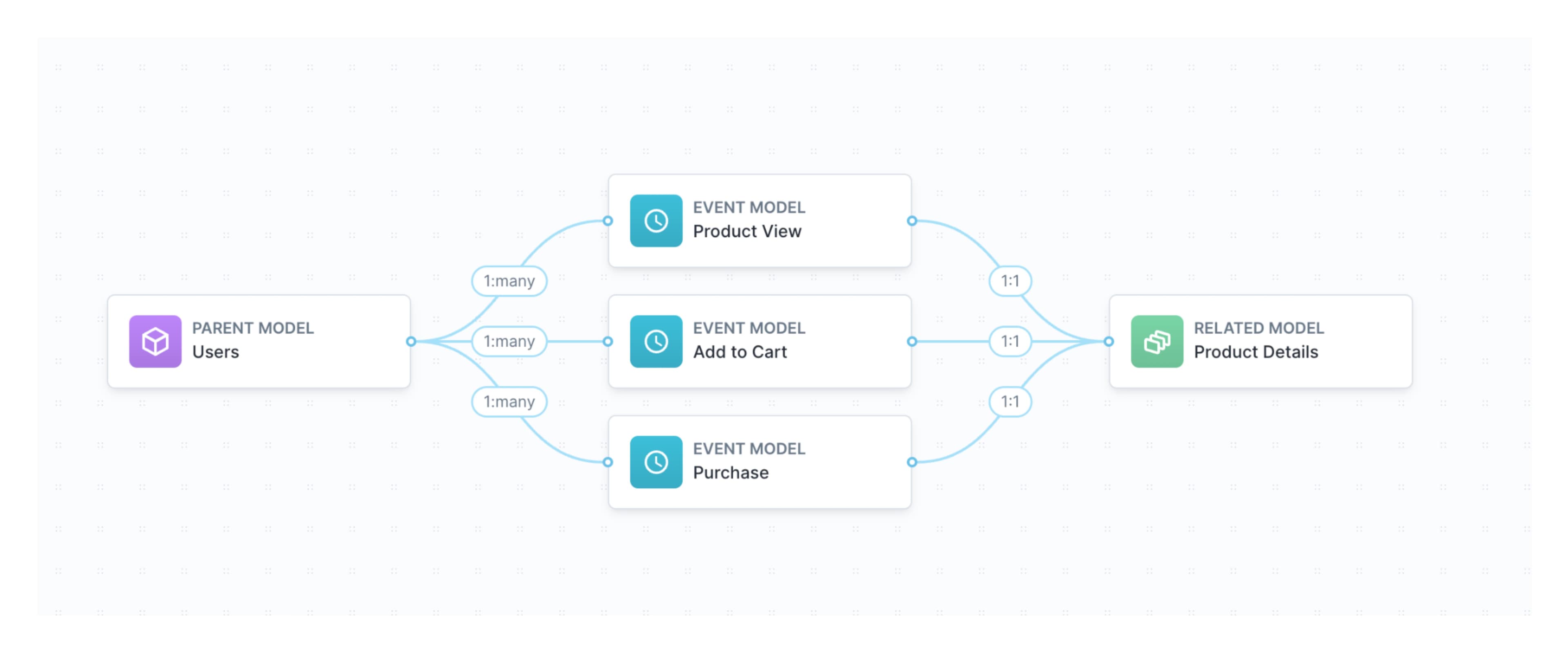 Enhancing Marketer Agility
While the ability to quickly get up and running (averaging just 23 minutes) is a game-changer for marketing teams, the real value lies in the agility it unlocks for future campaigns. Let's say our retail company wants to track a new event, such as "checkout_started," and create cart abandonment audiences based on that event.
With the new Schemas feature, adding the new event is as simple as a few clicks, making it available to be used for building marketing audiences in Customer Studio in minutes.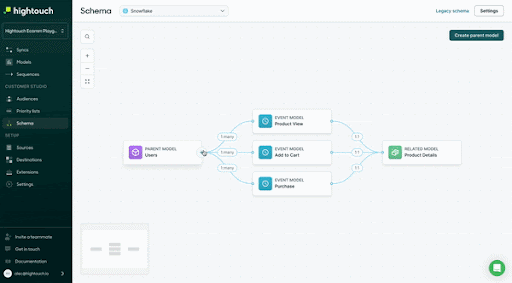 Schemas is the next step in our journey to equipping organizations with a new generation of Customer Data Platforms. Hightouch delivers the flexibility, security, scalability, and now, most importantly, the time-to-value expected by modern marketers, and we couldn't be more excited to get Schemas into the hands of our users today.
Data Activation at Any Stage
When organizations hear that they no longer need to waste months on expensive Customer Data Platform (CDP) implementations and can instead activate data from their data warehouse, one of their most common reactions is: "But my data isn't ready." Many don't yet realize that with Hightouch, any organization at any stage of data maturity can get started today by activating their existing data. Let's take a look at what some of these many stages look like.
Stage 0: Do you have a customer table in your data warehouse? Great. You can get started with activating that data. Simply point Hightouch to your parent model (your customer table), and your team can begin building audiences on any data point included - for example, sync audiences to Facebook based on State or Region.
Stage 1: Want to run suppression or lookalike audiences based on purchase events? Simply join your parent model (user table) to a single event model that includes purchase events. In minutes, your teams can optimize ad spending across TikTok, Facebook, and Snapchat with advanced audience strategies.
Stage 2: Want to leverage additional events and product information to power personalized marketing campaigns? Simply add more events like item_added and join your event models to your product information table with a related model. With this new data, your teams can now enhance audience targeting and run cart abandonment campaigns based on the information from each product.
Stage 3: Does your business deal with complex entity relationships to power marketing based on related objects? For example, do you wish to run audiences based on objects tied to a user, like Vehicles, Homes, or Pets that they own? Or maybe you're a B2B marketer who wishes to target based on account information. Simply add a related model for your object, and the data is immediately available for your marketing teams to create campaigns from.
The above examples are just a few ways that teams can model their data using the new schema builder, but there is truly no limit on how far you can customize your own. Regardless of the state of your data, the value in having a flexible solution like Hightouch is that you can seamlessly model the data to meet your immediate needs - all while having the ability to iterate as you advance in your data journey.
Getting Started
Interested in learning more about how to get started with Hightouch? Check out our 23-minute demo webinar to see firsthand how easy it is to power use cases like suppression audiences from your existing data. You can also book a demo with our team today to explore Hightouch and learn about the future of CDPs further.
Join our 23-minute demo webinar