Destination
Sync data to Zoho CRM using SQL. No scripts needed.
Don't waste your time uploading CSVs or building a custom integration to the Zoho CRM API. Hightouch enables you to sync data from any data source to 200+ APIs using just SQL.
Push lead info from your warehouse into Zoho CRM to enable executives to go after the right accounts
Push product data to enable account managers to know what actions are being taken in the app
Sync your sales data to Zoho CRM to give your decision makers accurate data from across your organization using analytics and reports so they can react to market trends with better decisions
Trusted by leading companies to sync data securely at scale
Activate your data in 3 easy steps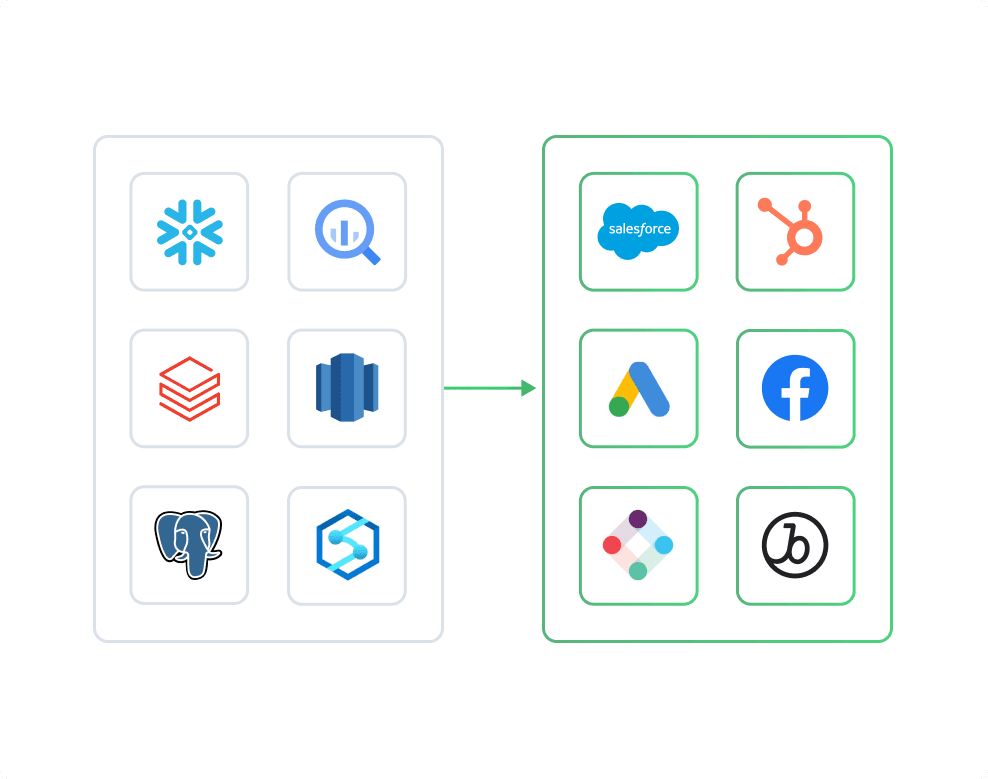 Improve your Zoho CRM data with Hightouch
CRM use cases
By maintaining an up-to-date, 360-degree view of prospect and customer data, you can provide your customer-facing teams with the necessary context they need before engaging with customers. This context includes crucial information such as customer history, preferences, and other relevant data. By having the most current information at their disposal, your team can create personalized experiences for your customers, resulting in increased engagement and a higher likelihood of conversions.
Email use cases
This integration enables the creation of email campaigns that are not only timely and relevant, but also highly personalized to your customers. By relying on accurate and fresh data from your warehouse, you can ensure that your email campaigns are delivered at critical moments. The integration allows you to create a 360-degree view of your customers, so you can tailor your messaging to their specific needs and preferences. Whether you want to drive engagement, increase conversions, or improve customer loyalty, up-to-date data is key to achieving your goals.
Sales use cases
Enhance the selling experience and improve your sales team's performance by providing an up-to-date picture of prospects and leads. With a comprehensive understanding of their leads, your sales team can tailor their approach and messaging to better match the needs and preferences of each individual prospect. In turn, your prospects will appreciate the more relevant outreach and engagement.
Read our Zoho CRM documentation
Before Hightouch, our data was not up-to-date and not reliable. Now everyone trusts the data because everything is highly standardized and documented.
Seamus McKinsey
Sr. Analytics Engineer
•
CircleCI
See story
Activate your data in less than 5 minutes